Your Fall Skin Concerns, Fixed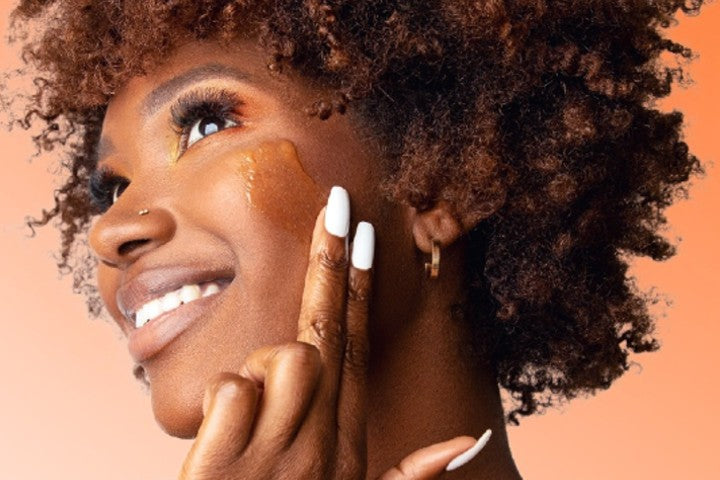 It's the end of September, which means it's the end of that dewy, radiant glow you've been rocking all summer. Now that fall has arrived, you'll notice your skin changing ever so slightly. Concerns that you never experienced during summer will now begin to surface. Fortunately, you don't have to put up with these skin concerns all autumn long. With the right skincare products, used consistently in your skincare routine, you can restore your glowiest skin in a matter of days.
From dryness to hyperpigmentation, here are some of the best solutions to your fall skin complaints.
#1: Dry Skin
With the heating back on and hot showers making a reappearance, your skin is prone to becoming parched. If you're already experiencing dry, itchy skin, it's not too late to change things.
For starters, try showering in cooler water using a gentle, hydrating cleanser. Hot showers and harsh soaps strip the skin of natural oils, leaving skin dry and dehydrated. Once you're done, apply a rich, emollient-packed body lotion to seal in moisture and secure long-lasting hydration. You could also try turning down the indoor heating (if you can stand it!) to maintain hydrated, healthy skin.
The Fix: Rainbow's Hydrate Bundle. It comes with a mask + serum formulated with hyaluronic acid, vitamin B5, and jojoba oil to inject moisture back into the skin, plump out fine lines and wrinkles, and give skin a nice healthy glow. It's suitable for all skin types — especially dry skin and sensitive skin.
#2: Sun Damage
Summer can do a number on your skin. If you spent too many months soaking up the sun (with minimal or no sun protection), there's a chance you're entering spring with some frustrating skin problems. Most commonly, dark spots and discoloration typically occur from prolonged sun exposure. However, fine lines and wrinkles can also form if you've spent too much time in the sun.
You can prevent future sun damage by wearing sunscreen with SPF 30 or higher every single day. Even throughout fall, you should be wearing sunscreen to protect your skin against skin-harming UV rays.
"Fall is a good time to check in with a board-certified dermatologist to ensure your skin has not sustained excessive damage during the outdoorsy summer months," advises board-certified dermatologist Mona Sadeghpour, M.D., FAAD.
The Fix: Rainbow's Smooth Bundle. It features a mask and serum enriched with vitamin C and vegan collagen, which work in tandem to fend off free radicals, improve pigmentation issues, and plump out lines. You can also pair the vitamin C serum with your daily SPF, as the potent antioxidant offers extra protection.
#3: Eczema
Eczema flares the most during the fall season — and as the months grow colder (and drier), so does the skin condition. To alleviate eczema flareups, tweak your skincare routine as soon as possible. Switch harsh soaps to gentle, hydrating cleansers. Invest in a moisturizer heavy in emollients and humectants like hyaluronic acid, glycerin, shea butter, and ceramides. And limit physical exfoliation (scrubs especially) which can remove the natural oils that keep skin hydrated. You may even want to consider investing in a humidifier to keep your skin happy this autumn.
Whenever you're dealing with any kind of skin condition, from eczema to rosacea, it's important to consult a professional dermatologist for the right treatment. In less severe case, you may be able to get away with over the counter options. Severe cases, on the other hand, call for stronger topical and oral treatments which are usually only accessible with a prescription.
The Fix: Rainbow's Hydrate Moisturizing Body Butter. A rejuvenating body lotion crafted with the most nourishing ingredients — coconut, shea butter, vitamin E — to drench skin in long-lasting hydration while soothing irritation and supporting skin barrier function.
#4: Chapped Lips
The skin on your lips is much thinner and more delicate than that on the rest of your body. For that reason, your pout is prone to drying out when the colder weather comes. While you should be moisturizing your lips all year round, it's the most essential during fall and winter.
You can prevent chapped lips by wearing lip balm every day, and re-applying it when needed. There are all kinds of products designed for the lips that can heal, hydrate, and plump for your prettiest pout. We also recommend gently buffing them from time to time to get rid of dry, dead skin. Not only will this make your lips feel instantly smoother, but it'll also allow your lip products t go on more seamlessly.
The Fix: Rainbow's Plump Lip Balm. This rainbow swirled blend of almond, coconut, and peppermint injects moisture and volume into your pout for the most luscious, juiciest lips. Thanks to coconut's hydrating properties and peppermint's circulation stimulating effects, this lip treatment is a go-to for gorgeous winter kissers.
#5: Dullness
With dryness comes dullness. Since your skin becomes drier in fall, light doesn't reflect as well, leaving your complexion looking a little dull and depleted. That's why it's important to take good care of your skin during fall and winter — because that's when it needs some extra TLC.
The quickest way to fix dull skin is with exfoliation. Opt for a chemical exfoliant like glycolic acid or lactic acid, which work to lift dirt, sebum, and dead skin cells and reveal your freshest, glowiest skin. These acids are also helpful at keeping pores clear and preventing breakouts.
The Fix: Rainbow's Glow Bundle. The set includes a mask and serum powered by glycolic acid and bakuchiol. Glycolic acid gently resurfaces skin to remove dead cells and brighten up your complexion while preventing pimples from popping up. Bakuchiol is a gentle retinol alternative that improves skin tone and texture. Glow Bundle will leave skin feeling and looking like summer never ended! Suitable for oily skin, acne-prone skin, and those dealing with dullness.
Your skin concerns are our skin concerns, which is why we like to find solutions! Try these quick fixes to resolve all your autumn skin concerns and step into the season GLOWING.