You Might Be Applying Your Serums All Wrong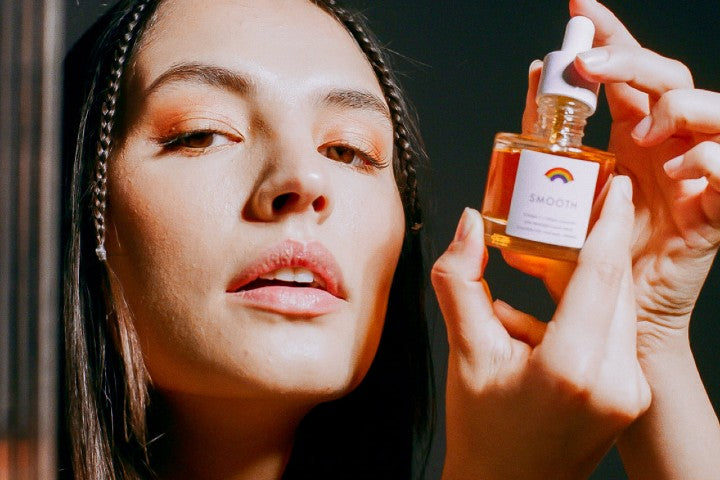 If you've been using a facial serum that promises big, but doesn't seem to do much in terms of results, there could be a very good reason for that. Or several.
It turns out, there is a right and wrong way to use serums. Those who are using them correctly are enjoying huge paybacks, while those applying them incorrectly aren't seeing the results they desire. 
Serums are actually incredibly effective -- when used properly. If you're using a serum in your skincare routine and it's not having much of an impact, there could be multiple reasons why. 
Here are some common serum mistakes you might be making.
You're Using the Wrong Formula
Before selecting a serum, you need to identify what your skin needs. Make sure that the ingredient label of your serum fulfills the requirements of your skin. 
Start by distinguishing your skin type. Have you got oily skin? Dry skin? Sensitive skin? Once you've figured that out, look closely at your complexion and identify specific skin concerns. Are you experiencing regular breakouts? Are fine lines and wrinkles beginning to form on your forehead? Is your skin in serious need of hydration, or does it need relief from redness and itching?
Once you understand your skin's needs, you can seek out skincare products formulated with active ingredients that address your concerns. For example, alpha hydroxy acids and beta hydroxy acids like glycolic acid, lactic acid, and salicylic acid are all great for aging and acne-prone skin. Retinol and bakuchiol help boost collagen production and speed cell turnover, minimizing the appearance of fine lines and wrinkles. Hyaluronic acid and glycerin are excellent hydrators, perfect for diminishing dry skin.
Speak to a dermatologist if you need help determining your skin type and concerns.
You Put Moisturizer on First 
To maximize the effects of your serum, make sure you're applying it in the correct order. If you're applying moisturizer or night cream before serum, you're directly blocking the serum's active ingredients from penetrating the skin. That means your serum won't have any impact on your skin.
So, what exactly is the right order? Always start with your cleanser, followed by toner, serum, moisturizer, and SPF as the final step. As a general rule of thumb, products should go on from thin to thick. Face oils are the only exception as most derms agree that they work best when applied last -- to seal in moisture. 
Your Technique isn't Right
According to Jennifer Aniston's facialist Joanna Czech, technique makes all the difference when it comes to the effects of your serum. 
"Serums and toners work best when you use a 'press/release technique'," says Czech. "When you press the skin with all four fingers, it microscopically opens; as you release, it grabs on to the product - a bit like a sponge." 
After tapping your skin to ensure your serum has absorbed, apply another layer.
You're Not Applying the Right Amount
Use all the vitamin C serum you want -- more doesn't always mean better. 
According to skincare experts, the quantity of serum hugely impacts its function. They recommend applying pea-sized quantity for the face and another pea-sized amount of serum for your neck. You really don't need to apply more than that. You can, but it won't improve the results.
In fact, applying too much might be irritating for sensitive skin types, especially if you're using serums with high concentrations of ingredients like retinol or exfoliating acids. 
You're Mixing Too Many Actives
While it's okay to use two serums at once in your daily skincare routine, avoid mixing too many active ingredients at once. Serums are made with high concentrations of active ingredients, which makes them quite potent. Applying too many at once may lead to dryness and irritation. 
If you're going to use two serums in your routine, stick to using them on corresponding days. Alternatively, use one potent formula and one less potent formula. For instance, a retinol serum + an antioxidant serum. Or an AHA-infused serum + a hyaluronic acid serum.
This way, you can enjoy the brightening, anti-aging, and hydrating benefits of all without irritating your skin. 
You Forget to Apply Sunscreen 
You always need to apply SPF 30 as the last step of your skincare routine. It's by no means an optional beauty product. It is imperative for maintaining healthy, youthful skin. Plus, it prevents premature signs of aging such as fine lines, wrinkles, and dark spots.
If you're using retinoids in the daytime, it's especially important to layer on the sunscreen as retinol increases skin's sensitivity to the sun. 
You're Not Apply it to Clean Skin
In order for facial oils, lotions, eye creams, and yes -- serums -- to work effectively, they need to be applied to clean skin. 
Always cleanse and exfoliate before applying serum to buff away dead skin cells and grime so that products can properly absorb into the skin. And no, a makeup remover wipe won't suffice! Nor will a cotton pad soaked in makeup remover. You need to thoroughly cleanse your face.
You're Not Consistent 
Serum must be a part of your daily skincare if you want to see results. You need to apply it twice a day -- morning and night. If you're only using it every now and then, it's not going to have much of an impact on your skin and ultimately, you're not going to see results.
SHOP SERUMS FOR EVERY SKIN TYPE
The best topical formulas for flawless skin...
Hydrate Serum
Hyaluronic acid + vitamin B5 work in tandem to plump up and drench dry skin in lasting moisture. 
Smooth Serum
Vitamin C and vegan collagen join forces to defend against fine lines and wrinkles for a smooth, youthful, and radiant complexion.
Tighten Serum
Powered by AHAs and red microalgae, this Powerful Lifting Face + Body Jelly Serum buffs away dead cells, protects against oxidative stress, and promotes a firmer, bouncier complexion. 
Glow Serum 
Glycolic acid and bakuchiol work together to illuminate, exfoliate, and revive glowing complexions. It's a facial peel in a bottle -- only gentler.
Now you can start applying your serums all properly -- and enjoy the results that accompany!