What's in My Rainbow Beauty Bag?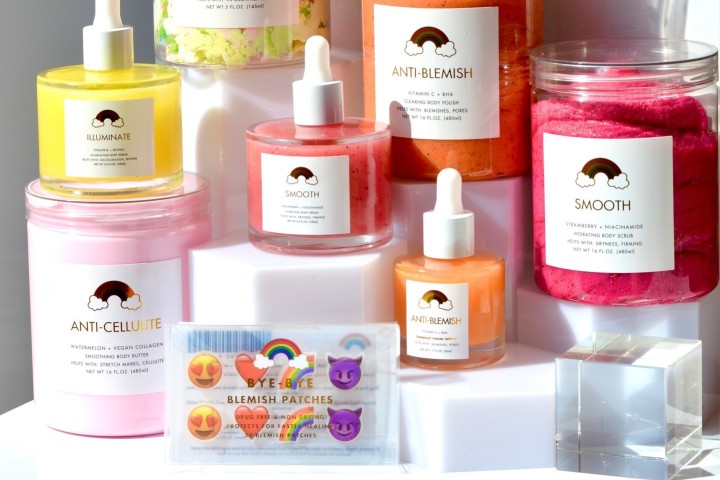 As the Rainbow beauty editor, I have the luxury of getting to try all the latest products. Naturally, I'm a big fan. In fact, the majority of my daily skincare routine comprises of Rainbow beauty products. As for my go-to essentials, I have a handful I really can't live without. Here are all the Rainbow products I keep in my cosmetic bag to maintain super clear, smooth and glowing skin.
#1: Hydrate Mask
This Rainbow bestseller is my holy grail for alleviating dry, flaky skin. Especially in the winter when my skin gets parched, one self-care session with this baby leaves me soft and dewy all over. Since it's designed for both the face + body, I can literally apply it anywhere that dryness pops up. Without a doubt, it'll have a lasting place in my beauty bag. I also love to pack it in my travel bag as it's an excellent multipurpose product that serves as a face and body hydrator, hair mask, and even a lip balm. You can use this mask almost anywhere.
So, what exactly makes this hydrating mask so special? For starters, its supremely satisfying texture. Hydrate Mask is a glossy gel mask that feels extra cooling on the skin. It's also made with hyaluronic acid and vitamin B5, which work in tandem to hydrate skin, plump out fine lines, and glow up your skin.
Like all Rainbow products, Hydrate Mask is vegan, cruelty-free, and CLEAN.
#2: Glow Serum
Whenever my skin's looking a little sad and dull, I reach for a bottle of Glow Serum. It brightens up my skin (and my mood!) immediately. If it's not in my beauty cabinet, it's in my makeup bag, or sometimes I even carry it around in my tote so I can get an on the go glow.
Glow Serum is a winner for me because of its ability to smooth, brighten, and gradually fade dark spots and discoloration. Formulated with glycolic acid + bakuchiol, these active ingredients work hand in hand to buff away dead skin cells, resurface skin, and boost natural collagen production for your most luminous, most youthful looking skin.
If you don't need a glow up, but there's a special woman in your life who would (i.e. your best friend or GF), gift her a bottle of this glow fix serum.
#3: Smooth Serum
Everybody needs a vitamin C serum in their skincare routine. My personal favorite is Rainbow's Smooth Serum. Besides melting into the skin (meaning no greasy residue!), it instantly brightens, combats free radical damage, and gradually lightens acne scars and discoloration. Since vitamin C and vegan collagen are combined, you get the brightening and protecting benefits of vitamin C along with the anti-aging benefits of vegan collagen.
I keep a bottle in my handbag so I can apply it whenever I need a glow boost. I wear it under my lotion and sunscreen — as it provides an extra layer of protection against UV rays. Alongside this, it's the perfect primer for makeup application. Apply it before your foundation, concealer, eyeshadow, mascara, and lip gloss to make your makeup look so much smoother.
#4: Bye-Bye Blemish Face Patches
Isn't it frustrating when a pimple pops up out of nowhere? Since I have the terrible habit of picking pimples, these blemish patches really are a savior for my skin. They not only heal my zits, but prevent me from picking so I don't end up with acne scars. Because acne scars suck!
Rainbow Bye Bye Blemish Patches are a pack of 24 blemish patches infused with hydrocolloid that works to drain active blemishes while protecting against picking fingers and prompting speedy overnight healing. Even if it's too late and you already have acne scars, these emoji-shaped stickers can heal hyperpigmentation and minimize redness with regular use.
Pimple patches have been trending for a while due to their overall convenience and effectiveness. But why stick to boring acne patches when you can wear fun ones? I like the devil ones best!
#5: Hydrate Body Butter
Whether I'm travelling or just at home, I always have a tub of Hydrate Body Butter in my beauty cabinet or toiletry bag. This restorative body moisturizer blends the healing properties of cocoa butter, shea, and coconut for all-day, all-over smoothness. You only have to read the customer reviews to see how much people dig this formula. Plus, it smells amaaaazing — almost like cotton candy.
After cleanser, toner, and serum, I love to slather my skin in this luxurious body butter. When I travel, I double it up as a lip balm, cuticle softener, shave cream, and even a hair mask. It makes me feel silky smooth all over while smelling irresistibly sweet. And at only $14.98 USD, it's a STEAL.
#6: Tighten Serum
Next to my lotions, potions, makeup brushes, eyelash curler and hair brushes, a little pot of Tighten Serum awaits. While I don't use this one daily, I try to use it at least three times a week to firm up my jawline and the doughy areas of my body (butt and thighs). I've been using it for several weeks now, and I'm already seeing its firming powers coming into play.
So, how exactly does it work? Well, it's made with antioxidant-rich red microalgae + alpha hydroxy acids to resurface skin, restore elasticity, and tone up sagging skin.
Before you checkout, stick around for a while and enjoy a virtual shopping spree. Rainbow products are available at Walmart, CVS, and online at Rainbowbeauty.com. We offer free delivery for US orders over $50 and $125 worldwide.
If you already have these Rainbow staples, try making your own DIY gift bag or gift set using Rainbow products only, and treat your loved one to the gift of incredible skin.
If accessibility is limited in one store, try another Rainbow supplier or our online store to get exactly what you want. Happy shopping Rainbow beauty babes!