This Summer, Give Your Skin a Large Dose of Vitamin C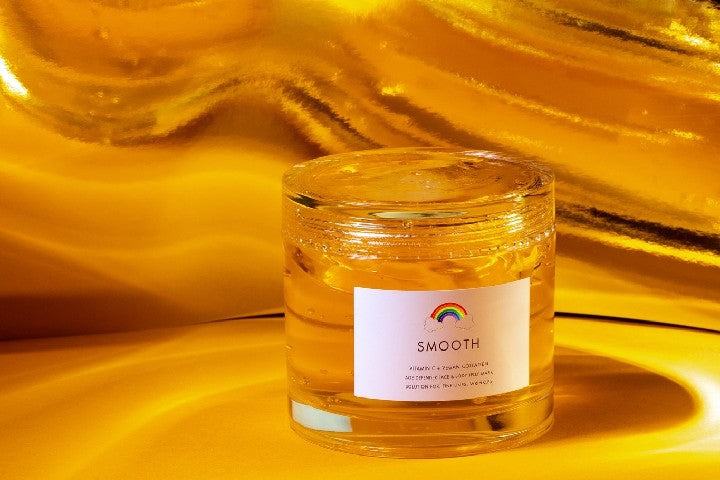 Vitamin C serums have legendary status for a number of reasons, but mostly because they really work. From uneven skin tone to fine lines, dark spots to dullness, vitamin C can treat all kinds of skin concerns — and that's why it's one of the most in-demand skincare ingredients in the beauty industry today!
Vitamin C can be especially helpful during the summer months when temperatures rise and UV exposure increases. Or even just to inject your skin with instant glow!
Here's what you need to know about vitamin C, from what it is to how it can help your skin and why you need it this summer.
WHAT IS VITAMIN C?
Vitamin C is a potent antioxidant commonly found in skincare products such as serums, moisturizers, and body lotions. According to research, its claim to fame is its ability to neutralize free radicals and aid in your skin's natural regeneration process. All of which keeps skin cells healthy and your skin — smooth, bright, and youthful.
Topical vitamin C application helps to offset daily environmental stressors like UV damage and pollution, maintaining skin's integrity and preventing the formation of fine lines, wrinkles, and discoloration. It may even help protect skin from UV-induced skin cancer.
When shopping for vitamin C products, always look on the label to check whether a product has it inside. Usually, vitamin C will be listed as "L-ascorbic acid." However, other vitamin C derivatives you can look for include sodium ascorbyl phosphate, ascorbyl palmitate, and magnesium ascorbyl.
WHAT DOES VITAMIN C DO FOR YOUR SKIN?
There are so many benefits of vitamin C. Find out what those are, ahead.
Treats and Prevents Premature Signs of Aging
Being the powerful antioxidant that it is, vitamin C can help boost collagen production and restore elasticity in the skin for a firmer, bouncier complexion with less visible fine lines and wrinkles. Vitamin C is a highly effective anti-aging ingredient that doesn't just treat, but prevents skin aging.
Fades Dark Spots and Hyperpigmentation
Another fab fact about vitamin C: it helps inhibit your skin's melanin production, which is the culprit behind skin discoloration like dark spots.
"It's a superior brightening agent that works to fade brown spots without altering normal skin pigmentation," says New York City-based dermatologist Howard Sobel, M.D.
Prevents Skin Damage
Vitamin C is an antioxidant that fights free radicals and oxidative stress, helping to prevent sun damage and maintain youthful, healthy skin. Research shows that this active ingredient can help prevent skin damage caused by external aggressors like UV rays and pollution.
"Vitamin C is an antioxidant, which helps fight free radicals (unstable molecules in the body) that age the skin," explains board-certified cosmetic and general dermatologist Annie Chiu, MD. She adds that another effect of vitamin C is its ability to promote healing.
"Vitamin C has anti-inflammatory properties and boosts wound healing by helping cells migrate to the area of the skin injury," she says.
WHY YOU NEED TO ADD IT TO YOUR SUMMER SKINCARE ROUTINE
In the summer months, we all tend to go outside more. And outside is where the skin-damaging UV rays are. They're actually always there — even in the winter months — but since we go out most during the summer, that's when we're most at risk.
Vitamin C is extremely helpful for protecting skin from the visible impacts of UV exposure, including free radicals that trigger tissue damage.
To get the most out of your vitamin C serum, wear it every day under a broad-spectrum sunscreen with SPF 30 or higher. In addition to protecting you from sunburn, it'll boost overall skin health and shield it from harmful UV rays.
ARE THERE ANY INGREDIENTS VITAMIN C SHOULDN'T BE MIXED WITH?
While vitamin C is generally safe to use, there are a few ingredients that don't get along too well with the antioxidant. Because it's an acid, dermatologists generally don't recommend combining vitamin C with other acids like glycolic, salicylic, and ferulic acid.
It was once thought that vitamin C and retinol didn't pair well together. Turns out, they can be very beneficial when used in your skincare routine. However, if you have dry or sensitive skin, use them both sparingly and spread out between morning and night.
Ingredients vitamin C pairs especially well with include vitamin E, hyaluronic acid, jojoba oil, coconut oil, and vegan collagen. In fact, vitamin C pairs the best with other antioxidants such as vitamin E, as they double protection against free radical damage.
IS VITAMIN C SAFE FOR ALL SKIN TYPES?
Vitamin C is considered safe for all skin types. If you have dry skin, sensitive skin or experience side effects like redness from vitamin C, start with a lower concentration of vitamin C. Give your skin time to adjust to this new ingredient. Otherwise, you'll only end up with unpleasant side effects like skin irritation.
If you have a skin condition like eczema, speak to your dermatologist before using vitamin C skincare products.
SHOP VITAMIN C SKINCARE
According to the derms, the best form of vitamin C comes as a serum. That's because serums are highly concentrated with active ingredients to help address a range of skin concerns.
"Pure ascorbic acid has consistently been proven to be the most effective at penetrating the skin barrier," explains board-certified dermatologist Patricia Wexler, M.D.
Here are the best vitamin C skincare products you can shop right now.
Smooth Serum
A silky, featherweight vitamin C serum boosted with vegan collagen. Together, they work in tandem to brighten skin, protect against UV rays, plump out fine lines, and increase skin's hydration.
Smooth Mask
A juicy jelly mask of vitamin C and vegan collagen to fade discoloration, prevent fine line formation, and up skin's natural radiance.
There are numerous skin and health benefits of vitamin C, including brighter skin, less visible creases, and a strengthened immune system.
You can also boost its benefits by taking vitamin C supplements which offer similar benefits from the inside out. In addition to all its skin benefits, vitamin C taken orally can help boost the immune system and ward off illnesses. It's the ultimate skin and health wellness vitamin!