This AHA Body Serum is Your New Summer Staple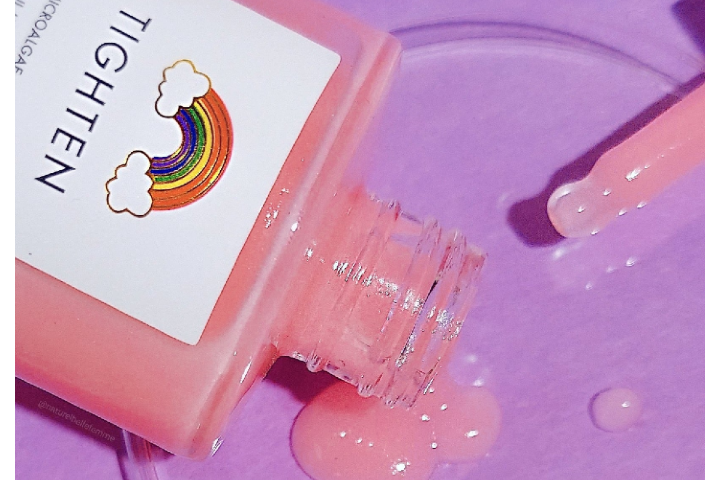 In the first days of summer, most of us are eager to slide into our floral skirts and breezy dresses after a long few months cooped up in sweaters and jeans. Before revealing our bare legs, most us immediately reach for the first body scrub in sight in a bid to slough away the dead skin cells of winter and reveal our glowiest summer-ready skin.
The only problem is, exfoliating with certain particles like walnut shells and ground almonds, though effective at smoothing your skin, can be a little too aggressive for most skin types. In fact, dermatologists say they can even cause micro-tears on the surface of your skin.
So, what's the alternative? You can either stick to scrubs but opt for sugar and salt-based formulas. Or, you can try an even gentler way of exfoliating — via a skin barrier-building alpha hydroxy acid body serum. And we've found the best one out there!
WHAT ARE ALPHA HYDROXY ACIDS?
Alpha hydroxy acids (AHAs) are a chemical exfoliant that gently sweep away dead skin cells from the skin's surface, helping to minimize the appearance of dark spots and hyperpigmentation, and prevent breakouts. Chemical exfoliation can also help stimulate collagen production to smooth out fine lines and wrinkles, and offer brightening effects by buffing away old cells and making space for fresh, glowing skin.
The most common AHAs include glycolic acid, lactic acid, and mandelic acid. Glycolic acid is one of the most highly respected of the hydroxy family. However, lactic acid is a great option for those with sensitive skin, as it's a little gentler than glycolic.
All skin types can benefit from including AHAs in their skincare routine, especially oily, mature, and acne-prone skin. That said, it's important not to overuse them since they are a form of exfoliation, which can lead to irritated skin when used too often.
BENEFITS OF USING AHAS IN YOUR BODY CARE ROUTINE
You probably already exfoliate your face once or twice a week, but it's equally as important to exfoliate your body, too. Like the face, the body deals with just as many skincare concerns, including dryness, uneven skin texture, pigmentation, fine lines and wrinkles, and acne. Exfoliation can help alleviate these issues.
You'll find AHAs in a range of beauty products including body lotions, body washes, toners, and body oils. Here's what alpha hydroxy acids can do for your skin.
AHAs Banish Body Acne
These multitasking acids offers multiple skin benefits, including keeping skin blemish-free. They do this by buffing away excess oil, dead skin, and product buildup, helping to unclog pores and prevent the formation of breakouts.
AHAs Brighten Skin Tone
Skin's not going to look its brightest when there's a layer of dead skin cells accumulating on the skin's surface. Once you buff those old cells away, fresh, glowing skin underneath with surface, instantly adding luminosity to skin.
AHAs Minimize Fine Lines and Wrinkles
AHAs increase collagen production, which helps to firm and plump out fine lines and wrinkles, giving skin a more youthful appearance. They'll also leave skin feeling noticeable smoother.
AHAs Treat Discoloration
Regular exfoliation improves skin tone, texture, and fades out discoloration. These benefits are further enhanced when using a formula enriched with AHAs and antioxidants.
MEET THIS AHA-INFUSED ANTI-AGING SERUM
Gleaming, summer-ready skin is only one step away with this resurfacing, elasticity-restoring serum.
What is it?
Rainbow's Tighten Serum is a silky, fast-absorbing treatment designed to firm, brighten, and visibly smooth skin on the body. Formulated with alpha hydroxy acids (lactic and glycolic), antioxidant-rich red microalgae, and hydrating jojoba oil to buff, brighten and moisturize skin for head to toe silkiness and glow.
How Does it Work
AHAs are this potion's key ingredient. They work by removing dead skin cells to reveal fresh, youthful skin, and enable other skincare products to absorb more deeply. Red microalgae protects the dermal layer against oxidative stress, resulting in smoother, fine-line-free skin with less sagging and fewer dark spots.
Which Skin Types is it Suitable For?
This skincare product is vegan, cruelty-free, and sulfate-free. It's safe for all skin types, though sensitive and dry skin types should use less frequently than those with oily, acne-prone or mature skin.
How to Use
After cleansing, apply several drops of Tighten Serum to desired areas. Finish your routine with a nourishing body cream or moisturizing serum followed by a broad-spectrum sunscreen of at least SPF 30. For best results, use daily. If you have dry or sensitive skin, limit use to 2-3 times a week.
SKINCARE PRODUCTS TO PAIR IT WITH
Tighten Serum is a universal skincare product that pairs well with many different ingredients, including niacinamide, glycerin, hyaluronic acid, ceramides, shea butter, and salicylic acid (BHA). According to dermatologists, you may want to avoid mixing AHA-based products with retinol and vitamin C, which may trigger skin irritation. Here are some of the best products to use it with.
Tighten Mask
It's basically the same formula as the serum, only in mask-form. Use it before applying serum, letting it sit on the skin for 10-15 minutes and rinsing thoroughly. Your body will gleam after washing off this bouncy jelly mask.
Hydrate Serum
A moisturizing formula of hyaluronic acid and vitamin B5 to quench dry, dehydrated skin. Apply it after Tighten Serum to seal in day-long moisture. It'll make skin looking even more dewy. Plus, it's sulfate, silicone, and paraben-free — so totally clean and safe for all skin types!
Hydrate Mask
A body mask to instantly inject moisture into your skin. Perfect for dry skin types! It also plumps out fine lines and wrinkles, while adding a natural glow to skin.
This summer, unveil your brightest, smoothest limbs by investing in Rainbow's AHA body serum. While its full scope of benefits may take up to 5 weeks to show, this formula will definitely up your skin's radiance after only one use. Did we mention you can also use it on your face? Yup, this 2-in-1 face and body serum is your go-to serum this summer if you're craving crazy levels of dewy glow!