This $45 Vegan Collagen Serum Is Your New Summer Staple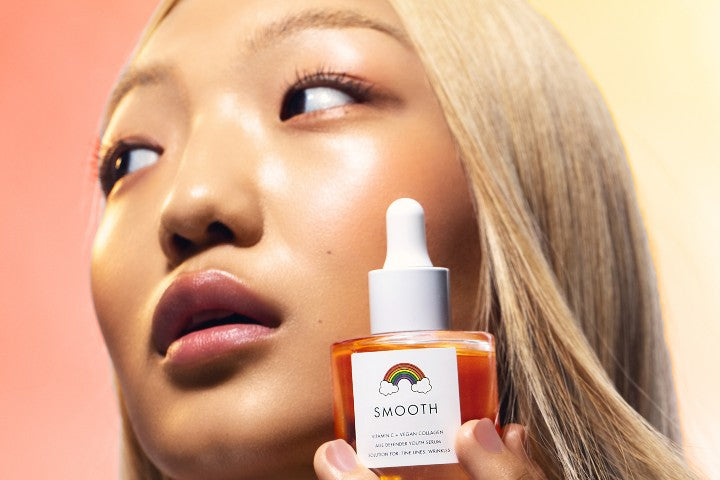 Collagen has been a buzzworthy skincare ingredient for many years now. But have you heard of vegan collagen? It's the latest (and equally effective!) version of the animal-based protein that works wonders for your skin. And we've found the perfect product containing this powerhouse ingredient...Rainbow's Vegan Collagen Serum.
Here are all the deets on this $45 serum, as well as on vegan collagen itself and what it can do for your skin.
WHAT IS VEGAN COLLAGEN?
Collagen is a protein that's naturally produced in the body and responsible for keeping skin, hair, and nails strong and healthy. With age, collagen levels decrease, which leads to loss of elasticity in the skin and ultimately, fine lines, wrinkles, and sagging.
Vegan collagen is the plant-based version of traditional collagen found in skincare products such as face serums, eye creams, toners, and face creams, and also supplements.
Vegan collagen used topically can help improve overall skin tone, texture, and firmness, while filling in fine lines and wrinkles. It contains plant-based ingredients like vitamin C, zinc, and amino acids that can be extremely effective in hydrating, plumping, and protecting skin.
Some dermatologists say vegan collagen may actually be better than animal-based collagen due to its make up of smaller molecules, which penetrate skin more easily.
Overall, vegan collagen is a skincare ingredient worth looking out for in your skincare products, and incorporating in your daily skincare routine.
THE BENEFITS OF VEGAN COLLAGEN SERUM
It Moisturizes
Collagen offers exceptional moisturizing benefits when applied topically. To diminish dry skin and keep skin looking dewy, apply a collagen-based face cream or serum every evening. You can also try vegan collagen face masks, cleansers, and face oils to maintain smooth, glowing skin.
If you're dealing with dryness, collagen products can help a lot. Although, you'll also want to pair it with other hydrating ingredients like hyaluronic acid and jojoba seed oil to help seal in moisture.
It Plumps Out Fine Lines and Wrinkles
Vegan collagen helps skin cells repair and renew themselves while strengthening the skin barrier and thickening the dermis to smooth out fine lines and wrinkles. Including vegan collagen in your skincare regimen promotes youthful, radiant skin. And it'll leave skin feeling significantly smoother and springier.
The great thing about vegan collagen is that it pairs well with most ingredients. You can pair it with other anti-agers such as retinol, bakuchiol, squalane, peptides, antioxidants, and niacinamide to get the most out of this youth-restoring elixir.
It Restores Damage from Sun Exposure
According to the pros, collagen has also been shown to restore damage from sun damage and pollution. If you've spent waaaay to much time sunbathing in hope of a sunkissed bod, it's time to stop now, and reverse the damage with vegan collagen. There's also evidence VG can help fade dark spots and discoloration while offering brightening benefits.
It Keeps Skin Taut
Since collagen is responsible for skin's bounciness, applying vegan serum skincare can help firm up loose skin. If you're experiencing sagging around your neck or jawline, rely on this plant-based ingredient to firm things up around there.
It Can Fade Acne Scars and Stretch Marks
If you have acne-prone skin, you may be dealing with some of the aftermath of pesky pimples. The good news is, vegan collagen can repair and heal those stubborn scars, as well as any hyperpigmentation from your breakouts.
Acne scars are caused by collagen damage in your skin, so supplementing with vegan collagen can accelerate tissue repair and ultimately heal your scars. Increasing collagen content in the skin will also help fade stretch marks and prevent new ones from forming.
IS IT SAFE FOR ALL SKIN TYPES?
Yes, vegan collagen is well-tolerated by all skin types, including sensitive skin. Just make sure you choose a clean formula that's free of parabens and toxins that can interfere with the ingredient's effectiveness.
WHAT CAN YOU PAIR IT WITH?
Another plus point to vegan collagen: it pairs well with almost every other ingredient out there, including vitamin E, AHA exfoliants, rosehip oil, olive leaf extract, silicones, enzymes, and retinol.
And don't worry if you're using vitamin C serum on a daily basis. You can still include vegan collagen in your routine without having to worry about side effects.
REACH FOR RAINBOW'S VEGAN COLLAGEN SERUM
What is it: A silky, age defending face serum powered by vegan collagen and vitamin C to plump, smooth, and brighten skin while fading blemishes and discoloration. Rainbow's Vegan Collagen Serum also contains nourishing botanicals such as aloe and algae, as well as hydrating glycerin and baobab oil.
It's clean, vegan, and 100% cruelty-free!
How it works: Vegan collagen and vitamin C work in tandem to promote collagen production, thicken the dermis, and combat fine line formation. Additionally, they can help protect the skin from UV damage and ward off oxidation damage to skin cells for youthful, healthy skin. It'll make skin look smoother, brighter, and firmer with regular use. And the best part? You can use this formula on both the face and body for head to toe skin glow.
How to use: After cleansing the skin, apply several drops of serum to skin using circular motions. Let it absorb fully before following up with face cream and sunscreen (SPF 30).
Is it worth the price tag? Smooth Serum is a silky, lightweight facial serum that's formulated with a slew of high-performing ingredients — including vegan collagen. Reviewers say this formula has visibly improved the appearance of their lines, while making skin appear generally more "glowy." At $45, it's an affordable price for a product powered by several actives like vegan collagen, vitamin C, and algae.
If you're seeking glowing skin this summer, reach for Rainbow's Smooth Serum. This vegan collagen serum is a $45 elixir for head to doe dewiness. And it's a summer must-have if you want to look extra smooth, firm, and sparkly in those cute breezy dresses!
Pair it with Rainbow's Smooth Mask to get the most out of this serum. It contains the same ingredients — only in mask form.