This $45 Resurfacing Serum Gave Me Glowing Goddess Skin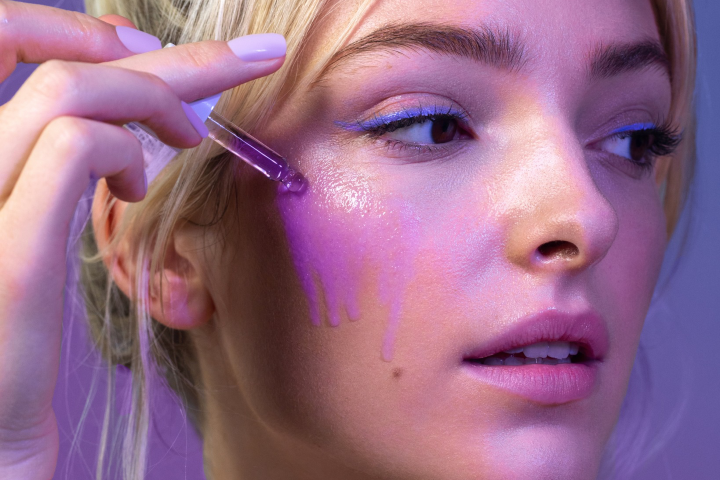 That feeling when you discover a seriously transformative serum. That's how I felt one week in to using Rainbow's Glow Serum. Naturally, all I could do was gush about it to my beauty loving besties.
"It's so silky," "My skin glowed almost instantly," and "It made my dark spots FINALLY disappear" were some of the utterances I used to describe this fabulous formula.
While $45 might seem a little steep for a serum, I have to say that it's worth every cent. I'll explain why very soon!
Ahead, my (brutally honest) review of this resurfacing serum.
What is a Resurfacing Serum?
If, like the rest of us, you dream of achieving a silky smooth complexion, a resurfacing serum is well worth adding to your skincare routine. But what even is a resurfacing serum?
"A resurfacing serum increases cell turnover and gently removes dead skin cells to reveal more youthful, glowing skin underneath," says Dr. Onyeka Obioha, FAAD, a Los Angeles-based dermatologist.
Resurfacing serums are formulated with exfoliating acids such as alpha hydroxy acids (AHAs) and beta hydroxy acids (BHAs). These chemical exfoliators dissolve the bonds that hold dead skin cells on the skin's surface so the skin will gently shed, revealing fresher, brighter, and smoother skin underneath.
While they serve many of the same functions, AHAs are water-soluble and work on the surface of the skin and BHAs are oil soluble, allowing them to penetrate into the pores.
AHAs are generally well tolerated by all skin types. That said, if you have sensitive skin, you should limit your use of AHAs to twice a week to prevent irritation. BHAs are best for oily and acne-prone skin thanks to their ability to penetrate deep into the skin, unclogging pores and preventing breakouts.
Why You Need a Resurfacing Serum
Take a peek at your skincare collection, and you'll probably notice that it's missing a resurfacing serum. Whether you're dealing with fine lines, blemishes, dark spots, dullness, or roughness, a resurfacing serum can alleviate many of your skin concerns.
The two biggest benefits of a resurfacing serum are its brightening and smoothing effects. By sloughing away the buildup of dead skin, skin feels instantly smoother and looks immediately brighter.
That said, it can also improve uneven skin texture, improving the appearance of fine lines, as well as unclog pores to prevent blemishes. Alongside this, the acids found within resurfacing serums help to promote more evenly pigmented skin, combatting hyperpigmentation.
Nowadays, you can find resurfacing serums with additional anti-aging and acne-fighting benefits. Either way, as long as you have a resurfacing serum in your routine, you can look forward to smooth, radiant skin and fewer skin concerns.
Glow Serum, in a Nutshell
Glow Serum is a silky face and body serum formulated with glycolic acid and bakuchiol. Glycolic acid is its one and only resurfacing ingredient. An AHA, glycolic acid is known to be the best for improving skin tone and texture.
One of the things I loved most about Glow Serum is its lightweight texture. It melts into the skin and doesn't leave behind any unpleasant greasy residue. In addition to this, it works FAST. Like, within 10 minutes after applying it, you can literally see your skin GLOWING.
After one week of using, I also noticed an improvement in the appearance of my dark spots. They obviously weren't gone completely, but they definitely appeared less visible.
The only downside to this serum I'd like to mention is that it can be a little irritating and drying when used daily if you already have dry or sensitive skin, like me.
Some plus factors I also want to point out about Glow Serum: it's vegan, cruelty-free, fragrance-free, paraben-free, and made with only clean ingredients. Win win win win!
Benefits of Glow Serum
For starters, Glow Serum really does deliver glowing skin. In fact, my skin glowed just minutes after my first time using it. I was luminous! This skincare product also helps in fading fine lines and discoloration. Plus, it made my skin feel incredibly smooth.
Thanks to its exfoliating powers, this potion also helps with improving the absorption of other skincare products. In other words, it makes your serums, moisturizers, and lotions work 10x harder.
As for which skin type it suits, I have somewhere between sensitive and dry skin, and I found this serum to be pleasantly nourishing. I didn't use it every day to avoid freaking out my skin. Instead, I stuck to using it three times a week, and I didn't experience any redness, dryness, or irritation.
Just out of interest, I experimented for a full week applying it every day and it did leave me feeling a little dry. I've found three times a week to be the perfect dose for my skin!
Products to Use it With
I love experimenting with different skincare products. When it came to Glow Serum, I decided to pair it with a few other Rainbow products. One of my fave combos was with Hydrate Serum. Formulated with hyaluronic acid and vitamin B5, Hydrate Serum intensely moisturized my skin and made it appear visibly plumper. I also used Hydrate Face Mask, which worked just as wonderfully.
In the morning, I paired it with Smooth Serum, a formula of vitamin C and vegan collagen. They worked well together at brightening, smoothing, firming, and also protecting my skin. Pstt...vitamin C is a powerful antioxidant known for boosting the protective effects of your daily SPF!
Glow Serum: My Verdict
All in all, Glow Serum is a fantastic, high-performing serum that really works. It brightens, smooths, and counteracts dark spots and discoloration. Without a doubt, I'll be using this beauty product in my skincare routine PERMANENTLY. Now I can understand why it's a Rainbow bestseller!
For best results, I like to use it straight after using my daily cleanser. After patting my skin semi-dry, I then pat the serum into my skin. Then I follow up with a hyaluronic acid or vitamin C serum (Hydrate Serum, Smooth Serum).
When it comes to shopping for serums, always look out for active ingredients that specifically target your skin concerns. Niacinamide, retinol, vitamin C (tocopherol), AHAs, and BHAs (salicylic acid) are some of the best to look out for. If you've got dry or sensitive skin, choose formulas that also contain soothing, nourishing ingredients like aloe vera, green tea, glycerin, and jojoba seed oil.