The Six Best Fall Serums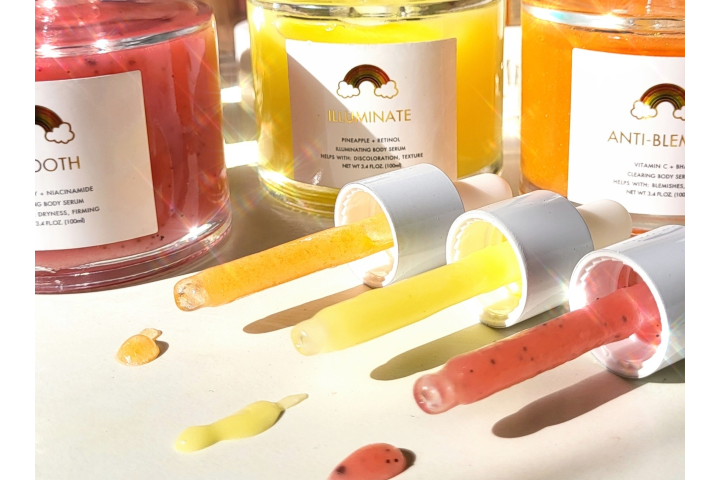 Now that fall's here, it's time to re-assess your skincare routine — or more specifically, the skincare products included in it. While cleanser, moisturizer, and sunscreen are the three main skincare essentials, serums are the real gamechangers in a routine. Whether you're dealing with breakouts, dryness, hyperpigmentation, or fine lines and wrinkles, the right serum/s can resolve your skin concerns.
But when do you know when it's time to switch out your serums for other formulas? For starters...when your skin's needs change. If you had acne-prone skin when you started using a salicylic acid serum, but now your blemishes have been replaced with creases, that would be a good time to swap out your serum for something that targets your new skin concern.
Then there's the new season. With each season comes a new set of skin concerns and needs. In the fall, your skin needs plenty of hydration and nourishment — more than what was needed in summer. It's also the season to address any sun damage caused by the previous season.
Here are six of the best fall serums to bring into your routine this autumn! You don't need all of them, but you can definitely benefit from adding two or three of them into your fall routine.
#1: HYDRATE Serum
Since skin craves extra moisture in the cooler months, you'll need a hydrating formulation to replenish lost moisture and keep skin smooth and supple. Hydrate Serum is a satiny, flash-absorbing formula made with hyaluronic acid, aloe, jojoba oil, and vitamin B5. It's the perfect serum for dry skin or sensitive skin thanks to its cooling, nourishing blend of active ingredients. What's more, this hyaluronic acid serum serves as a perfect base for makeup.
You can use it either as a face serum or body serum — it's designed to hydrate all over. A little goes a long way!
#2: SMOOTH Serum
This age defending formula contains a brightening, line-softening blend of vitamin C and vegan collagen to improve skin tone, diminish dark spots, and plump out fine lines and wrinkles. It also helps to protect skin against free radicals. While your skin is seeing as much sun in the colder months, you still need to protect it against external aggressors like UV rays and pollution. Vitamin C is a potent antioxidant that offers excellent protective effects to keep your skin soft, supple, and healthy.
Everyone can benefit from using a vitamin C serum year round. Regardless of your skin type, vitamin C boasts brightening and protective properties to preserve skin health. Pair it with your daily SPF for extra protection!
#3: TIGHTEN Serum
When you've got mature skin, you need to be using an anti-aging formula all year round. This firming serum is loaded with exfoliating acids and antioxidant-rich red microalgae to buff away dead skin cells, soften fine lines, and tighten loose skin.
Lactic and glycolic acid are the two alpha hydroxy acids present in this serum. They work in tandem to remove the buildup of dead cells and impurities to reveal fresher, brighter skin. Red microalgae is clinically proven to strengthen skin barrier function while fighting off the damaging effects of free radicals. Together, these ingredients treat and prevent signs of aging for a youthful, radiant complexion. Use it both as a facial serum and body serum for all over glow!
#4: GLOW Serum
Between the lack of sunlight and the skin-parching indoor heating, skin loses a lot of its natural glow in the fall. Restore your glowiest skin with this illuminating face and body serum. Glow Serum combines the resurfacing effects of glycolic acid with bakuchiol's collagen boosting benefits to leave skin visibly smoother, firmer, and brighter.
Glycolic acid gently sloughs away dead cells and sebum while bakuchiol increases collagen production and enhances cellular turnover. Together, they treat everything from dullness to dark spots and expression lines. You can use this brightening serum all year round to keep skin glowing from head to toe. It's suitable for all skin types — especially oily skin and acne-prone skin.
#5: ILLUMINATE Body Serum
Treat uneven skin texture and dullness with Illuminate Serum. It combines the anti-aging benefits of retinol with the brightening powers of pineapple for an all-over smooth and glowing finish. It also treats dark spots and discoloration. Since skin is prone to dullness in the autumn, you can swiftly get your glow back with this illuminating body serum.
Pineapple contains ascorbic acid (vitamin C) which aids in evening out skin tone and lightening dark spots. Retinol increases the production of collagen and elastin while boosting cellular turnover, in turn plumping out fine lines and brightening skin. It's one of our fave beauty products for boosting skin's brightness in a flash!
#6: SMOOTH Hydrating Body Serum
Focus on your face, by all means. But don't forget to show your bod a little love too! Smooth Body Serum is a silky, intensely hydrating body serum that blends together strawberry and niacinamide to fight UV damage, breakouts, fine line formation, and loose skin. It also helps with dryness and sensitivity.
Niacinamide is a powerful active ingredient that regulates oil production while increasing keratin, a protein that keeps skin smooth, supple, and healthy. Strawberry is rich in antioxidants and AHAs to gently lift dead skin and protect against free radical damage. You can rely on this silky, strawberry-scented serum for a glowy, dewy finish every time you use it.
When it comes to serum shopping, always look for paraben-free, fragrance-free formulas enriched with nourishing fall-friendly ingredients like hyaluronic acid, vitamin E, ceramides, peptides, AHAs, green tea, and vitamin C.
If you're experiencing severe dryness or sensitivity, consult a dermatologist. A derm will be able to advise you on the best treatment plan and customize it especially for your skin. Just like you use a hair serum to style, combat breakage, or stimulate hair growth, the right serum/s come in handy for treating all kinds of skin complaints.