The Lactic Acid Serum You Need RN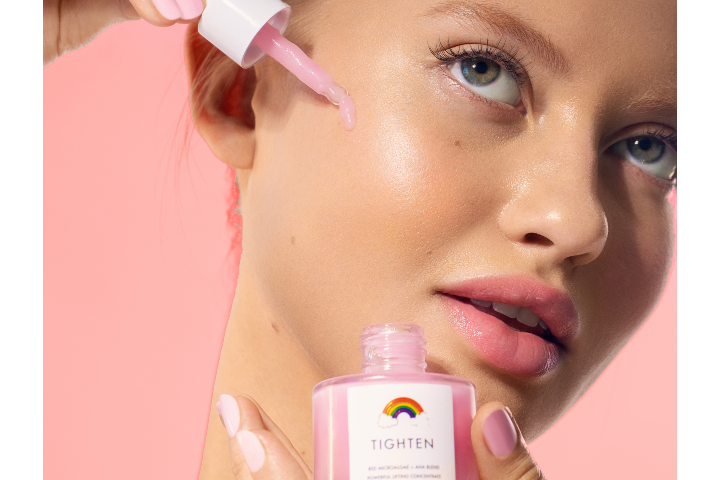 If you're not already using acids in your skincare routine, it's time to start asap. From alpha hydroxy acids (AHAs) to beta hydroxy acids (BHAs), these chemical exfoliants are an invaluable active ingredient that can treat everything from dullness to uneven skin tone and even breakouts.
One acid you've probably heard about is lactic acid. You'll find it in all kinds of skincare products, from cleansers to toners and serums. And dermatologists love it for its ability to improve complexions.
Lucky for you, we've found an excellent lactic acid serum to add to your beauty routine. But first, here's everything you need to know about this skincare ingredient.
WHAT IS LACTIC ACID?
Lactic acid is an alpha hydroxy acid or chemical exfoliant that works by lifting away dead skin cells and excess oil to reveal smoother, fresher skin. It's one of the gentler options and ideal for sensitive skin types. According to the derms, lactic acid can treat a slew of skin concerns, including fine lines, wrinkles, dullness, and hyperpigmentation.
You'll spot lactic acid on the ingredient lists of many skincare products. From cleansers to lotions and face masks, lactic acid is a popular ingredient with numerous benefits. One of the reasons it's so popular is because all skin types can tolerate it. You can even include it in your daily skincare routine without having to worry about redness, dryness, and irritation.
BENEFITS OF LACTIC ACID
Lactic acid, like every other member of the AHA family, is an excellent exfoliator that offers smoothing, brightening, and blemish-busting effects. Many people rely on this acid to achieve glowing skin. The derms say lactic can also improve skin texture, diminish dark spots, and prevent breakouts. In other words, there's no reason NOT to love this AHA.
It even boasts anti-aging benefits. Studies have shown that lactic acid can improve the pigment layer of the skin while boosting collagen production. This, in turn, promotes a smoother, more even texture.
Unlike other acids, however, lactic acid has a unique ability to increase skin's moisture levels, making it an ideal choice for those with dry skin.
"At higher concentrations, [lactic acid] acts as an exfoliator helping to dissolve connections between skin cells," says New York City dermatologist Joshua Zeichner, M.D. "[But] at lower levels it is used as a humectant, meaning it can actually help hydrate skin by pulling in water to the outer skin layer." Neat, huh?!?
It's an excellent moisturizer that seals in moisture and prevents water loss, offering long-lasting hydration.
LACTIC ACID VS GLYCOLIC ACID
Lactic acid and glycolic acid are both powerful exfoliants. That said, since glycolic acid has a small molecular size, it penetrates the skin more quickly which can leave delicate skin types prone to irritation. Glycolic acid is actually considered one of the best AHAs in terms of its overall effects. However, lactic acid is a far better option if you have dry or sensitive skin as it's much gentler and offers hydrating benefits.
If you're looking for a way to exfoliate your skin without stinging or drying out, lactic acid is your go-to chemical exfoliant. By resurfacing the skin, it helps to remove the buildup of dead skin, impurities, and oil, leaving you with a clear and smooth complexion.
While oily skin and acne-prone skin would benefit most from BHA salicylic acid, they can benefit more from lactic acid if they're prone to skin irritation.
You can also try incorporating both acids into your routine to enjoy the benefits of both. For instance, you could use lactic acid five days a week, and glycolic acid only two days a week to prevent your skin from freaking out.
HOW TO USE LACTIC ACID IN YOUR ROUTINE
So you've just purchased a lactic acid product, and you're wondering how to incorporate it into your skincare routine. The great thing about lactic acid is that it's gentle enough for daily use. If you have severely dry or sensitive skin, however, you may want to limit usage to 2-3 times per week. This way, you'll get the benefits of this exfoliating and hydrating ingredient without irritating your skin.
According to dermatologists, lactic acid should not be paired with retinol, as the combination can be too aggressive for most skin types. Apart from retinol, you can pair lactic acid with almost any other ingredient — vitamin C, hyaluronic acid, niacinamide etc.
Remember to always finish your am routine with a generous slathering of sunscreen (SPF 30 or higher) to protect your skin from harmful UV rays. Especially if you're wearing a lactic acid serum or cream, it can leave skin extra sensitive to the sun. A good sunscreen can counteract those effects.
ADD THIS LACTIC ACID SERUM INTO YOUR SKINCARE ROUTINE
Looking for the best lactic acid serum to get the skin of your dreams? We've found just what you need!
Rainbow's Tighten Serum is an AHA-powered serum designed to lift, smooth, and restore elasticity in the skin. It's made with a blend of lactic acid, glycolic acid, and antioxidant-rich red microalgae to gently buff away dead skin cells and shield skin against oxidative stress. Tighten Serum is a daily essential for promoting firmer, bouncier skin and less visible pores.
Whether you're dealing with fine lines, discoloration, dullness, blemishes, or sagging, Tighten Serum is just what you need to combat those skin complaints. For best results, include it in your daily routine. If you have severely dry or sensitive skin, aim to use 2-3 times a week.
After cleansing or showering, apply a few drops of serum to the face, neck, and anywhere on your body that needs a little exfoliating power. This face + body serum will leave you glowing all over!
Lactic acid can make a huge difference to the appearance of your skin. Best of all, it's suitable for all skin types, so everyone can benefit from this exfoliating acid. Look for it in cleansers, serums, and lotions to reap all the goodness of this alpha hydroxy acid!