The Best Vegan Serums 2022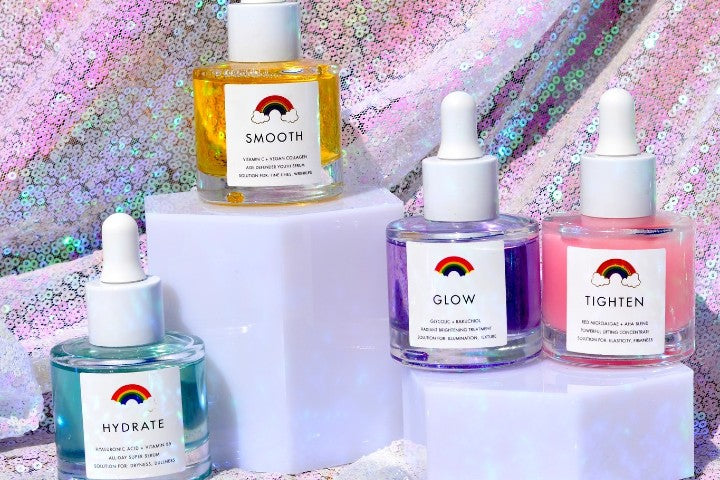 Looking to go vegan with your skincare routine in 2022? Thanks to the rising demand for animal-friendly products, there's so much choice when it comes to finding plant-based skincare products. But which ones stay ethical without compromising on efficacy?
If you're trying to allocate a brightening, anti-aging, or hydrating face serum that's both vegan and effective at treating your skin concerns, we've found the best ones for you.
But first, here's what you need to know about vegan serums...
WHAT IS A VEGAN SERUM?
A vegan serum is a skincare product that is free from animal ingredients. Some of the most common non-vegan skincare ingredients include collagen, beeswax, honey, and stearic acid. Then there's squalane. This ingredient can be both vegan and non-vegan, depending on how it is sourced. Squalane can be sourced from shark liver (animal-based) and olive (plant).
To ascertain whether a product is vegan, look out for the Vegan Society logo (UK) and the PETA-Approved Vegan certification (US) — proof that the beauty product does not contain animal-derived ingredients.
Cruelty-free is another label which refers to products that have not been tested on animals. To check whether a product is cruelty-free, look out for the Leaping Bunny logo. While the two often get used interchangeably, vegan and cruelty-free aren't the same thing. A product can be vegan and not cruelty-free (and vice versa). Keep that in mind the next time you go skincare shopping at Sephora or Amazon! Ideally, you want to look for products that are both vegan and cruelty-free.
WHAT TO LOOK FOR IN A VEGAN SERUM
When looking for a vegan serum, or any serum for that matter, always choose a formula that matches your skin type and addresses your specific skin concerns.
Those with dry skin, for instance, should look for a hydrating vegan serum made with nourishing ingredients like hyaluronic acid, ceramides, and plant seed oils. If you have oily skin or acne-prone skin, choose oil-free, non-comedogenic serums formulated with active ingredients like retinol, salicylic acid, niacinamide, and exfoliating acids like glycolic acid.
As for those trying to reverse signs of aging, reach for serums packed with retinol, vegan collagen, peptides, and antioxidants-rich plant extracts, which offer firming and smoothing benefits. If dullness or hyperpigmentation is your concern, opt for a vitamin C serum. Vitamin C is a powerful antioxidant that brightens, lightens dark spots, and protects skin from free radicals.
If you've got sensitive skin, try quelling inflammation with a soothing serum of aloe, green tea, vitamin E, or rosehip.
THE BEST VEGAN SERUMS TO SHOP 2022
Glow Serum
Fully vegan and cruelty-free, Rainbow's Glow Serum is an all-day brightening treatment powered by exfoliating glycolic acid and elasticity-restoring bakuchiol to firm, brighten, and strengthen skin while treating and preventing breakouts.
It's the perfect choice for skin types too sensitive for retinol thanks to bakuchiol (a natural alternative to retinol). It works the same, boosting collagen production, speeding cell turnover, and enhancing elasticity. The only difference is that it's significantly less irritating.
If you're dealing with dullness or skin texture issues, give this glow-enhancing formula a try.
Hydrate Serum
Super hydrating, this vegan face serum boasts hyaluronic acid, jojoba oil, and vitamin B5 that plump up and replenish skin. In addition to deeply moisturizing skin, hyaluronic acid plumps out fine lines and wrinkles, making skin appear visibly smoother.
It's a great choice for anyone with dry or sensitive skin thanks to its slew of calming natural ingredients. Alongside this, it's fragrance-free, sulfate-free, and paraben-free, making it all the more skin-friendly.
If you're dealing with dry skin or easily irritated skin, opt for this hydrating serum.
Tighten Serum
Invest in a daily serum that lifts, smooths, and restores elasticity in the skin thanks to proven anti-aging ingredients like red microalgae and alpha hydroxy acids. Not only do these key ingredients reverse signs of aging. They also help to buff away blemishes, protect skin against oxidative stress, and improve skin tone.
Tighten Serum is an excellent choice for mature skin since it both addresses and prevents the formation of fine lines and wrinkles while increasing firmness of skin. Just remember to pair it with a good daily SPF to protect skin from sun damage and pollution, both of which contribute to premature aging.
If you're seeing fine lines, wrinkles, sagging or blemishes, turn to Tighten Serum.
Smooth Serum
For brighter, smoother skin, try this nourishing age defending serum. Blended with quality ingredients like vitamin C, vegan collagen, and turmeric extract, this carefully crafted serum bolsters glow while fading hyperpigmentation. You can also apply a small amount under your eyes to diminish dark circles.
Smooth Serum is the number one choice for those dealing with dullness or discoloration. Being the potent antioxidant that it is, vitamin C also shields the skin from UV damage and reduces oxidation damage to skin cells. In other words, it keeps skin young and healthy.
If you have dull, uneven skin, turn to Smooth Serum for quick relief. Pair it with a high quality sunscreen as another layer of protection.
Rainbow is a beauty brand committed to providing vegan, clean, and cruelty-free skincare products without compromising on quality. Whether you're looking for an acne-fighting daily cleanser or a youth-restoring serum, all our products provide results. We are a results-driven skincare brand that you can rely on for only the best animal-friendly skincare products.
If you have a skin condition like eczema or rosacea, we recommend consulting your dermatologist before introducing new products into your routine. As gentle as our products are, they may still be irritating to those with inflammatory skin conditions. It's always best to get your derm's seal of approval before applying something new to your skin.
Got questions about our products? Get in touch, and we'll be happy to help!