The Best Summer Skincare Ingredients in 2022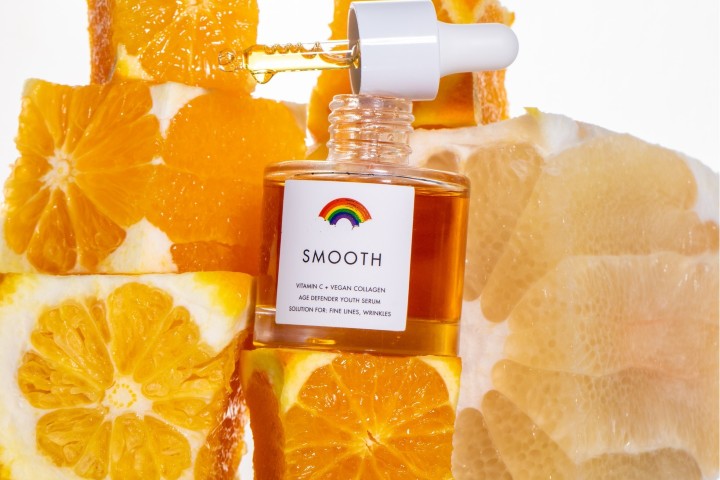 Boost your skin's radiance this summer by infusing 2022's hottest skincare ingredients into your daily skincare routine. Every skincare product, from cleansers to toners and serums, has an ingredients label on it. Here, you'll be able to scan the list for those summery skincare ingredients your skin craves this season.
Here's a list of the best summer skincare ingredients to add to your regimen for your most radiant complexion!
Vitamin C
A potent antioxidant capable of brightening your skin, fending off free radicals, and fading the appearance of dark spots and hyperpigmentation. You'll find vitamin C in a range of skincare products, particularly in serums and lotions. It's a gamechanger for your skin.
If you're not already using vitamin C-laced beauty products, now's the time to start. It also makes your daily sunscreen work harder thanks to its UV-protecting abilities. Just make sure you don't use it in replacement of SPF!
Rainbow's product pick: Smooth Serum
Hyaluronic Acid
Hyaluronic acid is one of the best ingredients out there for hydrating skin. Whether you've got dry skin or you're simply looking for a dewy boost, this powerful humectant can help. It holds 1,000 times its weight in water, making it a go-to ingredient for keeping skin moisturized. In spite of it being an acid, HA isn't irritating, making it suitable even for the most sensitive skin.
What's more, hyaluronic acid naturally boosts collagen in the skin, helping to plump out fine lines and wrinkles. You'll typically find this active ingredient in products designed to moisturize like serums and creams.
With the warmer temperatures and drying air conditioning, skin needs plenty of hydration during the summer months to stay healthy. Rely on this powerhouse moisturiser to keep your skin happy!
Rainbow's product pick: Hydrate Serum
Glycolic Acid
Exfoliating should continue well into summer, and beyond. If you can't get your hands on a gentle enough scrub, try utilizing the powers of alpha hydroxy acids like glycolic acid. Glycolic acid is a chemical exfoliant that gently sweeps away dead skin cells, allowing fresh skin to surface and enabling your other skincare products to absorb more effectively. It also helps to unclog pores, ward off breakouts, brighten skin tone, and even minimize signs of aging.
If you're looking for a quick way to boost your glow, look no further than glycolic acid. By buffing away old, dead cells, your freshest, most radiant skin will reveal itself.
Rainbow's product pick: Glow Face Mask
Vegan Collagen
Vegan collagen offers all the anti-aging benefits of regular collagen while staying 100% plant-based. In addition to plumping out fine lines, vegan collagen helps restore skin's elasticity, improving skin's overall firmness. Another benefit of plant collagen is its ability to support skin barrier function.
Your skin barrier is responsible for keeping skin healthy, hydrated, and protected. When your skin barrier becomes compromised, that's when more skin concerns crop up. Vegan collagen maintains a healthy skin barrier so that you don't have to deal with issues like dryness, irritation, and breakouts.
Rainbow's product pick: Smooth Face Mask
Aloe
If you've ever had sunburn, you've probably used an aloe-based gel before. Aloe offers exceptional cooling effects, helping to quell inflammation and ease sunburn. That's all thanks to its powerful anti-inflammatory properties. But soothing sunburn isn't its only speciality.
Aloe is a fabulous summer skincare ingredient for a number of reasons. First, it helps bring down inflammation in active sunburn, while speeding up the healing process. Second, it's rich in water, which makes it a talented skin hydrator. And third, aloe has been proven to reduce the appearance of dark spots — a common side effect of spending too many hours in the sun.
There's even data to suggest that aloe can help clear up acne thanks to its antimicrobial properties. It's also a natural source of salicylic acid, which can help with blackheads and whiteheads.
Rainbow's product pick: Tighten Serum
Bakuchiol
Bakuchiol is commonly used as an alternative to retinol. According to dermatologists and researchers, it offers all the same benefits of the vitamin A derivative — without the side effects.
Like retinol, bakuchiol spurs cell turnover and collagen production, plumping out creases on the skin. It also brightens while shielding the skin from environmental stressors and pollution — both contributors of premature aging.
Bakuchiol is suitable for all skin types, and pairs well with a number of other skincare ingredients including AHAs, ceramides, and BHAs.
Rainbow's product pick: Glow Serum
Niacinamide
Niacinamide is the it-skincare ingredient of 2022 — and it belongs in your skincare regimen. It's considered a holy-grail solution for a slew of common skin issues, ranging from skin aging to hyperpigmentation and dryness. It's also been shown to calm inflammation and redness, decrease the appearance of pores, and support the skin barrier.
You will find niacinamide in all kinds of products such as eye creams, serums, and moisturizers. It's definitely having its moment on social media for being one of the new year's hottest skincare ingredients. And frankly, we think it'll remain as one of the year's biggest skincare trends — it's that good.
Vitamin E
It might be a common skincare ingredient, but that doesn't mean it's uninteresting. Vitamin E is an antioxidant that combats free radical damage, aids in cellular restoration, and serves as both a humectant and an emollient, meaning it can attract and retain moisture.
The majority of skincare brands harness the powers of vitamin E in their formulations simply because they know how nourishing it is for skin. Plus, it pairs well with multiple skincare ingredients including retinoids, peptides, and AHAs.
Like with all skincare products, make sure you finish with a broad-spectrum SPF 30 to keep skin protected.
Prioritize skin health this summer by introducing these sizzling skincare ingredients into your skincare routine. Start now, and your skin will be GLEAMING by the time summer arrives! Or probably even, long before that!
Stay updated on our new product releases, latest beauty trends, and self-care videos by following us on Instagram and TikTok. We look forward to seeing you over there!