Take the Quiz: Find Your Signature Rainbow Beauty Serum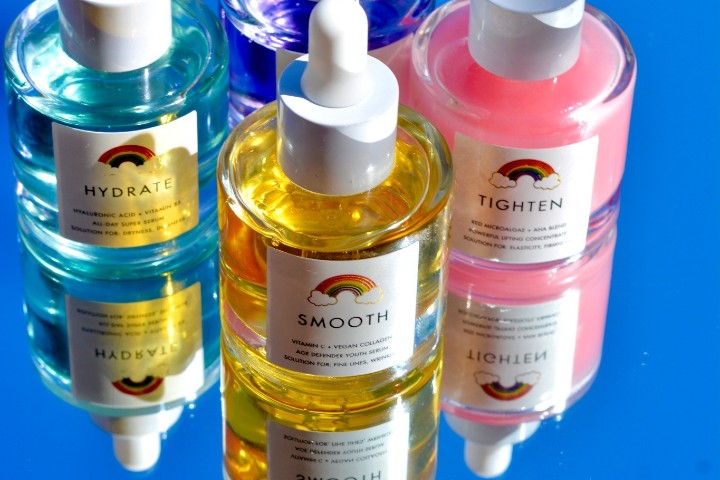 Serums can be a gamechanger in your skincare routine. If you're not using one already, there's no better time to start than now. Whether you're looking to treat breakouts, smooth out fine lines, fade dark spots and hyperpigmentation, or simply boost your glow, serums are a go-to skincare product for helping you achieve your skin goals.
At Rainbow, we offer a selection of serums, each designed to treat various skin concerns. Our skincare brand is vegan, cruelty-free, and CLEAN. And all our serums contain high-performing ingredients to tackle all kinds of skincare woes.
Best of all, serums work well as a primer for your makeup products, such as concealer, matte foundation, highlighter, mascara, eyeshadow, eyeliner, and contouring products. They'll all slide on much more seamlessly. Makeup artists swear by it.
If you're not sure which Rainbow serum will most beneficial for your skin type and concerns, take our quiz — and we'll acquaint you with your perfect serum.
THE QUIZ
What's Your Skin Type?
Dry
Oily/Acne-prone
Mature
Normal to combination
What's Your Biggest Skin Concern?
Dryness

Large pores and breakouts
Fine lines and wrinkles/sagging skin
Discoloration (i.e. dark spots)
What Kind of Serum Do You Want to Use?
Hydrating

serum
Acne-fighting serum
Anti-aging serum
Brightening serum
IF YOU ANSWERED MOSTLY A'S
Your Perfect Match is Hydrate Serum
Hyaluronic acid is key for moisturized, dewy skin. This humectant works by attracting and sealing in moisture, allowing skin to stay hydrated all day long.
You'll find it in Rainbow's Hydrate Serum, a flash-absorbing daily serum of hyaluronic acid, vitamin B5, and jojoba oil to plump and drench dull, dry skin in lasting moisture. We love this lightweight serum because it deeply hydrates while helping to smooth out creases and strengthen your skin's natural moisture barrier. Don't worry if you have sensitive skin. This serum is safe for all skin types — and contains aloe vera to bring down any irritation.
Tip: Include this serum in your daily beauty routine to keep skin hydrated. Boost hydration even further by pairing it with Rainbow's Hydrate Jelly Mask.
IF YOU ANSWERED MOSTLY B'S
Your Perfect Match is Tighten Serum
Exfoliation is key when you're blemish-prone — especially chemical exfoliation. Alpha hydroxy acids (AHAs) like glycolic acid and lactic acid buff away excess oil, dirt, and dead skin cells, keeping pores clear and preventing breakouts from forming. In addition to their clearing benefits, AHAs also improve skin tone, texture, and help fade discoloration.
You'll find AHAs in Rainbow's Tighten Serum, a daily pore-minimizing serum powered by lactic and glycolic acid, antioxidant-rich red microalgae, and oil-sapping witch hazel. While it's technically an anti-aging beauty product, it also works just as efficiently as a pore-shrinking one thanks to its exfoliating properties. It's one of our bestselling formulas!
Since you don't want to clog blemish-prone skin with heavy creams and lotions, this serum is a great alternative for nourishing and hydrating skin — thanks to jojoba oil and aloe.
Tip: Include this serum in your daily skincare routine to keep skin clear and keep breakouts at bay. Boost its clarifying effects even further by pairing it with Rainbow's Tighten Mask.
IF YOU ANSWERED MOSTLY C'S
Your Perfect Match is Smooth Serum
Loss of collagen is what leads to fine lines, wrinkles, and skin sagging. Using cleansers, creams, and serums formulated with vegan collagen can help delay the process and actively plump out existing creases. Vitamin C is another important ingredient to try if you're dealing with visible signs of aging. An antioxidant, it helps thicken the dermis, support skin barrier function, and protect skin from sun damage.
You'll find vitamin C and vegan collagen in Rainbow's Smooth Serum, a pastel-hued, age defending serum designed to deliver fresher, fine line-free skin. Besides plumping out wrinkles, this vitamin C serum can help treat pigmentation issues and brighten skin. Free of sulfates and other nasty ingredients, you'll be nourishing your skin every time you apply Smooth Serum.
It also contains algae extract, aloe, and turmeric extract, which work together to soothe, protect, and illuminate skin.
Tip: Include this serum in your daily skincare routine to keep skin smooth, supple, and line-free. Boost its anti-aging effects even further by pairing it with Rainbow's Smooth Mask.
IF YOU ANSWERED MOSTLY D'S
Your Perfect Match is Glow Serum
Dullness can be reversed through regular exfoliation. It helps to slough away dull, dead cells sitting on the surface of your skin to reveal fresh, glowing skin underneath. Additionally, regular exfoliation keeps pores clear, breakouts away, and even allows other skincare products to work harder, as they'll be able to absorb more easily.
You'll find a gentle daily exfoliant in Rainbow's Glow Serum, a radiant brightening treatment made with glycolic acid and bakuchiol. Glycolic acid is a chemical exfoliant that sweeps away dead skin, improves skin tone and texture, and reduces hyperpigmentation. Bakuchiol is an antioxidant-rich retinol alternative that brightens, protects, and firms skin. This duo works together to gently exfoliate, illuminate, and smooth out skin. You can even apply it under the eyes to diminish dark circles.
It also contains jojoba seed oil, aloe, and acai extract to hydrate and soothe dull, dry skin. Since dull skin can also be the result of dehydration, it's important to regularly moisturize.
Tip: Include this serum in your daily skincare regimen to keep skin bright, fresh, and bouncy. Boost its brightening effects even further by pairing it with Rainbow's Glow Mask. Finish with sunscreen.
Now you've found your ideal daily serum! No need to stroll the aisles of Ulta and Sephora feeling bewildered anymore! You've got your solution right here.
You can also pair one serum with another if you're dealing with multiple skin concerns. Alternatively, bring in a new serum containing other high-performing ingredients like retinol or niacinamide. Avoid products with essential oils, which are typically irritating for skin.
Just like different hair types need different hair care products like hair masks and conditioner, different skin types with different concerns also need specific products.
Speak to you dermatologist if you have any questions or concerns.