So You've Just Exfoliated...Now What?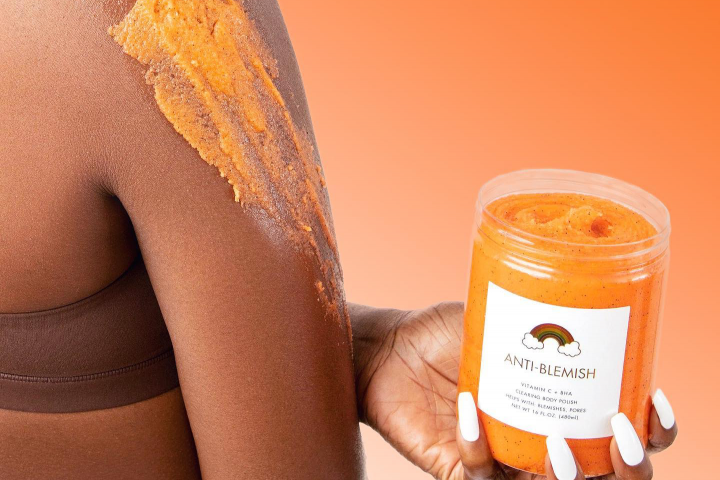 Exfoliation plays an important role in a skincare routine. It removes the buildup of oil, impurities, and dead skin cells, helping to unclog pores, prevent breakouts, and improve skin tone and texture.
But there's a secret few know about the power of exfoliation...it helps prep skin for other beauty products and treatments to come.
If you've just exfoliated and you're wondering what to apply next, here are some of the best things you can do to your freshly exfoliated skin. And if you haven't exfoliated yet...don't worry. Ahead, we've got some of our top exfoliating products for an invigorating skin buffing session.
The Best Things You Can Do After Exfoliating
#1: Apply Your Serums
A fun little hack you should know: exfoliation helps skincare products penetrate deeper. In other words, your favorite retinol serums and skin barrier strengthening lotions will work a lot harder when applied to freshly exfoliated skin. Without that buildup of dead cells and sebum, the active ingredients in your products can absorb deeper, maximizing their effects.
To get the most out of your retinol, hyaluronic acid, and vitamin C serums, try applying them after exfoliating so that they sink deeper into the skin. And this philosophy doesn't only apply to your serums. You can also maximize the effectiveness of your cleansers, toners, creams, and acne treatments simply by applying them to a clean, previously exfoliation complexion.
#2: Shave
Yes, you should be exfoliating before shaving. It's a great way to prep skin for the hair removal process. That's mainly because exfoliating removes dead skin cells, preventing them from clogging your razor blades and providing a smoother, closer shave without irritation.
Most shaving nasties — razor burn, ingrown hairs, etc. — occur due to razor's having to be applied with pressure to remove hair. It shouldn't work this way. You should easily be able to glide your razor across your skin without applying much pressure. By applying pressure, you increase friction and ultimately irritation.
For the sake of a better shave, start the process with a hydrating scrub. If you've got sensitive skin, try using a gentle cleanser formulated with chemical exfoliants like AHAs and BHAs which will remove surface cells without being too harsh.
#3: Self-Tan
Self-tanning serums, creams, and lotions provide a more even result when applied to exfoliated skin. When there's an accumulation of dirt, oil, and dead cells on the skin, the self-tan sticks to dry patches, causing an uneven result. Most of the time, that's the reason for patchiness!
A great way to start your self-tanning session is in the shower. Take a lukewarm shower, lather up with a foaming cleanser or body wash, then exfoliate with either a chemical or physical exfoliant. Not only will it remove dryness and rough patches, it'll also immediately brighten skin and prep for seamless self-tanning application.
#4: Slather on Sunscreen
Freshly buffed skin tends to be extra sensitive to the sun. That is why it's critical to apply SPF 30 or higher afterwards to ensure skin has adequate protection against UV rays, which are commonly responsible for premature signs of aging (fine lines, wrinkles, hyperpigmentation). It's even more crucial if you've over-exfoliated skin. Some signs of over-exfoliation include redness, flaking, burning sensation, or skin feeling tight and dry.
#5: Apply Makeup
While you shouldn't be exfoliating every day, regular exfoliation preps skin for seamless makeup application. Honestly, your foundation and concealer will simply glide on when your skin's just been exfoliated. After exfoliation, apply a primer or face cream, leave it to melt into skin for a couple of minutes, then go in with your makeup products. Your foundation will look flawless — and your skin, extra dewy!
#6: Coat Your Skin in an Emollient
Exfoliating can dry out the skin. Reverse the effects by slathering your skin in an emollient-based cream, butter, or lotion. Anything to hydrate! Some of the best emollients include shea butter, cocoa butter, and ceramides.
SHOP Exfoliators
Dry skin? Sensitive skin? Whatever your skin type, we've got a selection of the best exfoliators for both the face and body. Scroll down, and shop!
GLOW Mask
Powered by chemical exfoliant glycolic acid and retinol alternative bakuchiol, GLOW Mask gently resurfaces skin, shedding dead cells and dirt for a fresh and gleaming complexion. From dullness to fine lines to discoloration and pimples, this glossy gel mask can treat a slew of skin concerns. It's exactly what you need for smooth, healthy skin that glows.
ILLUMINATE Body Polish
Your face isn't the only place that needs a good buffing every now and then. Your body builds up dead skin and grime, just as much. Scrub away the buildup with ILLUMINNATE Polish, a body scrub of salt, pineapple, and retinol which work together to detoxify skin, remove roughness, and diminish discoloration. It's a quick fix for illuminating your body.
ANTI-BLEMISH Body Scrub
Vitamin C and salicylic acid work in tandem in this clarifying scrub to decongest pores, brighten dullness, and banish pesky body breakouts. Before you slather on all your topical acne treatments, start off buffing away buildup to ensure they work their hardest. It's the perfect formula for oily skin and acne-prone skin!
TIGHTEN Serum
An anti-aging serum with mega buffing abilities, Tighten Serum contains a resurfacing blend of glycolic and lactic acid combined with soothing aloe and natural oils. It works to rid the skin of dead cell buildup, revealing fresher, brighter, like-new skin. In addition to smoothing out lines and rough patches, TIGHTEN Serum optimizes skin health and skin healing.
Skin needs regular exfoliation in order to look and feel its best. Ask any dermatologist and they'll tell you exactly the same thing! You can do it at home, using only one or two wallet-friendly products, and in a matter of minutes you'll feel so much smoother and glowier.
If you have any unpleasant side effects from an exfoliating product, seek help from a board-certified dermatologist. Or even quicker: dab on some hydrocortisone cream.