Skincare Stocking Stuffers She'll LOVE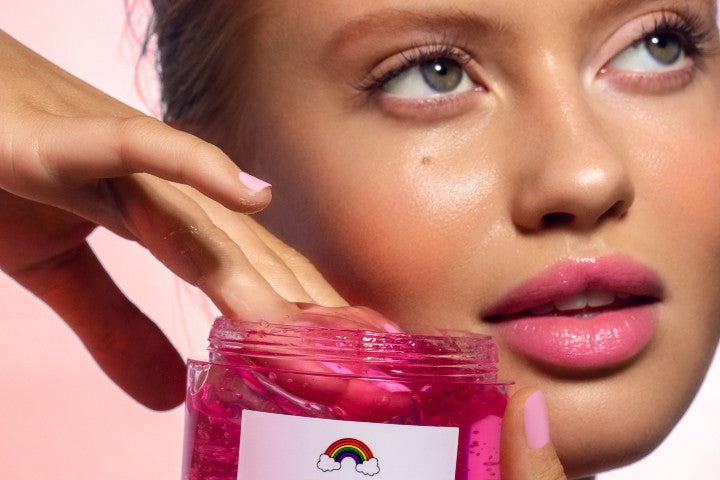 Whether it's for a girlfriend, bestie, or relative, we've rounded up the best skincare stocking stuffers we know she'll sincerely appreciate. 
While skincare may be a personal thing, it's never a bad idea to give someone a taste of something new. You never know, it might just be the change or upgrade they need in their regimen to achieve better skin. 
Keep scrolling to browse our bestselling beauty products to load her stocking with this Christmas. This is the only holiday gift guide you need for sensational skincare stocking stuffers!
SMOOTH BUNDLE
This two-step routine features a face mask and serum designed to deliver a dewy, youthful glow. Packed with brightening vitamin C and anti-aging vegan collagen, this duo shields the skin from free radicals while thickening the dermis to smooth out fine lines and wrinkles.
What Makes it Special?
Vitamin C is a potent antioxidant which helps reduce the appearance of premature aging by reducing oxidation damage to skin cells. It also fades discoloration and gives a radiant glow to the skin.
Vegan collagen offers all the plumping benefits of regular collagen while remaining 100% plant-based. This boost of collagen helps skin cells repair and renew themselves while thickening the dermis to promote a smoother complexion.
It's a great gift for a loved one who likes experimenting with new self-care products.
GLOW BUNDLE
Give your best friend the gift of glowing skin this Christmas with our Glow Bundle gift set. The kit contains a face serum and face mask formulated with exfoliating glycolic acid and UV-protecting bakuchiol to buff and brighten your skin.
What Makes it Special?
Glycolic acid is an alpha hydroxy acid that works by loosening the bonds between skin cells on the skin's surface to reveal a brighter, fresher complexion underneath. In addition to improving skin texture and boosting glow, glycolic combats discoloration and prevents breakouts.
Bakuchiol is an antioxidant and a gentler alternative to retinol. This vegan skincare ingredient brightens while protecting the skin from environmental stressors and pollution.
It's the perfect Christmas gift for that lady in your life who adores cruelty-free, plant-based skincare. After all, who doesn't want a little extra radiance this winter? 
HYDRATE BUNDLE
Looking for a great stocking stuffer to put a smile on your sis's face? You can't go wrong with Rainbow's Hydrate Bundle. Inside, you'll find a face mask and serum formulated with a nourishing blend of hyaluronic acid and vitamin B5. Skin enthusiast or not, everyone knows HA provides the ultimate hydration to skin. Vitamin B5 and hyaluronic acid work seamlessly together to visibly plump, regenerate damaged cells, and hydrate for a glass-like complexion.
What Makes it Special?
Hyaluronic acid is known to boost hydration and firmness of the skin by attracting water into the skin. Plus, it aids in preventing hyperpigmentation and dry patches. You'll commonly find it in oils, serums, lotions, sleep masks, lip masks, and lip balms -- or basically anything that moisturizes!
Vitamin B5 locks in lasting hydration by absorbing moisture from the air while improving skin regeneration. Improved tissue regeneration boosts brightness, elasticity, and an all-over healthy glow.
It's a great holiday gift, and far more interesting than things like bath bombs, scrunchies, nail polishes, and key chains. These products are going to make her glow! 
TIGHTEN BUNDLE
The best stocking stuffers are the surprising ones, and you're bound to surprise mom this Christmas when you fill her stocking with this stunning small gift: Tighten Bundle. Firming and exfoliating, this face serum + mask is everything she needs to chill out and unwind this holiday season. Made with a blend of wrinkle-reducing red microalgae and skin-brightening alpha hydroxy acids, this duo checks all the anti-aging boxes! It's the best gift for women who appreciate high-quality, high-performing skincare.
What Makes it Special?
Red microalgae is a powerful antioxidant clinically proven to protect skin against oxidative stress and fine line formation. You'll commonly find this ingredient in cleansers, serums, and lotions. 
Alpha hydroxy acids (AHAs) lightly exfoliate the skin, shedding dead skin cells and boosting collagen production for smoother, firmer skin. 
This bundle is an excellent stocking stuffer idea if you're looking for something other than hair ties, makeup brushes, or eyeshadow palettes. Mom will love it!
RESTORED BUNDLE
A 3-step skincare routine for peak dewiness. Made with a blend of hydrating vitamin B5, plumping red microalgae, and UV-shielding bakuchiol, this face mask + serum combo is everything she needs for flawless skin.
It really is the perfect gift for that person in your life who lives for skincare. Even if they don't, maybe it's worth introducing them to this streamlined skincare routine? Best of all, this small package will fit perfectly in her stocking.
More Stocking Stuffer Gift Ideas
Instead of our pre-made bundles, why not create your own DIY bundle featuring your favorite Rainbow individuals? For instance, you could make a serum bundle using our four serums and drop them all in her stocking. This way, she gets to try them all and you don't have to worry about offending her by solely giving her an anti-aging formula. Alternatively, do the same thing but with the masks instead.
In addition to getting a variety of formulas, she gets to enjoy a colorful assortment of products she can glam up her cabinet with. 
As fun as Etsy and Amazon are for holiday shopping, why not go for something more unique this Christmas like our colorful skincare bundles? You don't need to get the lady or bestie in your life an iPhone or expensive manicure to win her love and attention. Just get her something thoughtful that you know she'll appreciate.
Our skincare formulas are carefully crafted using only the best, cult-favorite ingredients available. Throw in a massage and give her the gift of a relaxing self-care session -- something she no doubt deserves.