Retinol Sandwiching: What You Should Know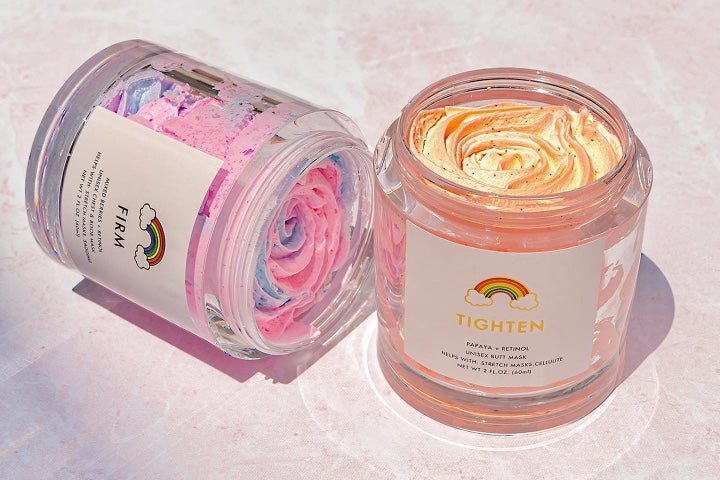 Retinol sandwich, anyone? While it may sound like something you'd order from a deli counter, retinol sandwiching is a skincare technique that's been around for a while. It's only recently gone viral on TikTok.
Retinol is a powerhouse skin-care ingredient that can help a variety of skin complaints including fine lines, acne, and hyperpigmentation. This vitamin A derivative is easily accessible via over the counter skincare products found at your local drugstore. You'll find it in everything from serums to eye creams to toners and lotions. The only downside to this active ingredient is that it can cause side effects (particularly in sensitive skin) such as redness, dryness, and flaking.
Enter: the retinol sandwich! A method said to reduce some of the unpleasant side effects of retinol. Here's everything you should know about the retinol sandwich trend.
What is a Retinol Sandwich?
A retinol sandwich consists of applying a layer of moisturizer before your retinol product and following up with another layer of moisturizer afterward. The process begins with cleansing, followed by moisturizer, retinol, and then moisturizer again. Of course, giving each layer a minute or two to absorb before applying the next layer.
The whole purpose of the retinol sandwich technique is to help reduce the risk of dryness, flaking, and irritation often associated with retinoids.
According to dermatologists, the first layer of moisturizer acts as a barrier, which prevents retinol from irritating the heck out of your skin. On the other hand, by placing a barrier between a cream and your retinol serum, the retinol won't be able to penetrate as deeply — diminishing its effects.
There are both pros and cons to the retinol sandwich method. And some skin types benefit more than others. Scroll down to hear whether it's worth including in your skincare routine.
Does the Retinol Sandwich Method Work?
Here's what the derms say about this super hot TikTok trend.
Pros
The biggest benefit of retinol sandwiching is that it can help those with sensitive skin use retinol without experiencing irritation.
"Applying moisturiser first allows the skin to first absorb moisture, leaving less room for retinol molecules to be absorbed and thus lessening the adverse side effects of retinol," explains celebrity aesthetician and dermatological nurse Natalie Aguilar. This in turn helps prevent irritation such as dryness, redness, and flaking.
Another plus point to the method is that you can afford to use it nightly without worrying about your skin burning. By layering it, you can use your retinol products more often.
Cons
Typically, a skincare routine ends with a layer of moisturizer (and sunscreen!). The retinol sandwich method, however, involves applying moisturizer before retinol. While this can certainly be effective at reducing irritation and strengthening skin's tolerance to the ingredient, it can compromise its overall effects.
"My specific concern about a layer of moisturizer prior to retinol application comes from the fact that moisturizers contain occlusives, such as petroleum, mineral oil, paraffin, squalene, dimethicone, shea butter, lanolin, beeswax, and cholesterol to name a few," says Robyn Gmyrek M.D., a board-certified dermatologist based in New York City. FYI: these are moisturizing agents that create a barrier on the skin to seal in moisture.
According to Gymrek, you may minimize irritation by applying retinol this way, but you'll also minimize its overall effectiveness.
What's the Best Way to Use Retinol?
Retinol is an all-round amazing ingredient, and well-deserving of a place in your skincare regimen. By boosting collagen production and speeding up cell turnover, retinol can help to clear up breakouts, brighten skin, fade discoloration, and improve the appearance of fine lines.
If you've got dry skin or sensitive skin or it's your first time using retinol, here's the safest way to use it.
For starters, choose retinol formulations made with moisturizing ingredients to help reduce irritation. Next, make sure you're only using a pea-sized amount — 2-3 times a week. When your skin adjusts, you can start applying it daily or every other day.
You can also try spreading out your pm skincare routine. For example, apply your moisturizer in the afternoon, then apply retinol a few hours later before bed to give the moisturizer time to fully absorb.
Shop Retinol Skincare
Retinol is the go-to ingredient for improving skin tone and texture. Here are some of our fave topical retinol products you can shop now (as well as some gentle retinol alternatives if your skin's a little too delicate for the vitamin A derivative).
Illuminate Serum
A satiny body serum that combines the powers of anti-aging retinol and brightening pineapple for an all-over glowing complexion. Illuminate Body Serum helps with discoloration and uneven skin texture, too! Chock full of antioxidants, it's a daily essential for keeping skin silky smooth and radiant.
Firm Boob Mask
A whipped boob mask enriched with a blend of retinol and antioxidants to tighten, lift, minimize fine lines, and hydrate skin. Gentle jojoba beads work in tandem with retinol to provide gentle exfoliation to the skin, buffing away dead skin cells to reveal your freshest, glowiest skin.
Tighten Butt Mask
A whipped butt mask formulated with retinol and papaya to plump, smooth, and lift your booty. It lightly exfoliates skin thanks to gentle jojoba beads for your softest, perkiest peach.
Glow Serum
This silky serum does not contain retinol but it does contain bakuchiol — a gentle retinol alternative. It boasts all the benefits of retinol, only without the unpleasant side effects. This serum is the perfect choice for dry and sensitive skin types. It also contains glycolic acid to lightly buff away dead skin while illuminating skin.
Retinol sandwiching has both advantages and disadvantages. To get the best effects from your retinol products, choose formulas that contain soothing, moisturizing ingredients. This way, you get the benefits of it being gentler on the skin without blocking full penetration. Alternatively, swap out retinol for bakuchiol if your skin's super sensitive to the active ingredient.
Will we be ordering a retinol sandwich anytime soon? Thanks, but we'll pass.