Rehab for Post-Summer Skin: The Routine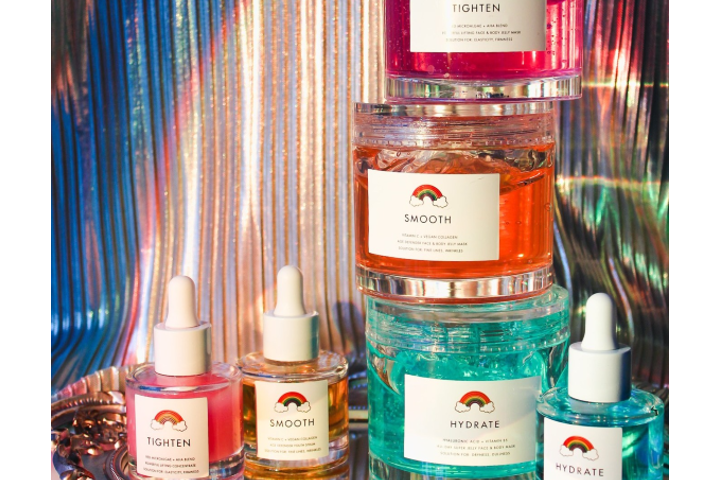 Had a few too many days sipping cocktails by the pool? As much as we love the summer, it can really do a number on your skin. UV rays can contribute to everything from fine lines and wrinkles to hyperpigmentation and even skin cancer. Especially if you're not loading on the SPF!
If you're stepping into fall seeing dark spots and discoloration or the first few lines etching into your skin, now's the time to check your skin into rehab. Try this easy skincare routine to treat post-summer skin for your smoothest, glowiest complexion.
#1: Start Wearing Sunscreen
If you skipped SPF all summer, it's not too late to start making a habit of applying it daily. Even when it's dull outside, you still need to protect your skin from harmful UVA and UVB rays which can lead to sun damage — leaving skin dry, pigmented, and prone to wrinkles. Sure, you're probably not going to deal with sunburn, but your skin will still suffer the effects of leaving your home unprotected.
You can either look for a sunscreen with SPF 15-30, or reach for a day cream formulated with SPF. Remember to reapply every 2 hours to stay protected.
Wearing sunscreen now won't reverse the harmful effects of sun exposure, but it will prevent future damage.
#2: Gently Exfoliate Skin
Use a gentle exfoliator that contains alpha hydroxy acids (AHAs) such as glycolic acid or lactic acid. These help to lift dirt, impurities, and dead skin cells, revealing your freshest, smoothest skin. Whether you're dealing with dullness, dry patches, sun spots, or fine lines and wrinkles, exfoliation can help combat these skin concerns.
These chemical exfoliants gently resurface the skin, brightening, smoothing, and improving skin tone and texture. Especially in the colder months when skin is prone to dryness, it's important to incorporate exfoliation into your weekly routine to keep glowing. It also enables other skincare products, like your fave vitamin C serum or night cream to penetrate deeper into the skin.
All skin types can benefit from exfoliation. If you've got oily skin or blemish-prone skin, aim to exfoliate 3-4 times a week to keep pores clear and breakouts at bay. For those of you with dry skin or sensitive skin, stick to exfoliating 1-2 times a week to prevent irritating your skin.
We recommend Rainbow's GLOW Serum, which contains a resurfacing blend of glycolic acid + bakuchiol to buff away summer skin concerns like dullness, dryness, and discoloration.
#3: Invest in a Pigmentation Treatment
Got dark spots or discoloration on your face, neck, or anywhere else on your body? Look for a formula enriched with pigmentation-busting ingredients such as vitamin C, niacinamide, or kojic acid.
Vitamin C is an excellent choice for treating hyperpigmentation because it blocks melanin production, making it a natural skin brightener. It's also a potent antioxidant, meaning it protects skin cells from additional damage by fending off free radicals.
Try Rainbow's Smooth Serum, packed with vitamin C + vegan collagen to visibly tackle pigmentation and sun spots. As a little added bonus, they also support natural collagen production, plumping out fine lines and wrinkles.
#4: Hydrate
Sun-parched skin tends to feel dry, tight and sensitive so it's essential to keep hydration levels topped up. In the morning and evening, slather your skin in a nourishing cream, lotion, or serum to seal in moisture and keep skin hydrated. Skin needs plenty of moisture in order to thrive. Moisturized skin is also less vulnerable to irritation.
In addition to your daily moisturizer, try switching out your drying cleansers for gentler, more hydrating versions. This way, you're giving your skin as much moisture as possible, keeping it strong, healthy, and less likely to dry out.
Try Rainbow's HYDRATE Bundle, which features a face mask and serum formulated with hyaluronic acid, vitamin B5, and jojoba oil. This 2-step routine drenches skin in moisture while plumping out fine lines and wrinkles.
#5: Reach for Retinol
Retinol is a form of vitamin A that works wonders for hyperpigmentation. Typically hailed as an anti-aging ingredient, retinol's benefits go beyond fighting fine lines and wrinkles. It can treat everything from clogged pores to acne and discoloration. By encouraging cell turnover, retinol allows healthier, newer skin cells to surface while sweeping away darker ones.
If your skin's too sensitive for retinol, you could try using bakuchiol — a gentle retinol alternative. It works in pretty much the same way without the unpleasant side effects like redness, dryness, and irritation.
You'll find bakuchiol in Rainbow's GLOW Mask. It's also enriched with glycolic acid to buff away dull, dead skin cells for smoother, brighter skin.
#6: Treat Your Skin to a Mask
Once a week, show your post-summer skin some TLC with a rejuvenating face mask. Look for ingredients that nourish and repair the skin, such as aloe, shea butter, ceramides, antioxidants, and hyaluronic acid. Next to infusing your skin with nourishing ingredients, setting aside time for a face mask will help you to de-stress and unwind — and that's always a great thing for the skin!
We recommend Rainbow's TIGHTEN Mask. It's powered by antioxidant-rich red microalgae and a resurfacing blend of AHAs to smooth, firm, and illuminate skin for a youthful, glowing complexion. You can use it on both your face and body for conditioning, strengthening, and tightening effects.
If summer's left your skin looking a little sad, don't wait around to show your skin some much deserved TLC. With the above post-summer skin routine, you can restore your smoothest, brightest skin while tackling summer skin concerns like fine lines and discoloration.
For best results, be as consistent as possible. In order for these products to show results, we recommend using them in your daily or weekly routine.
You can shop Rainbow products on our official website, as well as at CVS and Walmart!