North West Shares Skincare Routine, but Do Kids Even Need One?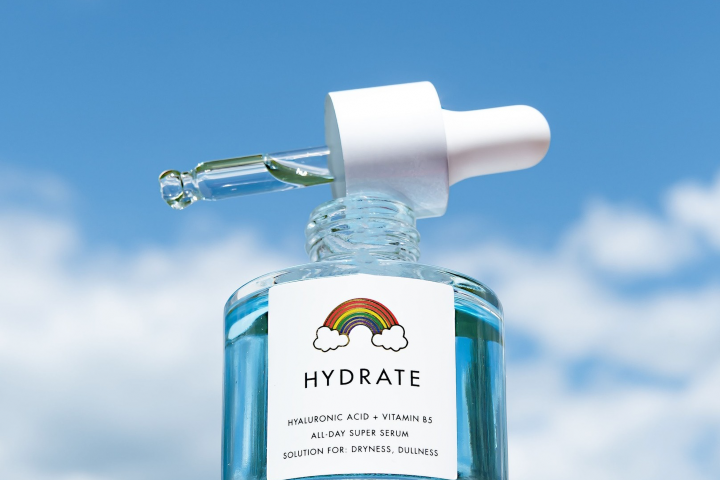 Last year, Kim Kardashian and her eldest daughter North West, created a joined TikTok account named @kimandnorth. With over 10 million followers, the account is certainly popular with the duo regularly posting new videos of them joking around with each other and approaching different trends.
This week, however, the daughter of Kim Kardashian and Kanye West sparked a debate online after the 9-year-old filmed herself going through her daily skincare routine.
A skincare routine? For a 9-year-old? TikTokers were shocked by the video, but many fans defended mom Kim, reminding critics that she's only letting her daughter experiment and have fun.
Ahead, what North West's skincare routine entails, and whether someone of such a young age even needs a beauty routine.
North West's Skincare Routine
On Friday, November 11, North West posted a step-by-step morning routine and evening routine.
"First I wash my hands… Then I dry my hands… Then I use my SKKN by Kim," North says, showcasing a collection of skincare products from her mom's brand.
She goes on to complete her full routine, remaining comical throughout the video, acting like the ultimate influencer (although technically, she already is one!).
The Backlash
Many people were left "disturbed" by the video of the young child slathering on her beauty products as they questioned why a 9-year-old even had such an elaborate skincare routine.
"Not to be dramatic but I have never been as disturbed as I am watching North West do her skincare routine," read one popular tweet.
"New anxiety levels unlocked after watching north west doing her skincare routine on tik tok," tweeted another.
Dad Kanye West probably isn't too happy about it either. Earlier this year, the rapper expressed his concerns over his ex-wife letting their daughter North wear makeup and post on TikTok.
The Defenders
Some fans came to Kim and North's defense, pointing out that she's only "having fun."
"Howling at all these middle aged woman in absolute uproar at north west having a skincare routine, that's why half of you look 60 and are 30," said one defender on social media.
"North West has a better skincare regime than me (a near 30 year old)," wrote another.
So far, we haven't heard anything from family members such as Khloe Kardashian, Kylie Jenner, or Kourtney Kardashian — or from any other celebs. But we're sure family members would jump to Kim's defense, just like her loyal fans.
Do Kids Even Need a Skincare Routine?
If you're anything like us, your daily skincare routine probably consists of a cleanser, serum, moisturizer, and sunscreen — at the very least. But do children actually need all of these steps? Is a full skincare routine necessary for kids?
According to the experts, it's definitely worth teaching your kiddo about the importance of caring for your skin, especially when it comes to sunscreen.
"A lot of kids have a low tolerance for sunscreen application because they only wear it at the beach or on vacation — and in many cases, that step is the one thing standing between them and some fun activities," says Dr. Geeta Yadav, board-certified dermatologist and founder of FACET Dermatology.
They may also benefit from using a lip balm and moisturizer to keep their skin hydrated. After all, dry skin and chapped lips aren't exactly comfortable for kids.
Besides protecting their skin with SPF when they're active outdoors, kids need to understand the importance of showering to keep their skin clean and fresh.
Aside from that, additional steps like serums, face masks, and toners aren't needed until they reach their teen years. When they hit the teen years, the focus should be on controlling acne.
That being said, encouraging your child to take care of their skin (in the most basic way possible) could be seen as a form of self-care beneficial for their mental wellbeing.
A Teen's Skincare Routine
When your kiddo hits their teen years, this is the time to introduce them to a skincare routine that fights acne. Look for products that contain acne-fighting ingredients such as salicylic acid, glycolic acid, and benzoyl peroxide.
A teenager's routine should start with a blemish-busting cleanser to get rid of daily dirt and oil, followed by an exfoliating serum such as Rainbow's Glow Serum. This formula contains glycolic acid, an exfoliating acid that buffs away dead skin cells, unclogging pores and preventing breakouts.
After this, they'll need a spot treatment to tackle active blemishes. One of our fave spot treatments are Rainbow's Clear Acne Patches. They're flecked with salicylic acid and benzoyl peroxide to zap away pesky zits and prevent scarring.
Following this, a lightweight moisturizer might be helpful in keeping the skin's oil levels balanced and preventing more blemishes. Rainbow's Hydrate Serum is a silky, featherweight formula of hyaluronic acid and vitamin B5 to deeply hydrate skin without clogging pores.
Last but not least, a teen's skincare routine will also need sunscreen. Opt for an oil-free, non-comedogenic SPF so that they can get the protection they need without experiencing breakouts.
Should You Be Encouraging Your Child to Follow a Skincare Routine?
While North West's TikTok video of her doing her skincare routine might have received a lot of criticism, that doesn't mean children shouldn't use skincare products at all. Of course, they don't need face masks or serums just yet. However, a gentle cleanser followed by sunscreen and a daily swipe of lip balm can be extremely beneficial for keeping your child's skin healthy.
If they're experiencing dry skin, you can also introduce a very lightweight moisturizer into their routine to alleviate the dryness.
Apart from that, children don't need an elaborate skincare routine filled with face masks, serums, toners, and scrubs. In fact, using these products too early may have adverse effects on their complexions.