New Year, New Skin: The Best New Year Gifts for Beauty Lovers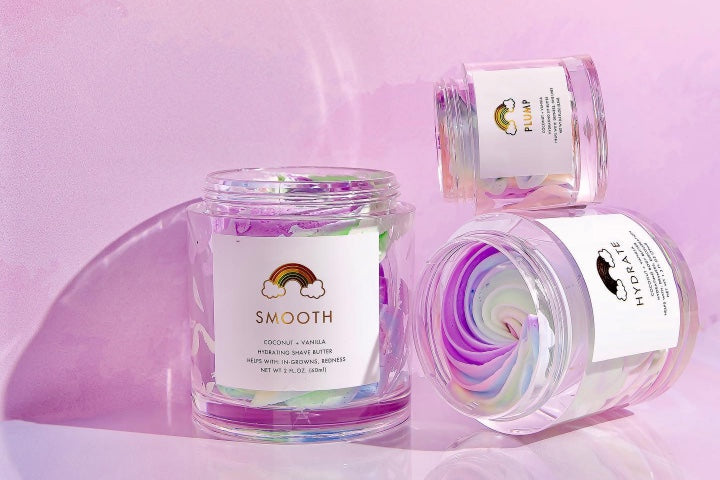 Holiday gift guides for beauty lovers are usually filled with makeup products like mascaras, eyeshadow palettes, highlighters, shimmers, and makeup brush sets. As wonderful as makeup is as a beauty gift, you should definitely consider skincare as a New Year gift for the woman in your life who takes her skincare routine very seriously. Even if she doesn't, skincare is a perfect gift for helping that special someone discover the wonders of luxe creams, serums, and masks.
New year, new skin. Help your loved ones achieve it with one or more of these New Year gifts for women. From gift sets to stocking stuffers, there's something for everyone — and every budget.
Hydrate Bundle
With the chilly temps drying out her skin, there's no better (or more practical) gift than our Hydrate Bundle. This skincare set features a face & body mask + serum, and is designed specifically for dry, dehydrated skin. Psstt...the mask + serum can also be doubled up as an eye mask and eye cream to wake up tired peepers.
Infused with hyaluronic acid and vitamin B5, these ingredients work in tandem to lock in lasting moisture, plump out fine lines, and leave skin glowing all over. All skin types can benefit from this 2-piece set.
Plump Lip Balm
This holiday season, soothe her dry, chapped lips with our ultra-nourishing Plump Lip Balm. The best beauty gift for babes who love a full pout, this formula blends hydrating coconut with plumping peppermint to instantly inject long-lasting volume and hydration.
Deeply conditioning and soothing, Plump Lip Balm offers fast relief to dry, flaky lips. It also preps your pout for seamless makeup application. In other words, your lipstick will look 10x better with Plump Balm ON.
Smooth Bundle
A 2-step skin refining routine that promises a smoother you. One of our bestsellers, this skincare gift set includes a mask and serum packed with vitamin C and collagen to soften fine lines, improve skin tone, and restore skin's radiance.
It's a luxury gift set that friends and loved ones will certainly appreciate. Unlike a makeup gift, you're giving the gift of gleaming, ageless skin. Giftees will surely appreciate! If you're looking for gift ideas that aren't your typical eau de parfum or nail polishes, shop Smooth Bundle — it's the gift that keeps on giving.
Tighten Butt Mask
No need to feel awkward about gifting your bestie a butt mask this New Year's. Butt care is becoming increasingly popular in the beauty industry. We all have one. We all face the same issues (cellulite, stretch marks, sagging). There's nothing to feel uncomfortable about.
Tighten Butt Mask harnesses the firming powers of retinol and papaya to bring you your highest, bounciest butt. Maybe you've heard about butt masks from TikTok? They're no gimmick. These babies really work! And Tighten Butt Mask is no exception.
This fan-favorite firms, tightens, and softens the appearance of stretch marks and cellulite. It's a dream!
Hydrate Body Butter
Dry, flaky, itchy skin is a common skin complaint in the winter months. Treat someone special this New Year to our restorative, intensely hydrating body butter. It's like your daily body lotion — only way thicker, richer, and well...just better!
A Rainbow cult-favorite our Hydrate Body Butter blends the healing properties of shea butter, coconut oil, and vitamin E to help you achieve your smoothest, silkiest skin. It's the perfect excuse for a self-care moment.
Plus, you can double it up as a hand and foot cream, cuticle softener, (for those at home manicures) and split end sealer. It's one of our most versatile beauty products.
Smooth Shave Butter
Shaving is one of those tedious tasks most of us dislike doing. Not with Smooth Shave Butter! This rich yet lightweight whipped shaving butter evenly coats and moisturizes every hair follicle for an irresistibly smooth shave. Every single time!
Enriched with coconut, vanilla, and vitamin E, Smooth Shave Butter gives soon-to-be-shaved skin much needed replenishment without dulling razors like heavier shave creams. It also prevents the formation of ingrown hairs and razor bumps.
Drop it in her stocking this Xmas, or wrap it up and gift it for New Year's. Above all, give her the gift of better shave days.
Glow Bundle
Glow up with Glow Bundle, a 2-piece gift set featuring a mask and serum designed to smooth, brighten, and fade discoloration. Its key ingredients? Glycolic acid and bakuchiol. While glycolic acid gently buffs away skin-dulling dead cells, bakuchiol speeds cellular turnover and boosts collagen production. The end result? Firmer, brighter, matte-like skin!
Whether you've got oily, dry, or sensitive skin, these full size formulas are suitable for all. They tackle everything from dry patches to dullness, clogged pores to dark spots and discoloration.
Where to Shop Rainbow Beauty
Our beauty brand prides itself in offering clean, vegan, and cruelty-free formulations that yield visible results — fast! You'll find our products on our official website, as well as at Walmart and CVS. At present, our products are not available at Sephora, Ulta, or Amazon.
We sell everything from cleansers to serums, body scrubs to masks. We do not sell makeup or hair care products at the moment, but maybe in the near future...
Splurge on our cult-favorite formulas and wellness products, and make sure your loved ones wake up to a gift that leaves them smiling this New Year's.
Looking for the best New Year gifts for beauty lovers? These skincare goodies are bound to leave her smiling — and satisfied. Besides offering the perfect excuse for pampering, these skincare treats will help to manifest better, glowier skin in the new year.
Whatever her skin goals may be (from improving skin tone to treating fine lines), we've got a formula for everyone.