Mother's Day Skincare Gifts 2022: Your Guide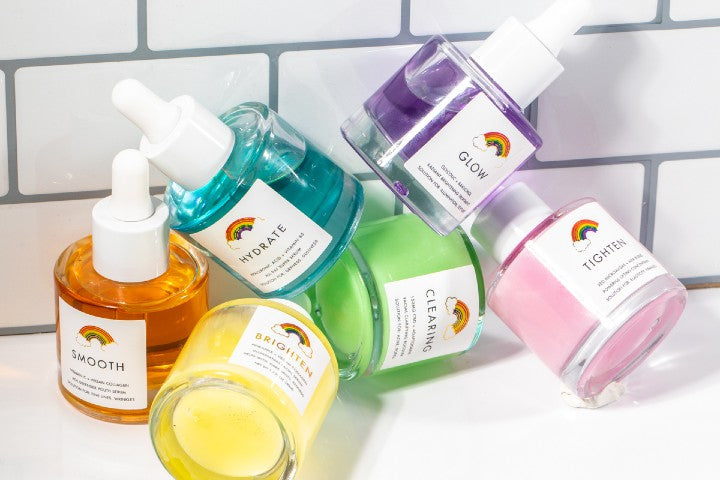 With Mother's Day just a few weeks away, there's no better time than now to snatch up something special for mom. If you've read all the Mother's Day gift guides, and you just can't seem to get excited about pajama sets, diffusers, or bath soaks, you might want to consider selecting a luxurious skincare gift set instead.
Whether or not she's into skincare, your mom will appreciate a luxe skincare routine that she wouldn't normally buy herself. Or maybe she's been interested in trying something new, but she doesn't know where to get started.
Lucky for you, we have plenty of options. Scroll down to find the perfect gift this Mother's Day.
Tighten Bundle
What is it? An anti-aging bundle featuring a face mask + serum designed to refine texture, erase fine lines and wrinkles, and promote a youthful, radiant complexion.
What's inside? Red microalgae + alpha hydroxy acids (lactic acid and glycolic acid). AHAs are chemical exfoliants that buff away dull, dead skin to reveal a fresh and glowing layer of skin underneath. Red microalgae works as an antioxidant to reduce wrinkles, protect skin against free radical damage, and illuminate dull, lacklustre skin.
The formulas also contain jojoba oil, aloe, and witch hazel to drive out dryness and reduce redness and irritation.
Best for: Dry, dull, and aging skin types.
Why mom will love it: It's a thoughtful gift for moms who love trying new skincare products. Powered by high-performing active ingredients, Tighten Bundle works a myriad of skincare miracles including fading fine lines, brightening skin tone, and minimizing discoloration. She'll love it!
Smooth Bundle
What is it? A brightening, youth-restoring jelly face mask + silky serum created to protect from free radicals, thicken the dermis, and ultimately smooth out fine lines and wrinkles for your springiest skin.
What's inside? Vitamin C + vegan collagen. Vitamin C boasts antioxidant properties which help to protect skin from UV damage, combat fine line formation, and boost skin's luminosity. Vegan collagen is a plant-based version of regular collagen, able to repair skin cells, thicken the dermis, and plump out fine lines and wrinkles for smooth and supple skin. It also contains aloe and turmeric to quell inflammation and fade the appearance of hyperpigmentation.
Best for: Dry, dull, and aging skin types.
Why mom will love it: It's the best Mother's Day gift idea for that mom who loves experimenting with new formulations. Since this one's a luxurious one powered by some of the world's best ingredients, we're sure she'll be over the moon with this gift set. Plus, it gives her an excuse to chill out and enjoy a self-care moment.
Hydrate Bundle
What is it? A deeply moisturizing face mask + serum carefully crafted to replenish skin's moisture while sealing in long-lasting hydration for a dewy, gleaming glow. Two of our fave nourishing beauty products, bundled into a 2-step skincare routine. They can also visibly plump to make skin appear instantly more vibrant. Best of all, they don't leave the skin feeling greasy like some body lotions and cremes.
What's inside? Hyaluronic acid + vitamin B5. Hyaluronic acid is a humectant that can hold 1,000 times its own weight in water, making it a powerhouse skin hydrator. It quenches thirsty skin while plumping out creases for a smooth and youthful complexion. Vitamin B5 locks in lasting hydration by absorbing moisture from the air while improving tissue regeneration to boost brightness, elasticity, and head to toe glow.
These formulas also contain jojoba oil, aloe, and witch hazel to ease any inflammation and balance oil production, thus preventing breakouts.
Best for: All skin types, especially dry skin.
Why mom will love it: Without a doubt, the best beauty gift for moms dealing with dryness. If mom gets through hand creams and lotions like she does socks, treat her to something that'll intensely hydrate and ward off dryness. It'll be a Mother's Day beauty gift to remember.
Glow Bundle
What is it? A glow mask + serum booster bundled. This illuminating duo work in tandem to provide grease-free glow while refreshing skin and fading dark spots and acne scars. And like all the bundles features on this guide, it's designed for both the face and body.
What's inside? Glycolic acid + bakuchiol. Glycolic acid is a chemical exfoliant (AKA, an alpha hydroxy acid) that sloughs away debris, oil, and dead skin cells to reveal a brighter, fresher, complexion underneath. Additionally, this AHA combats discoloration and evens out the skin tone. Bakuchiol is a gentle retinol alternative known to brighten, fade fine lines, and protect the skin from environmental stressors and pollution.
The formulas also contain hydrating jojoba oil, redness-reducing green tea, and irritation-relieving aloe for your smoothest, sparkliest complexion.
Best for: Dry skin, oily skin, acne-prone-skin.
Why mom will love it: A mask and serum duo to give mom (and new moms) an excuse to kick back and relax. Throw in an eye mask and essential oils to make her chilled out experience all the more chill.
MAKE MOM'S DAY EVEN DREAMIER
Since you'll be treating her to a skincare set, make her day even more special by setting the moon with scented candles, diffused essential oils, and calming music. In other words, create a kind of at-home spa experience so that she can unwind, relax, and soak up her Mother's Day skincare treats.
Add in a cleanser, moisturizer, and lip balm if you're aiming to perform a full DIY facial from her living room or bathroom. You'll find more of our products available at CVS if you're looking for extras.
While it might seem easier, we recommend handpicking a product for mom rather than giving her a gift card. As much as we love gift cards for their convenience, if you really want to show mom how much you care, do it with a carefully chosen gift. Something you've devoted time into, and something she's actually use for many months to come.
Above all, make sure you shower mom in love! She deserves it!