Mid-Week Skincare Treats to SHOP RN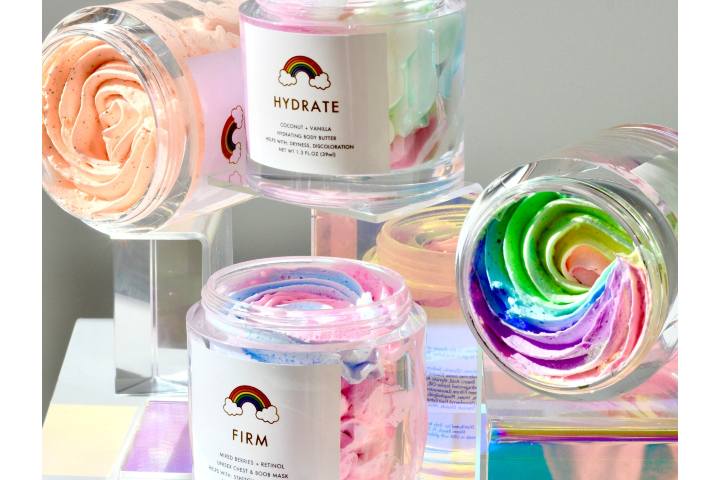 Mid-week slumps are a reality for the majority of us. If you're looking for a pick me up that's neither ice-cream nor an extra generous glass of vino, you may want to try skincare shopping -- and pampering!
There's just something about skincare that makes us feel good. From the satisfying lather of your daily cleanser to the sweet-scented fragrance of your ceramide-pumped body lotion, skincare is a feel-good ritual.
If you've only got a bottle of face wash and a tube of drugstore moisturizer sitting in your beauty cabinet, consider treating yourself to a few heavenly skincare products to make your skin and your mind feel instantly chill.  
Below, a list of skincare treats you can shop right now without even leaving your house. 
Hydrate Jelly Face Mask
Little beats sinking into the sofa with a face mask on and a cup of chamomile tea within reach. If you're going to make time for masking, choose Rainbow's Hydrate Jelly Mask. 
Hyaluronic acid + vitamin B5 are its superpowers. Both these ingredients work together to inject lasting moisture and elasticity into the skin for a smooth, juicy, and plumped up complexion. A cooling, moisturizing treatment, this formula will instantly soothe irritation, reduce redness, and improve skin tone.
All skin types can benefit from using this mask 2-3 times a week. It's definitely worth incorporating into your skincare routine if you have dry skin. 
Remember to complete your routine with SPF 30 if you're applying this in the daytime. 
Glow Serum
Looking for a skincare treat you can use on your coffee break? Save messing around with scrubs and opt for a rinse-less option like Rainbow's Glow Serum. It's exfoliating, brightening, and clarifying -- and it can be applied in less than a minute. 
A flash-absorbing quick fix for instant radiance. Glycolic acid + bakuchiol work together to buff away dead skin cells and dryness, fade hyperpigmentation, and banish breakouts. It's also perfect for improving skin texture if you're dealing with bumps and rough patches. 
Glycolic acid is an alpha hydroxy acid (AHA) that gently dissolves dull, dead skin on the skin's surface while bakuchiol is a potent antioxidant and beloved retinol alternative that offers the same benefits without the irritation. 
Remember to finish with sunscreen if you're applying this in the daytime.
Firm Boob Mask
Never heard of a boob mask before? That's probably because they're extremely rare. Treat your tatas to some TLC with Rainbow's Firm Boob Mask. 
It's made with antioxidant-rich mixed berries + collagen-boosting retinol to smooth out stretch marks, improve discoloration, and drive out blemishes. It can also help to firm and tighten the area for an extra perky pair. 
Whenever you're looking for an escape from your gruelling workday, hop in your tub and spread this berry-scented mask over your cherries. 
SHOP NOW
Tighten Butt Mask
We've got a treat for your tush, too! Our retinol and papaya-powered Firm Mask. 
Retinol is a gold-tier anti-aging ingredient proven to spur cellular turnover, increase elasticity and collagen, and erase and prevent fine lines, wrinkles, and dark spots. These days, you'll find it in everything from eye creams to facial cleansers, toners to night creams. That's because retinol aids a slew of skin concerns including acne, discoloration, creases, dullness, and uneven skin texture.
If you'd like to tighten up your tush while addressing cellulite and stretch marks, carry this tub into your shower cubicle for the greatest self-care session EVER!
SHOP NOW
Plump Lip Butter
Whenever you've got a few spare minutes, roll out from your desk, head to your bathroom, and take Rainbow's Plump Lip Butter with you.
Coconut + vanilla work in tandem to hydrate, nourish, soothe, and protect your pout for the most luscious set of lips you've ever seen. You can use it alone or as a primer for lipstick. 
Best of all, it can also be used to soften cuticles, relieve dry patches on the skin, and even tame flyaways. 
SHOP NOW
Smooth Shave Butter
Treat yourself to the smoothest, silkiest shave of your life with Rainbow's Smooth Shave Butter. Made with coconut and vanilla to deeply moisturize, infuse skin with nutrients, and prevent ingrown hairs and razor burn. It's like candy for your skin!
We understand just how tedious shaving can be. With this shave butter, your experience automatically improves. Besides warding off shaving nasties like ingrowns and irritation, you can also look forward to soft-to-the-touch skin.
SHOP NOW
Hydrate Body Butter
Another product from the Smooth and Plump lineup, Hydrate Body Butter blends coconut and vanilla to soften skin, lock in moisture, and promote strong, healthy skin. 
Whether you've got dry, combination, or even oily skin, all skin types can enjoy the benefits of using this body moisturizer in their daily routine. 
One of our trending products, you'll definitely be satisfied with the results you get when slathering your bod in this super hydrating formula. It's wellness in a bottle!
SHOP NOW
Smooth Serum
The age-defending powerhouse.
Smooth Serum is a blend of antioxidant-rich vitamin C and collagen-enhancing vegan collagen to brighten, smooth, and protect your skin. You can use it on the face and body to enjoy bouncier, fresher, fine line-free skin (without any grease!). 
You can also use this in your dark circles or to lighten pimple-related scars.
According to dermatologists and estheticians, vitamin C works even harder when layered under sunscreen. It provides extra protection against sun damage. 
Clear Acne Patches
Pimples no longer need to be pesky. Just stick one of these BHA-infused clouds on your zit, and let the healing process begin.
Clear Acne Patches are powered by pore-clearing salicylic acid and acne-fighting benzoyl peroxide to eliminate active breakouts while speeding up the healing process. These little cuties make getting breakouts fun!
SHOP NOW
Ready to skincare shop? Go ahead and treat yourself to some beauty goodies! 
If you have a skin condition such as eczema or psoriasis, speak to your dermatologist before trying any of these products. Some of the active ingredients in these products may worsen your symptoms.