Just a List of Cool Girl Skincare Essentials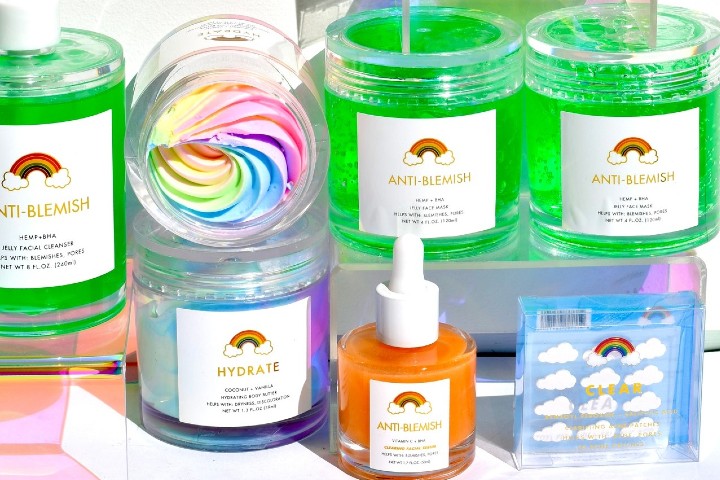 Only the coolest of the cool shop at Rainbow. Think you're pretty cool? Here's your invitation to join the club! While you're here, make sure you pick up one or several of these cool girl skincare essentials.
Featuring face and body formulas, these treatments are here to upgrade your skincare routine, banish issues like breakouts and dryness, and transform from head to toe.
Below, a list of cool girl skincare products you've gotta try.
#1: SMOOTH Body Scrub
Get that cool girl glow with Rainbow's Smooth Body Scrub. This exfoliating body potion is formulated with a blend of anti-aging strawberry and niacinamide to restore your youthful radiance. It also intensely hydrates, firms up loose skin, and improves skin texture for a body that's soft n' silky to the touch.
Thanks to strawberry's alpha hydroxy acid (AHA) content, this scrub gently buffs away dead skin cells without causing irritation or microtears on the skin to reveal your smoothest, brightest bod. That, and a retexturizing base of high-grade sea salt help to diminish dry skin, gradually fade discoloration, and reveal a healthy, hydrated glow. Plus, it'll leave your entire body smelling like freshly picked strawberries.
#2: CLEAR Acne Patches
Cool girls don't hide away from stubborn breakouts. They embrace them! Embrace yours by patching up your pimples with these clarifying blemish patches. A pack of 36, cloud-shaped acne patches formulated with oil-sapping salicylic acid and bacteria-busting benzoyl peroxide help to absorb excess sebum and impurities while soothing and healing active breakouts.
When you've got acne-prone skin, it's important to follow a strict regimen that consists of a pore-unclogging foaming cleanser, toner, serum, and moisturizer — and an oil-free, non-comedogenic sunscreen. As for those annoying pimples that pop up, treat them as soon as they arrive by sticking on of these cloud-shaped patches.
#3: ILLUMINATE Body Serum
Cool girls GLOW. They use all the right beauty products to get their skin all gorgeous and glowy, but you only really need one product to light up your bod: Illuminate Serum. This silky, flash-absorbing body serum blends the powers of collagen-boosting retinol and brightening pineapple for an all-over satiny smooth complexion.
Since pineapple contains vitamin C, it aids in the lightening of dark spots and hyperpigmentation while improving skin tone and protecting against free radicals. Retinol is the best skincare ingredient for boosting collagen and elastin, in turn smoothing out fine lines and wrinkles while firming up loose skin.
This little pot of sunshine will leave you glowing from head to toe.
#4: HYDRATE Body Butter
Cool girls don't just feel good...they smell good too! And you can feel and smell sensational when you slather your limbs in this candy-scented swirl of moisture. Hydrate Body Butter is a super rich and fluffy lotion formulated with shea butter, coconut oil, and vitamin E for all-day hydration. In spite of it being luxuriously rich, it won't leave you feeling greasy or icky. In fact, this body moisturizer melts seamlessly into the skin for a dewy, hydrated finish.
This formula works best for dry and sensitive skin types thanks to its nourishing blend of ingredients. You can massage it into your cuticles, on the balls of the feet, or anywhere the body to up moisture retention via ultra-hydrating, antioxidant-rich vitamin E.
#5: GLOW Mask
One skincare rule all cool girls swear by is gentle exfoliation. And they use chemical exfoliants like glycolic acid and lactic acid to get the job done. Exfoliation buffs away pore-clogging dead skin and sebum to reveal your smoothest, freshest, and glowiest skin. Plus, it enables other products like your face masks, serums, eye creams, and face washes to penetrate deeper into the skin for enhanced effects.
Glow Mask is powered by resurfacing glycolic acid and brightening bakuchiol (a gentle retinol alternative) which work in tandem to give your skin a glow up. While green tea lends its soothing properties. You can use it at-home or on the go for an instant glow fix.
Just remember to follow up with SPF 30 after using, as exfoliating acids leave skin more sensitive to the sun.
#6: TIGHTEN Mask
Cool girls fix problems. Rather than complaining about their fine lines, oily skin, or eczema, they do something about it. They find a SOLUTION. Dealing with fine lines, wrinkles, and loose skin? Your solution is Tighten Mask.
This face and body mask is loaded with resurfacing alpha hydroxy acids and anti-aging red microalgae to smooth, lift, matte-ify, and plump the skin for a face that looks more youthful. It can also help treat dark spots and discoloration while keeping pores clear to ward off blemishes.
Once again, you'll need to follow up with a broad-spectrum SPF after using to protect your skin from sun damage. Pair it with a vitamin C serum for extra protection!
#7: HYDRATE Serum
To get that cool girl glazed donut glow, look no further than Hydrate Serum. An infusion of hyaluronic acid and vitamin B5 work in tandem to attract and seal in moisture for long-lasting hydration. You've probably already heard about the wonders of hyaluronic acid (perhaps from TikTok? Or your dermatologist, maybe?). Well, it really is as good as it sounds — and particularly effective for dry skin.
After using a gentle cleanser to wash away the day's grime, slather your skin in this dewifying formula to promote dewy, healthy skin. Your skin will be left feeling incredible!
We know you're already a cool girl, but if you wanna get in on some cool girl action, be sure to stock up on these cool girl skincare essentials. To keep your skin extra healthy and dewy, always use a gentle makeup remover before applying these products.
Whether you're shopping Rainbow, Sephora, or your local drugstore, always look out for the power players in products: AHAs, hyaluronic acid, retinol, bakuchiol, ceramides, and coconut oil.