How to Use Facial Serums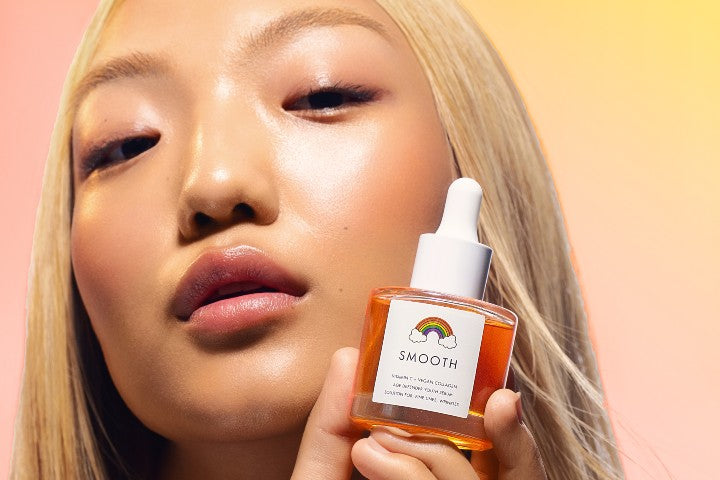 Serums are lightweight skincare products designed to deliver a high concentration of active ingredients to your skin with the goal of treating a specific skin concern. Whether it be dry skin, dark spots, fine lines, or breakouts, face serums can cure all.
Besides being customizable to your skin type and concerns, serums are one of the best products out there for getting more immediate results. They're much more concentrated than cleansers, creams, and toners, which is why they can be a gamechanger in your skincare routine.
That said, you will need to apply your chosen serum/s properly in order to get the most benefits. And naturally, you'll need to choose the right formula, too.
Here's a guide on how to use face serums, from choosing the right ingredients to applying them like a pro.
#1: Select the Right Formula
Before putting anything on your skin, you'll need to figure out your skin's needs and then choose facial serum ingredients based on those concerns.
Some of the best ingredients to look for include retinol, a gold-tier anti-aging ingredient that helps treat and reverse signs of aging, including fine lines, wrinkles, and hyperpigmentation. It does this by boosting collagen production, spurring skin cell turnover, and restoring elasticity.
Vitamin C is another powerhouse skincare ingredient. A potent antioxidant, vitamin C is known for brightening, lightening dark spots, and protecting skin from free radicals.
If you've got acne-prone skin, look out for salicylic acid, an exfoliating acid that unclogs pores and fights acne-causing bacteria. Those with dry skin should seek out serums containing humectants like hyaluronic acid and glycerin, a power duo proven to diminish dryness and seal in long-lasting hydration.
Niacinamide, aloe, and green tea are the go-to ingredients for sensitive skin prone to redness and inflammation. Glycolic acid is an essential for improving skin tone and texture.
#2: Cleanse (and Tone) First
You should always cleanse your face thoroughly before applying serum. Cleansing removes the buildup of dirt, oil, and dead skin cells on the skin's surface, enabling other products to penetrate deeper. According to dermatologists, serum should be applied as the second or third step in your skincare regimen — after cleanser and toner.
The problem with applying serum to an unwashed face is that you're basically applying it over dead skin and grime. And that would just be a waste of a good serum, right?
Opt for a gentle face wash, and use it morning and night before layering on your serum/s. Twice a week, reach for an exfoliating cleanser or toner to buff away stubborn dead skin cells that can't be removed with a regular cleanser.
#3: Leave Your Skin Damp
A little insider secret you should know: damp skin absorbs product better than dry skin. It's like a sponge, soaking up whatever is applied to it. Plus, you'll get this lovely dewy effect once you're done — especially if you're using a hydrating serum.
After cleansing, pat your skin to remove excess water, but only enough so that your skin is still slightly damp.
#4: Apply a Pea-Sized Amount
Many people think more is better when it comes to using serums. Turns out, you really don't need much to get results from a serum. A pea-sized amount should suffice for your face and neck.
In fact, using too much could reverse the product's effects, resulting in dryness, redness, and irritation — particularly when using retinol or acids like glycolic and salicylic acid. Plus, you're just wasting product by overusing it. And if you're someone who likes to spend big bucks on luxury serums, you'll be happy to hear that your bottle should be able to last twice as long once you start using the correct amount.
You can use your dropper to provide an accurate amount. Two pumps with the dropper should be enough to cover your face and neck.
#5: Pat it in
Dispense two pumps or a pea-sized amount of serum into your palms (or directly to your face), then gently pat it in using an upward motion.
#6: Let it Absorb For One Minute
Now that your serum is on, wait 30 to 60 seconds before layering on your next skincare products (i.e. your eye cream, face oil, lotion, night cream, sunscreen, etc.). Applying your creams and SPF too quickly after serum will prevent those active ingredients from activating, thus reducing the benefits.
THE BEST FACE SERUMS TO SHOP NOW
Scroll down to discover the best facial serums for every skin concern.
Smooth Serum
A brightening serum powered by vitamin C and vegan collagen to reveal your freshest, most radiant complexion. This formula can also treat discoloration, plump out creases, and protect skin from sun damage.
Hydrate Serum
Kiss dryness goodbye for good with this dew-inducing elixir of hyaluronic acid, vitamin B5, and jojoba oil. In addition to deeply hydrating and conditioning your skin, this formula can help treat pigmentation issues.
Tighten Serum
An elasticity restoring treatment made with resurfacing alpha hydroxy acids and skin firming red microalgae to deliver smooth and supple skin. Those with oily skin and acne-prone skin can also benefit from using this formula thanks to its blend of exfoliating acids that help minimize pores and prevent breakouts.
Glow Serum
A skin brightening treatment of glycolic acid and bakuchiol to reverse dullness, plump out fine lines, and reduce the appearance of discoloration. It's a safe alternative to retinol serums if you're pregnant, breastfeeding, or have delicate skin that's easily irritated by retinoids.
Facial serums can level up your skincare routine — provided that you use the right formula and technique. For years, our skincare regimens have revolved around three basic steps: cleansing, toning, and moisturizing. Today, a slew of new skincare formulas have entered the market promising to treat various skin concerns. One category you can rely on for transforming your skin is serums. However, you must distinguish your skin type and concern before purchasing a serum. And equally as important, you must apply it correctly to reap its full scope of benefits.