How to Rescue Dry Lips this Winter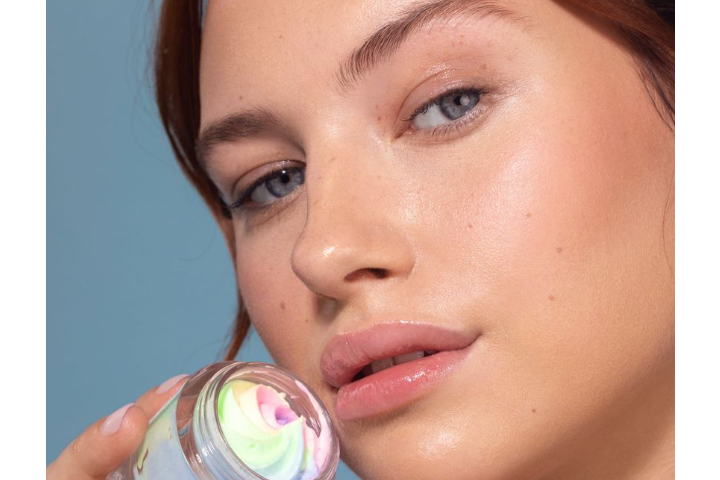 It's nearly winter, which means the battering of cold weather is bound to leave your lips parched. Dry, chapped lips are a common beauty complaint in the chilly months. If you're not experiencing dry, flaking lips already, you will be soon once the icy temperatures kick in. For that reason, there's no better time to learn the basics of lip care and how you can rescue dry lips this winter.
Before we delve into winter lip care, let's look a little deeper into what chapped lips actually are and what specifically causes them. Then we'll give you all the know-how and product recommendations to treat and silkify a parched pout.
What are Chapped Lips?
Chapped lips are lips that appear dry, flaky, and cracked. You'll know you're dealing with chapped lips if your pout feels sore and uncomfortable.
According to dermatologists, the skin on your lips is uber sensitive, which is why it's most prone to drying out during the winter months. Unlike other areas of your body, the lips don't have a high concentration of oil glands and are constantly exposed to environmental factors such as makeup, lip licking, and of course, cold weather — all of which can lead to dryness and irritation.
What Causes Chapped Lips
There are numerous reasons why your lips get chapped. The most common is cold air from those chilly winter temperatures. Other factors include excessive lip licking, allergies, vitamin deficiencies, sun damage, and certain skincare products (particularly those that treat acne).
While there are multiple culprits, you're most likely to experience lip dryness during the winter months.
"Dryness is exacerbated during the winter because the humidity in the air decreases, so more moisture evaporates from the skin into the air," says Dr. Hadley King, MD, a New York City dermatologist. "Exposure to wind makes this worse."
How to Rescue Dry Lips this Winter
Here are some easy peasy tips for restoring your silkiest lips this winter.
Buff Away Flakiness
Exfoliating can be a great way to remove dead skin cell buildup and ultimately flakes. By buffing away old cells, your pout will feel instantly smoother. Alongside this, gentle exfoliation preps lips for flawless makeup application. Seriously, your lipstick will glide on so much more seamless when lips are freshly buffed.
For best results, choose a gentle lip scrub and use it once a week to keep lips smooth, soft, and flake-free. Avoid overdoing it, as this can cause irritation and even exacerbate dryness.
Layer on Hydrating Lip Balms
A nourishing, deeply hydrating lip balm or butter can work wonders for dry lips. Just like every other area of your body, your lips need plenty of moisture to stay smooth and healthy. Opt for a formula enriched with moisturizing ingredients such as coconut oil, shea butter, hyaluronic acid, avocado oil, or cocoa butter. These humectants and emollients will help to draw and seal in moisture for long-lasting silkiness.
Another good option is petroleum jelly (Vaseline), an occlusive which not only diminishes dry skin but protects against drying elements like cold weather, dry air, and harsh winds.
Aim to apply your chosen lip balm twice a day, or whenever you feel your lips getting dry. Your goal should be to keep your pout hydrated around the clock.
Avoid Lip Irritants
Some people see a significant improvement in the feel and look of their lips as soon as they drop certain irritants from their routine. For instance, some lip products containing camphor and menthol can feel good initially, but they can also dry and irritate your lips.
According to the American Academy of Dermatology Association (AAD), here are some other ingredients to avoid if you're dealing with dry, chapped lips: Citrus and peppermint flavoring, fragrance, lanolin, and salicylic acid.
As a general rule of thumb, if your lips sting or feel even drier after you apply a product, then remove it immediately.
Try a Home Remedy
Looking to fix dry lips with a home remedy? You have a fair few options to choose from. First of all, aloe vera is an excellent choice if you're experiencing severe dryness and irritation. It works by drawing moisture from the air into the skin's surface, keeping your lips hydrated. You can either use fresh aloe vera and make your own lip treatment, or simply purchase an aloe vera gel and apply a small amount of that directly to your lips.
Honey is another great option. Because it's a humectant, which means it pulls moisture from the air into your lips, honey is an excellent remedy for chapped lips. It also boasts powerful healing properties to relieve cold sores and cracks.
Invest in a Humidifier
Add a humidifier to your home to keep the air moist — and your lips hydrated. Dry air is a common culprit behind chapped lips so keeping the air moist can be incredibly helpful for preventing your lips from drying out.
Drink Plenty of Water
Staying hydrated is essential for keeping your skin plump, healthy, and smooth. When you're dehydrated, it'll show on your skin. Drink up, and aim to consume several glasses of water each day.
Protect Your Pout
UV rays can also trigger dry lips, which is why it's important to protect your pout throughout the winter months. Just because it's cloudy doesn't mean those UV rays aren't there. They are. Keep your pout healthy and protected by swiping on a lip balm formulated with SPF 15 or higher every single day. Alternatively, dab on a small amount of sunscreen over your daily lip balm.
The No #1 Dry Lip Treatment
We've found the best formula for dry, chapped lips.
Enter: Rainbow Beauty's PLUMP Lip Balm. A buttery, decadent balm of hydrating coconut oil, shea butter, almond, and plumping peppermint for a silkier, fuller pout. Abundant in nourishing fatty acids, this formula injects moisture into your lips for all-day softness — and no more dryness, chapping, or flaking. Did we mention it also smells yummy?!?