How to Give Your BF a Facial at Home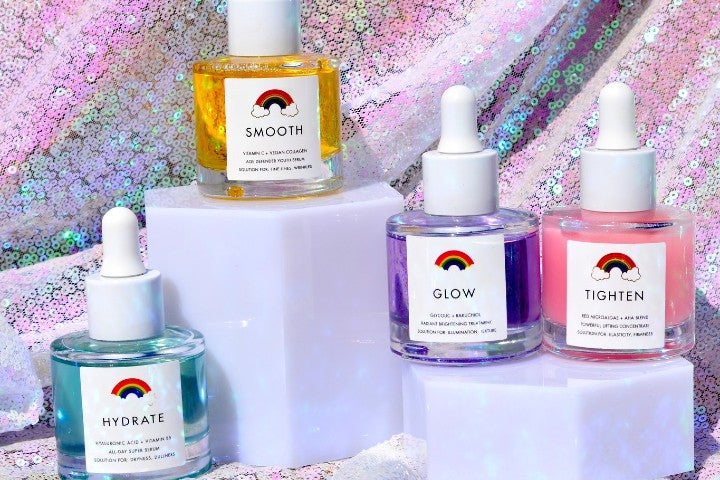 While you might not be a licensed facialist or esthetician, that doesn't mean you can't re-create a nearly professional experience at home. According to the experts, it's definitely possible to make your skin clearer, smoother, and softer from the comfort of your own bathroom.
Or how about treating bae to a home facial powered by some of Rainbow's top-performing skincare products? Men's facials aren't as common as women's facials, but they're nevertheless essential for keeping skin healthy and smooth. Plus, men have thicker, oilier skin than women so a little pampering goes a long way for bae.
Here's a step by step guide to performing a DIY facial for your fave dude this evening.
Step #1: Ask Him to Shave
Facials work best on freshly shaved skin. Applying cleansers and masks over fuzz prevents products from fully absorbing. Plus, it's harder to massage everything in when he's got a face full of stubble.
Ask your partner (politely) to shave before beginning the facial. While he's doing that, you can proceed with the next step.
Step #2: Set the Mood
Create a calm and soothing space to perform your facial. Make sure you have a covered bed, chair, or sofa on which he can relax while you douse him in skincare treatments. Then enhance the tranquil environment by diffusing your favorite de-stressing essential oils, switching on some soothing music, and pouring him a nice glass of chilled cucumber water. Or whatever floats his boat!
You'll also want to gather all your things so you don't break the flow by skipping to the bathroom between steps.
You will need: a soft washcloth, a bowl (or large jug) of warm water, and your skincare products: a cleanser, exfoliator, face mask, serum, and moisturizer.
Step #3: Cleanse the Skin
Every skincare routine and facial starts with cleansing. The point of cleansing is to remove the buildup of dirt, product, and excess oil on the skin so that you're left with a clean, fresh canvas on which you can apply the next products.
Soak your clean washcloth in your bowl of warm water, and squeeze out the excess water. Drape it over the skin and let it sit for half a minute to open up the pores, then massage in a gentle face wash using circular motions.
Soak your washcloth in the water again, squeeze, and use it to remove the cleanser. If it's more convenient, you can also start with a purifying toner instead. Simply sweep it across the face and neck using a cotton pad.
Step #4: Exfoliate the Skin
After cleansing, it's time to buff away the dead skin cells and excess oils to ensure that the upcoming treatments penetrate, and you get the most out of your products. Dermatologists recommend using a chemical exfoliant containing alpha hydroxy acids (AHAs) such as glycolic acid and lactic acid. Unlike facial scrubs, chemical exfoliants dissolve dirt and dead skin rather than physically scrubbing it away, which can irritate skin and potentially even cause damage.
One of our favorites is Rainbow's Glow Serum, an exfoliating treatment powered by glycolic acid and bakuchiol to buff, brighten, and smooth his complexion.
Simply apply several drops to face and neck, and massage in thoroughly using circular motions until absorbed. No rinsing required!
Step #5: Perform a Facial Massage
Facial massages aren't only relaxing. They also encourage blood flow to stimulate cell regeneration and give skin an instant glow.
To perform a facial massage, you can either use your hands or a jade roller. If you're using your hands, use your fingertips and apply pressure, moving in circular motions. If you're using a jade roller, roll it in upwards and outwards motions — and avoid dragging skin down.
He'll feel like he's getting a five star spa treatment!
Step #6: Apply a Face Mask
Select a face mask based on his skin type and concerns. If he's got oily skin and is prone to breakouts, reach for a clarifying formula containing impurity-clearing ingredients like salicylic acid, which helps decongest pores, treat active blemishes, and keep blackheads at bay.
Conversely, if his skin feels dry, use a face mask that is formulated with hydrating ingredients like hyaluronic acid to replenish hydration. If he's got dry skin, try Rainbow's Hydrate Mask.
For fading fine lines, opt for a face mask infused with antioxidants like vitamin C, which can help thicken the dermis, protect skin from free radical damage, and reverse dullness. Our favorite is Rainbow's Smooth Mask.
Spread your chosen mask over his face and neck, steering clear of the eye area. Let it sit for 10-15 minutes, then wipe it away with your washcloth.
Step #7: Treat Skin with a Serum
Serums are fantastic for delivering concentrated ingredients into the skin that help address your skin concerns. Pick a serum formulated for his specific skin concern. Is it acne? Dullness? Dryness? Puffiness? Or fine lines and wrinkles?
You'll find a range of serums designed to tackle different concerns on our official store. Choose the one that will best suit his needs.
Apply several drops to clean, dry skin and rub in well.
Step #8: Moisturize
Finally, seal everything in with a nourishing moisturizer. Avoid thick creams and lotions if he's oily or acne-prone, as they may clog his pores and trigger breakouts. Opt for a lightweight moisturizing serum or face cream to drench skin in long-lasting moisture while supporting skin barrier function and leave skin looking smooth, soft, and glowing.
You can also use this final step to incorporate a second facial massage to boost blood circulation and lymphatic drainage.
And of course, you can also apply a thin layer of eye cream if he's experiencing dark circles, puffiness, or creases.
So you've got all the know-how and products you need...now all you need is your boyfriend! Besides giving him better, healthier skin, boyfriend facials are a great way to re-connect with your sweetheart and shower him in your love. And you never know...maybe he'll return the favor one day.