How to Beat Blotchy Skin this Season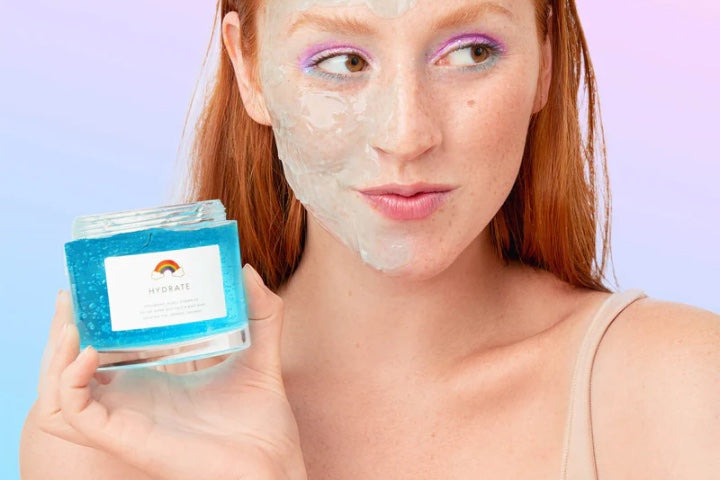 Dealing with red, blotchy skin this season? First off, it's totally normal — at least, for the most part. It's basically just your skin's reaction to the colder temperatures, drier air, and skin-parching indoor heating. That said, blotchy skin can also be caused by harsh skincare products, over-exfoliation, and even drinking that second glass of wine.
Here's everything you should know about blotchy skin, and how to beat it for a clear, calm complexion.
What Causes Blotchy Skin?
Here are some of the reasons why you might be getting blotchy.
Your Skincare Products + Techniques
From a drying cleanser to overusing scrubs and chemical exfoliants, what you apply can have a direct impact on your skin. Using harsh products or over exfoliating weakens the skin barrier, leading dryness, redness, and irritation. While cleansing and exfoliating are important for removing dirt, oil, and dead skin cells on the skin's surface, you need to make sure you're using gentle formulas (and sparingly) to avoid freaking out your skin.
Unprotected sun exposure causes a range of skin concerns including fine lines and wrinkles, discoloration, and blotchiness. According to dermatologists, the best way to prevent these skin complaints from occurring is by wearing sunscreen — every day.
Wearing SPF 30 or higher daily is essential for keeping skin healthy. If you already have affected area, it's still important to continue wearing sun lotion and limit your screen time, as blue light exposure can also make blotchiness worse.
Everything from red wine to spicy foods can cause a flareup of red, blotchy skin. That's because they open up blood vessels, causing blood to rush to the surface and giving skin a red appearance.
If you're experiencing symptoms such as dryness, itchiness, blotchiness, or blisters, speak to a dermatologist as soon as possible. You could have a skin condition like eczema, rosacea, hives, psoriasis, or contact dermatitis. A licensed derm can provide prescribed or over-the-counter treatment options.
How to Treat Blotchy Skin
You can beat the blotch with a good skincare routine.
Blotchy skin from sun exposure or blemishes is easy to fix by following a gentle, hydrating skincare routine. Ensure you have UV protection (sunscreen) on when exposed to the sun. Try to limit your intake of red wine and spicy foods. Cut out harsh cleansers, soaps, and other potentially irritating products. Then implement these steps into your routine...
Strengthen Your Skin Barrier with a Moisturizer
Help replenish the skin's barrier function with a deeply nourishing moisturizer. Whether it's a face cream, body lotion, or serum, you should be using a formula that will rebuild and strengthen your skin barrier to prevent irritation and blotchiness. It will also help to relieve dry skin while improving skin texture.
Stop Using Irritating Skincare Products
It's always a good idea to review the products you use on a daily basis to find out whether they're the culprits behind your blotchiness. Soaps, cleansers, toners, scrubs, and serums can all cause dryness, irritation, and blotchiness if they contain harsh chemicals and actives to which you are overly sensitive.
Watch out for those products that cause dryness, tightness, and red bumps as it may mean you're having an allergic reaction to your products. Remove them directly from your routine, and replace them with gentler formulas. If it is a product that's responsible for blotchiness, you'll soon see your symptoms disappear once you stop using it.
Never Leave the House Without SPF
As we mentioned before, sunscreen is essential for warding off dryness, wrinkles, and pigmentation issues. By wearing sunscreen with SPF 30 or higher on a daily basis, you'll keep skin healthy while preventing uneven skin tone and texture. Re-apply throughout the day.
Visit a Doctor or Dermatologist
Blotchiness can be caused by certain medical conditions and skin conditions. If you've tried all the treatments out there and nothing seems to be working, seek help from a derm or healthcare professional. They'll be able to get to the bottom of what might be causing blotchy skin, and provide guidance on the best way to control it.


Best Skincare Products for Blotchy Skin
Here are some of our favorite skincare products for getting rid of blotchy skin.
HYDRATE Bundle
A 2-step moisture-sealing routine, Hydrate Bundle features a serum + mask made with hyaluronic acid and vitamin B5 to bolster the skin barrier, lock in hydration, and soothe stressed out skin. Blotchy skin needs as much TLC as it can get. The ultra-nourishing products in Hydrate Bundle will leave skin visibly softer, smoother, and plumper.
SMOOTH Body Scrub
A rich, deeply exfoliating body scrub packed with antioxidant-rich strawberries and hydrating niacinamide to promote your softest, brightest skin. While you should definitely go steady with exfoliation, this formula is gentle on all skin types and is guaranteed to leave skin smoother, calmer, and glowier. Just be sure to use it 1-2 times a week to avoid irritating your skin and making symptoms worse.
HYDRATE Body Butter
An intensely moisturizing body butter chock full of emollients such as shea and cocoa butter, along with ultra-nourishing vitamin E and coconut oil. Rich and fluffy, Hydrate Body Butter aids in supporting skin barrier function while diminishing dryness and rough patches. By incorporating it in your daily post-shower routine, you can look forward to day-long silkiness — and a lot less blotchiness. Plus, it'll leave you smelling sweet and sugary.
Blotchy skin is a common skin complaint in fall and winter. With less humidity in the air, colder temperatures, and indoor heating, skin can easily become dehydrated in the colder months. Thus, it's essential to nourish it with hydrating skincare products. For best results, use these products consistently in order to give your parched fall skin the moisture and strength it needs to thrive.