Hacks for Maximizing the Benefits of Your Skincare Products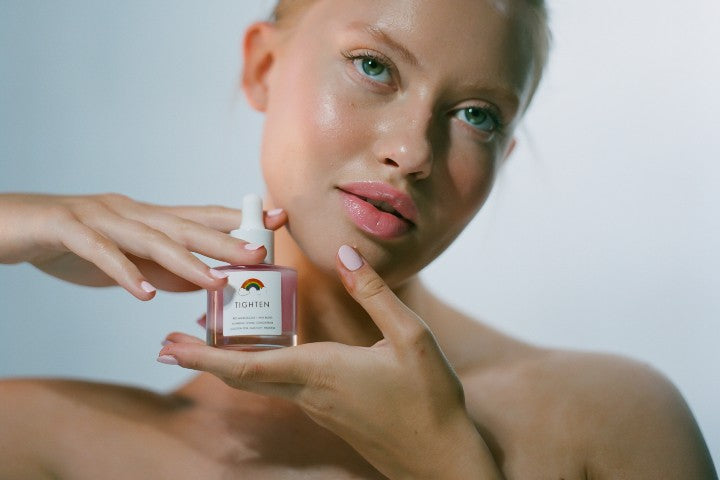 You spend a lot of time layering on skincare. Wouldn't you like to know that you're doing everything possible to make your skincare products work their very best?
Of course you would. That's why we created this article — to teach you some ingenious hacks for maximizing the benefits of everything from your cleanser to your moisturizer and your facial oil.
Keep scrolling to learn a few trade secrets to help make all your potions and lotions work a dozen times harder.
#1: Leave On Your Cleanser for A Few Seconds Longer
When washing your face, do you ever give your cleanser chance to sit on your skin or do you rinse it off almost immediately? Especially if you've got oily skin or acne-prone skin, letting your cleanser sit on your skin for around 60 seconds will allow it to penetrate the skin and infuse it with its breakout-banishing goodness for the best possible results.
Your products need a chance to work — so let them!
#2: Exfoliate Twice a Week
There's no point in applying your lavish night creams and serums if you don't exfoliate first. Otherwise, you'll simply be layering products over dead skin. Regular exfoliation is crucial for buffing away dead skin cells on the skin's surface, revealing fresh skin underneath, and allowing active ingredients to fully penetrate.
Aim to exfoliate twice a week to keep skin clear and bright. If you have sensitive skin, you may want to limit exfoliation to once a week to prevent skin irritation.
You can either use a scrub or chemical exfoliant like glycolic acid. Personally, we like the latter best. Try Rainbow's Glow Serum, which contains a resurfacing blend of glycolic acid and bakuchiol to remove the buildup of dead skin, while fading the appearance of fine lines and hyperpigmentation, and offering brightening effects.
#3: Apply Moisturizer to Damp Skin
Damp skin works like a sponge, quickly absorbing whatever is applied to it. The best time to apply your hydrating lotions and serums is straight after washing your face or taking a shower — while your skin's still damp. Your products will simply melt into your skin, and you'll get this lovely dewy effect that isn't achieved when applying products to dry skin.
The only beauty product that doesn't work when applied to damp skin is mineral-based sunscreen. Since it's designed to sit on the surface of your skin, it isn't absorbed. Apply it to damp skin and you'll only end up looking chalky.
#4: Mix Face Oil with Cream
Your skin has a balance of both oils and waters, which is why you'll need to use both in your skincare routine if you want them to work their best.
"Think about a salad dressing-oil and water sit on top of each other," says licensed medical aesthetician Anne Yeaton. "That's the same thing that will happen on your skin, so there needs to be an agent that can penetrate through that barrier."
Maximize the effects of your face oil by mixing it with a cream-based moisturizer that will hold oil and draw it into the skin. It's an especially great beauty hack if you're dealing with dryness, as it means you can enjoy hours of hydration.
#5: Layer Vitamin C Under Sunscreen
Vitamin C is a potent antioxidant that can fight free radical damage and protect skin from external aggressors like UV rays and daily pollution. It should have a solid place in your skincare regimen if you're looking to achieve your best skin. Brightening, protective, and able to fade discoloration, vitamin C can do it all. It can even make your SPF work harder.
According to the experts, layering a vitamin C serum underneath sunscreen with a minimum of SPF 30 shields the skin even more intensely. "Think of it as a safety net to help neutralize free radical damage that can occur from UV light penetration despite our best protection efforts with sunscreen," says dermatologist Joshua Zeichner, M.D.
Try Rainbow's Smooth Serum — a formula powered by vitamin C and vegan collagen to plump, brighten, and protect your skin.
#6: Buff Under Your Eyes
It seems you could be putting that expensive eye cream to waste simply by not exfoliating your under-eye area. While we're usually urged to leave that alone, dermatologists say one of the reasons people get wrinkles in that area is because they're not removing the dead skin.
Use a gentle chemical exfoliant to dissolve dead skin cells in your under-eye area, and enjoy a revived pair of peepers when you're done. Avoid scrubbing the area as this can worsen the appearance of fine lines and wrinkles, and even trigger the formation of them.
Try Rainbow's Tighten Serum. It contains a rejuvenating blend of red microalgae and AHAs to visibly lift, smooth, and restore elasticity in the skin.
#7: Apply Serums with a Dropper
Your hands absorb a lot of product before it even reaches your face. Prolong the life of your clearing, hydrating, and anti-aging serums by applying the drops directly to your face with the dropper. It's an easy skincare hack for making your products work instantly harder.
#8: Go From Thickest to Thinnest
Regardless of your skin type, if you're not applying your products in the correct order, they're not going to give you your desired results. As a rule of thumb, start from thinnest to thickest, i.e. toner, serum, moisturizer, sunscreen.
You might have the most expensive retinol serum or hyaluronic acid cream, but if you're applying them over something thicker, they're not going to properly absorb into the skin. You can apply a face mask at any time as it'll needed to be rinsed off — though it's best to do it right after cleansing or exfoliating.
Whether you're tackling breakouts, uneven skin tone, or signs of aging, you can up your skincare products' performance simply by making the above tweaks. We hope these skincare tips have been helpful — and we're sure you'll start seeing an improvement in your complexion very soon!