Glow Year-Round with these 6 Skincare Products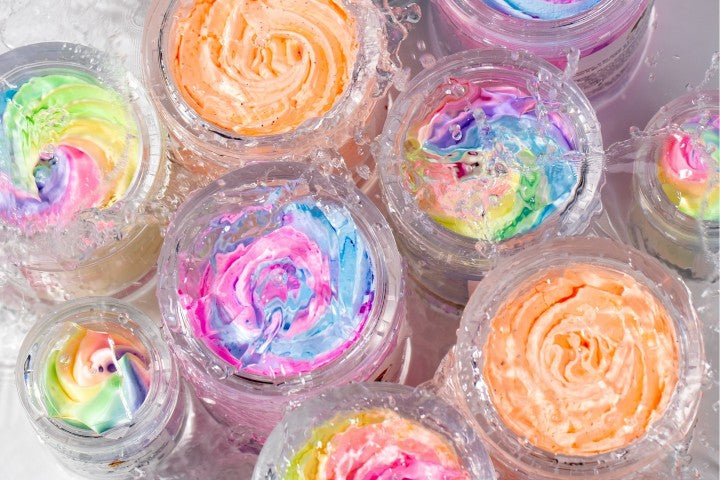 Want glowing skin all-year-round? 
That's one reality you can definitely achieve with the right skincare products and a little commitment. 
Here are six of the best beauty products to get your skin looking extra dewy and dazzling this year.
#1: Glow Jelly Face Mask
Dull skin is typically the result of unexfoliated, uncared for skin. Revive your radiant complexion by slathering your face in this brightening face and body treatment. 
This glossy gel mask is formulated with glycolic acid and bakuchiol, which work in tandem to gently buff away dead skin cells, refine texture, and leave skin feeling and looking super fresh and smooth. It also contains jojoba oil and glycerin to heal and hydrate skin. 
Glycolic acid is an alpha hydroxy acid (AHA) that exfoliates the skin and sloughs away dull, dead cells to reveal a brighter, smoother complexion. Additionally, this AHA combats discoloration and improves skin tone. Plus, it can prevent breakouts by keeping pores clear. GA will simply swipe away excess oils and impurities. 
Bakuchiol is a gentle and effective retinol alternative known to be a potent antioxidant and gold tier ingredient for glowing, firm skin, while protecting the skin from environmental stressors and pollution. It's perfect for sensitive skin types.
#2: Hydrate Serum
Unfortunately, dry skin is prone to looking dull. You can change that by quenching its thirst with a moisture-loaded serum like our Hydrate Serum. 
A flash-absorbing, glow-inducing elixir of hyaluronic acid and vitamin B5, this topical formula plumps up and drenches dull, dry skin in lasting moisture for that enviable gleam you typically see on Hollywood red carpets.
Hyaluronic acid is a powerhouse skin hydrator that's known for deeply hydrating, improving firmness of skin, and diminishing dryness. Plus, it aids in preventing hyperpigmentation and rough patches. 
Vitamin B5 is just as beneficial for dry skin since it works to lock in lasting hydration by absorbing moisture from the air while simultaneously regenerating skin cells. This superstar ingredient can boost brightness, elasticity, and an all-over natural glow. You'll love how your skin looks after layering on this ultra-nourishing serum. 
#3: Smooth Serum
Since vitamin C is a well-known skin illuminator, you have to try this age defending serum. Using the brightening powers of vitamin C and the anti aging effects of vegan collagen, this smoothing serum promises bouncier, fresher, fine line-free skin in just a matter of days -- with daily use, of course! Add this vitamin C serum in your daily skincare routine to boost brightness, fade dark spots, and keep skin looking youthful.
Vitamin C is crucial in promoting collagen production, which gives it the potential to thicken the dermis, combat fine line formation, and give skin a youthful glow. But its benefits don't stop there. This potent antioxidant may also help reduce the appearance of premature aging by protecting the complexion from UV damage and fighting free radical damage. Wear this serum under your sunscreen for added protection. 
Vegan collagen is the ultimate anti-aging ingredient known for its tightening and firming effects. Naturally produced in the body, a healthy dose of collagen helps skin cells repair and renew themselves while strengthening the skin barrier and improving skin texture, tone, and the appearance of fine lines and wrinkles.
#4: Tighten Butt Mask
Glowing skin isn't just reserved for the face, you know. Other areas of your body -- including your butt -- deserve a little TLC. Forget cleansers, toners, and lotions, and go in with a mask instead. Rainbow's Tighten Butt Mask is made with a powerhouse blend of retinoids and papaya to smooth out cellulite and stretch marks, banish blemishes, and perk up your peach. Whether you've got oily skin, acne-prone skin, aging skin, or dry skin, every booty can benefit from this rejuvenating mask.
Retinol is a gold-tier anti-aging ingredient that's proven to speed cellular turnover, boost collagen production, and ultimately, promote younger, smoother, firmer-looking skin. 
Papaya is exfoliating, hydrating, and firming all at the same time for a little added booty lifting boost. 
GET YOUR TIGHTEN BUTT MASK
#5: Firm Boob Mask 
Mixed berries and retinol play a huge role in this formula's boob firming abilities. Firm Boob Mask is one of the best products out there for keeping your cleavage smooth, tight, and gleaming. That's because it works both as an exfoliant and as a treatment to help with stretch marks and sagging. Plus, it can help prevent and treat active blemishes. 
If you've spent too long bathing in the sun without your SPF 30, you could already be dealing with sun damage in your boob area. While prevention is certainly better than cure, you can make things perkier again with a little Firm Mask TLC. 
GET YOUR FIRM BOOB MASK
#6: Brighten Serum
This illuminating face oil may just be the wakeup call your skin needs to look healthy, bright, and beaming again. Made with vegan collagen and pineapple, this formula can treat everything from redness to discoloration and dark circles. 
Pineapple extract contains bromelain, a powerful enzyme that buffs away dull, dead skin. It's also full of vitamins and antioxidants to soothe, heal, and repair skin.
Vegan collagen is a plumping, firming skincare ingredient that can give skin back its juicy glow. 
Use it as a facial moisturizer, eye cream, or in replacement of your night cream to promote crazy high levels of glow. Plus, you can apply it on the areas of the body besides the face. 
GET YOUR BRIGHTEN SERUM
So there you have it, our top six picks for getting glowing skin all-year-round. It turns out, you don't need to spend a fortune on fancy wellness treatments or dermatologist sessions in order to get that gorgeous just-got-back-from-the-beach glow. All you need are a handful of high-performing, glow-enhancing skincare products, and you're only a few weeks away from head to toe radiance.
Of course, you will also see benefits right from the first use. However, full benefits can be seen within four weeks of daily use.