Dry Skin? These 3 Skincare Products Will Change Everything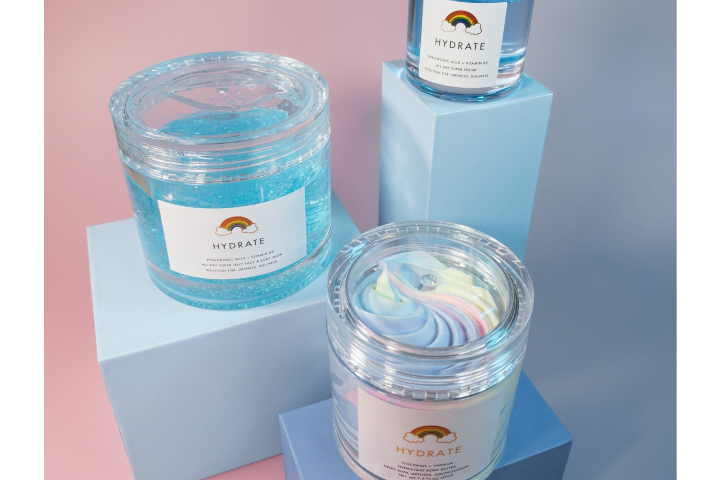 Dry skin often feels tight, especially after using a drying cleanser or toner. You may also notice itchiness and flaking, and you may be more sensitive to certain skincare ingredients such as exfoliating acids, acne treatments, and soaps. 
If you have dry skin, look for skincare products with hydrating ingredients like glycerin, hyaluronic acid, shea butter, and ceramides, which boost the skin barrier and promote long-lasting hydration.
Here are some of our favorite products for boosting moisture, managing dryness, and giving you that juicy, dewy complexion you crave.
Hydrate

Serum
An all-day super serum to delete dryness and dullness. Hydrate Serum blends ultra-moisturizing hyaluronic acid with plumping vitamin B5 to drench dull, dry skin in lasting moisture while smoothing out fine lines and wrinkles.
Dermatologists LOVE hyaluronic acid. It's the holy grail hydrator. Since dry needs more hydration than other skin types, it's definitely worth investing in a formula that contains this powerhouse ingredient.
Hydrate

Jelly Mask
The face mask version of our serum, Hydrate Jelly Mask is a lightweight, cooling jelly treatment of moisturizing hyaluronic acid and vitamin B5 to provide lasting moisture and elasticity into the skin. It'll leave your skin feeling and looking like it just drank a HUGE glass of water.
Try adding the serum and mask into your daily skincare routine to diminish dry, flaky skin. Besides being good for dry skin, sensitive skin types can benefit from this formula, too.
Hydrate

Body Butter
Packed with nutrient-rich coconut oil and antioxidant-packed vanilla, Hydrate Body Lotion is a buttery, deeply conditioning treatment that locks in lasting moisture. 
Most people forget about the body, but it's just as prone to dryness as your face. Use this beauty product daily to up your skin's moisture levels and secure glossy, nourished, healthy skin.
SHOP NOW
TIPS FOR DEALING WITH DRY SKIN
There are some tweaks you can make in your routine and daily life that pave the way for an ultra-hydrated complexion. Here are some you'll definitely want to try.
Eliminate Moisture-Sapping Skincare Products
Hydrating creams, serums, and cleansers all get the okay. Oil-stripping face washes, scrubs, and acne-fighting formulas? Not so much.
Every skincare regimen needs a gentle cleanser, antioxidant-rich serum, lightweight moisturizer, and broad spectrum SPF. Make sure every product you're using is leaving your skin smooth and nourished, not dry, tight, or flaky. 
If you're not sure what the culprits are, test each product and pay close attention to how your skin reacts after using each one. Eliminate the ones that leave you dry, tight, and itchy. That means they're stripping your skin of natural oils, and doing you zero favors.
You'll also want to go steady on exfoliating acids like glycolic acid as well as acne-attacking ingredients like benzoyl peroxide. It's still important to exfoliate in order to buff away dead skin cells, but just don't overdo it.
Do Your Skincare Routine Quickly
According to celebrity esthetician Renée Rouleau, you don't want to hesitate between applications. 
"If you leave your skin bare for more than a minute, it will start to dehydrate," she says. "Perform your skincare routine quickly, and be sure to always leave your toner damp on the skin." 
Be Ingredient Savvy
Anti-aging formulas like retinol and anti-acne ingredients like salicylic acid and benzoyl peroxide can worsen dryness. If you want to maintain dewy, glowing skin, always pay attention to the ingredients on product labels. Your face and eye creams could be more drying than you think.
Seek out hydrating ingredients like hyaluronic acid, glycerin, coconut, and niacinamide, to name a few. 
That doesn't mean you have to eliminate ingredients like retinol altogether. Just avoid using them too regularly or in too high concentrations.
Use an Antioxidant Serum
No matter the climate, free radicals are always there and ready to attack your skin, causing the breakdown of collagen, hyperpigmentation, and premature creases. To prevent the damage, apply a brightening vitamin C serum as a first layer in the morning, and don't forget the sunscreen.
Sun protection is essential if you want to keep skin looking healthy and vibrant. Even on cold, cloudy days, dermatologists recommend a daily dose of SPF 30. After all, UV rays are always present, which leaves you constantly at risk of sun damage and skin cancer if you're not protecting yourself.
Eat and Drink Well
Skin and diet have a direction connection.
According to New York City dermatologist Shari Marchbein, M.D., skin needs nutrients and vitamins in order to thrive. She suggests eating a diet rich in avocados, walnuts, and olive oil, and skipping those skin-parching beverages.
"Don't overdo it with alcohol, caffeine, and coffee," she explains, and "drink tons of water."
Spot Treat with Creams 
If you're acne-prone, and you're experiencing dryness in certain areas, you don't have to slather face cream all over. You can simply spot treat.
In other words, continue applying topical acne treatments to the affected areas, but then nourish the dry areas with hydrating creams and serums. Oily skin and combination skin can also benefit from this technique.
It's really effective because it means you can address active breakouts while treating those super dry areas. 
Turn Down the Heat
In your shower, we mean. According to the derms, hot water parches the skin. It strips it of natural oils, and leaves it feeling tight, dry, and itchy. 
If you're experiencing dry skin, one of the easiest and cheapest ways you can resolve the issue is by adjusting your water temperature. And of course, always follow up with a rich, fragrance-free body lotion. 
Dry skin is an extremely common skin type. Lucky for you, there are plenty of ways and products you can use to address your dryness and replace it for dewiness. 
Most important of all, pay attention to your skincare routine. It might not be that you actually have dry skin. It might just be that you're using the wrong products. 
Speak to a dermatologist if your dry skin doesn't disappear after four weeks of trying the above tips.