Can You Use Hyaluronic Acid with Retinol?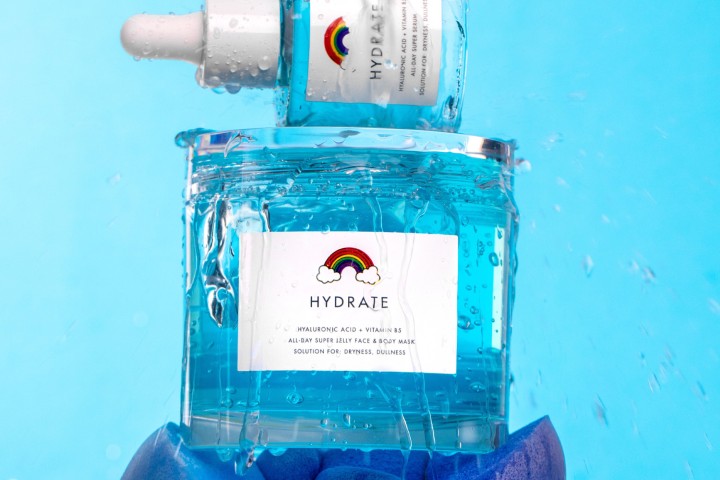 Hyaluronic acid and retinol are both powerhouse skincare ingredients in their own right. But do they work well together? Or are they better used separately?
When it comes to mixing skincare ingredients, it's important to know what's safe to use together, and what's not.
If you're wondering whether it's safe or beneficial to use hyaluronic acid and retinol together, read on for all the deets.
WHAT IS HYALURONIC ACID?
Hyaluronic acid is a powerful humectant. In spite of its name, it doesn't actually exfoliate the skin like AHAs and BHAs such as glycolic acid, salicylic acid, and lactic acid do. Instead, hyaluronic acid keeps the skin plump and hydrated. You'll find it in all kinds of skincare products, including cleansers, face creams, serums, and lotions.
In addition to being an incredible hydrator, HA has been shown to boost collagen production, which can help to firm skin and plump out fine lines and wrinkles.
"The beauty of hyaluronic acid is that it doesn't have any fine print," says Ranella Hirsch, M.D., a board-certified dermatologist in Cambridge, Massachusetts. "It benefits any skin type, at any age. And the truth is that everyone looks great with hydrated skin."
WHAT IS RETINOL?
Retinol is a vitamin A derivative and a powerful antioxidant that increases cell turnover, stimulates collagen production, enhances skin elasticity, and regulates oil production. It's often found in anti-aging products such as serums, creams, and masks.
Retinol is an all-round gold tier active ingredient that can minimize fine lines, boost firmness, treat breakouts, and fade dark spots and discoloration.
There are some side effects of retinol products, however, including dryness, flaking, and irritation. These side effects are most commonly experienced when you use a retinol serum with a high concentration of the ingredient. And for those with sensitive skin, retinoids may simply be too irritating altogether.
RETINOL AND HYALURONIC ACID TOGETHER: THE VERDICT
From what dermatologists tell us, retinol and hyaluronic acid are a match made in heaven.
"Retinols tend to cause dryness, flaking, and mild irritation when they're first used, and hyaluronic acid can help to increase water content and provide hydration to balance these effects," explains Dr. Corey L. Hartman, M.D., founder of Skin Wellness Dermatology in Birmingham, Alabama.
In fact, most skin types (especially dry skin and sensitive skin) are advised to use hyaluronic acid with retinol together since HA offsets the side effects of retinol. If you're someone who struggles to use retinol in your skincare routine, pairing it with hyaluronic acid serums and products may be your best option.
BENEFITS OF USING HYALURONIC ACID AND RETINOL TOGETHER
Here are some of the benefits of using hyaluronic acid with retinol.
Hydrates Skin
With hyaluronic acid being the powerhouse hydrator that it is, this humectant keeps your skin deeply nourished and hydrated for long-lasting smoothness. Retinol can sometimes leave skin feeling dry and flaky. Hyaluronic acid counteracts these effects, injecting skin with moisture that lasts all day long.
Prevents Blemishes
Retinol is mainly known for its anti-aging benefits. That said, it can also be useful for acne-prone skin. Since retinol works by speeding cell turnover, it helps keep pores clear, thus preventing breakouts.
Acne is typically caused by a buildup of oil, grime, and dead skin cells on the skin's surface which clog pores and trigger blemishes. Retinol keeps pores clear — and skin acne-free.
Targets Hyperpigmentation
Retinol and hyaluronic acid work in harmony to speed cellular turnover, plump skin, and hydrate. All three functions keep skin healthy and promote the shedding of pigmented skin cells which lead to discoloration. They also promote healthy skin cell regeneration, encouraging more evenly pigmented cells to appear.
Reduces Appearance of Fine Lines and Wrinkles
Both retinol and hyaluronic acid boost collagen production. Collagen is responsible for keeping skin smooth and firm. As we age, we produce less and less of this protein, which contributes to the formation of fine lines, wrinkles, and sagging. Since HA also hydrates, this can also help minimize the appearance of fine lines, since dehydrated skin makes them appear more prominent. Together, they're the anti-aging A-team!
Improve Skin Tone
By keeping skin hydrated and cells shedding at a healthy rate, retinol and hyaluronic acid can brighten skin for a youthful, radiant glow.
Swerves Retinol-Related Irritation
As mentioned before, hyaluronic acid counteracts any irritation or sensitivity caused by retinol. To mitigate irritation even further, choose a product that contains other hydrating and calming ingredients like vitamin E, niacinamide, green tea, and aloe vera.
HOW TO USE RETINOL WITH HYALURONIC ACID
Always start your routine with a gentle cleanser to remove dirt and oil. This will allow your other skincare products to penetrate more effectively. Next, apply a couple of drops of retinol serum and massage into the face and neck. Let it absorb into the skin for a minute or two, then follow up with a hyaluronic acid moisturizer or serum. Of course, you can also use products that combine hyaluronic acid with retinol, too.
Complete your routine with sunscreen (SPF 30, ideally) to fight free radicals and keep skin healthy and youthful. Avoid using a vitamin C serum after hyaluronic acid, as it can increase the irritation of the ascorbic acid (vitamin C). You should also take caution when using retin in combination with alpha hydroxy and beta hydroxy acids, and benzoyl peroxide.
BEST SKINCARE PRODUCTS WITH HYALURONIC ACID
Hydrate Serum
A lightweight, flash-absorbing serum of hyaluronic acid and vitamin B5 to provide skin with daily hydration. This formula keeps skin bright, smooth, plumped, and renewed all day long.
Hydrate Mask
A juicy jelly mask of hyaluronic acid and vitamin B5 to drench skin in long-lasting moisture. Apply this wonderfully wobbly formula whenever your skin feels dry, dull, and a little sad.
Can you use hyaluronic acid with retinol? Absolutely. In fact, you should, according to dermatologists. Using them together can strengthen each other's benefits while preventing retinol-related irritation. It's the power couple you never knew you needed until NOW!