Can You Swap Moisturizer for Serum?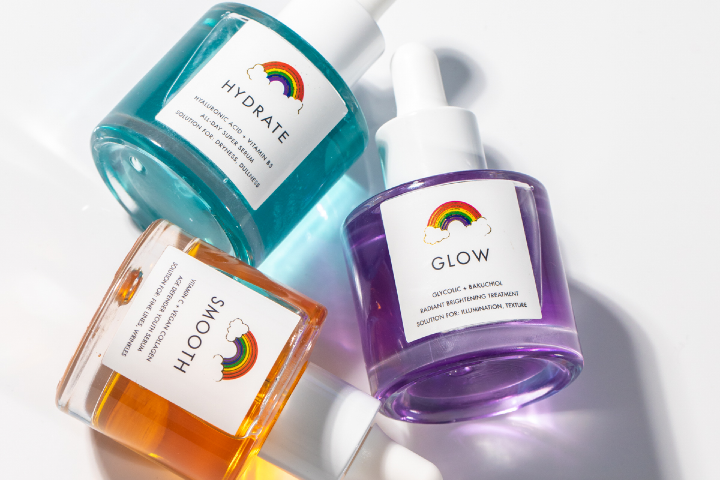 Serums have become incredibly popular in recent years. With their light texture and ability to treat multiple skin concerns, serums can drastically improve your skincare routine. Whether you've got dry skin, oily skin, or even acne-prone skin, all skin types can benefit from using serums.
So why exactly are they so special? Serums have high concentrations of active ingredients that offer brightening, anti-aging, hydrating, and exfoliating benefits. While you'll find active ingredients in a range of skincare products such as cleansers and creams, these products do not contain the highest concentration serums do. Serums work as well as they do because they contain a high concentration of active ingredients like retinol, hyaluronic acid, glycolic acid, salicylic acid, and more. 
But where does moisturizer come into things? Do you still need to use face creams and lotions in your routine, or is serum enough? 
WHAT'S THE DIFFERENCE BETWEEN A SERUM AND A MOISTURIZER?
Many people think serums and moisturizers are the same thing. They aren't. 
Serums are thinner, lighter, and more absorbent than moisturizers. They also deliver active ingredients in a higher concentration than regular creams and lotions. Alongside this, serums generally address a wide variety of skin concerns such as fine lines and wrinkles, acne, discoloration, and dullness, to name a few. 
Moisturizers are quite different to serums. The main purpose of a moisturizer is to hydrate the skin and prevent water loss. You'll rarely find moisturizers that target specific skin concerns. Of course, you'll find anti-aging and brightening formulas, but they won't be as effective as serums since they don't contain the high concentration of potent ingredients.
"Serums are intended to penetrate deeply into the skin to deliver targeted active ingredients, whereas moisturizers help to fortify the surface of the skin, bind skin cells together more effectively, and work at the surface of the skin to increase hydration," says board-certified dermatologist Corey L. Hartman.  
The biggest difference between a serum and a moisturizer is that serums treat and moisturizers purely hydrate. 
DO YOU REALLY NEED BOTH?
A skincare routine generally looks something like this: cleanser followed by toner, followed by serum, moisturizer, and a generous layer of sunscreen -- SPF 30 minimum. But do you really need both facial serum and facial moisturizer to maintain healthy skin?
There's not a right or wrong answer to this. It depends on your skin type, needs, and personal preferences. If your skin is oily
If your skin is oily, for instance, a serum may give you enough hydration that you won't need a moisturizer. In fact, it may even be better to prevent issues like oiliness and breakouts, as often creams can be too rich and heavy to be suitable for oily and acne-prone skin.
Those with drier skin would benefit with the use of serum and moisturizer. Moisturizers have larger molecules than serums, meaning that they won't penetrate the skin as quickly as serums would. If you're looking for continuous hydration, a high-quality face cream should be your final step to maintain the skin barrier and ultimately, skin health.
That said, there are plenty of hydrating serums out there for you to choose from that can efficiently diminish dryness and seal in moisture for long-lasting hydration. You just need to choose formulas with the right ingredients, such as glycerin, hyaluronic acid, antioxidants, and ceramides.
REASONS TO MAKE THE SERUM-ONLY SWITCH
Serums Target Specific Concerns
Whether you're looking to fade dark spots, reverse signs of aging, or banish breakouts, serums can do it all. There are numerous formulas to choose from, each designed to tackle specific concerns. Made with a high concentration of active ingredients like retinol, vitamin C, and other powerhouse ingredients, serums are proven to treat multiple skin concerns with consistent use.
Serums Penetrate Deeper than Moisturizers
Serums are made up of tiny molecules that absorb quickly and deeply into the skin, maximizing their effects. Many cream and lotion-based moisturizers contain filler ingredients that override its hydrating effects and clog your pores, leading to breakouts. 
According to the derms, serums can actually be more hydrating than moisturizers because the ingredients sink deeper into the skin.
All Skin Types Can Use Serums
Unfortunately, many moisturizers can be too rich for most skin types. For oily and acne-prone skin, they can end up congesting the pores and causing breakouts. For sensitive skin types, thick creams only add additional stress to skin, leading to flareups of redness, irritation, and general discomfort.
Serums are lightweight and fast-absorbing. They come in numerous different formulas depending on your skin's needs, so every skin type can benefit from using serums in their routine. And you don't just have to stick to the one. Invest in two or three if you're looking to treat various issues at the same time.
SHOP FACE SERUMS
Smooth Serum
A vitamin C serum to brighten your complexion and fade out hyperpigmentation. This formula blends vitamin C and vegan collagen to boost collagen production, thicken the dermis, combat fine line formation, and leave skin glowing.
Hydrate Serum
A dew-inducing elixir of hyaluronic acid and vitamin B5 to drench dry skin in lasting moisture. This skin care product will leave your skin looking plumper, smoother, and glassier. 
Tighten Serum
Powered by exfoliating AHAs and elasticity-restoring red algae, Tighten Serum is an anti-aging powerhouse that visibly lifts, smooths, and plumps your skin. It's a must-have beauty product for babes who want to get ahead of aging.
Glow Serum
A quick fix for head-to-toe luminosity. This grease-free, flash-absorbing formula combines glycolic acid and bakuchiol to buff, brighten, and give the skin its bounce back. Plus, you can use it all over.
Ready to make the swap? As a rule of thumb, it's best to start slow and gradually increase how often you use different serums to prevent any unwanted side effects like irritation and redness. Once your skin adjusts, start using your serums daily or on consecutive days to achieve a smooth, youthful, radiant complexion. You don't need moisturizer to make that happen. Serums are the future.