Can You Over-Moisturize Your Skin?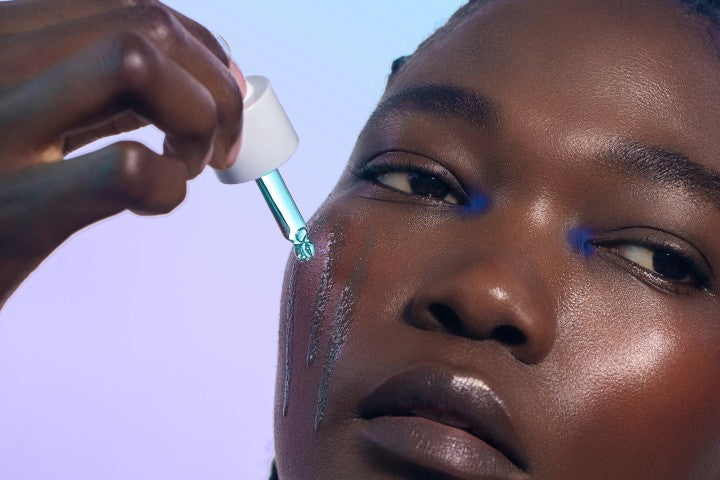 It turns out, your skin really can get too much of a good thing when it comes to moisturizing. Now that winter's nearly here, you're no doubt piling on the serums and lotions in a bid to defeat dry skin - or at least, ward it off.
Dry winter air can sap the moisture from your skin, which is why moisturizing matters. As important as hydration is for maintaining healthy skin through the winter months, there is such a thing as over-moisturizing.
Here's what can happen when you over-do it with the creams and oils.
IS IT POSSIBLE TO OVER-MOISTURIZE?
Yes, you can definitely use too much moisturizer. Facial moisturizers are designed to be concentrated. Applying more than necessary will not maximize its effects or cause better skin results. In fact, most of the time it does the opposite.  
Every good skincare routine requires a gentle cleanser, exfoliator, and moisturiser. However, when you apply too much of one moisturizing skincare product or several different ones, you can end up with a multitude of skin concerns such as clogged pores, blackheads, and excess oil.  
According to New York City dermatologist Howard Sobel, "Excellent moisturizers are typically very concentrated and are meant to deliver small amounts for all skin types." In other words, if you have a good enough moisturizer, that's all that's needed to nourish your skin. 
WHAT ARE THE EFFECTS OF OVER-MOISTURIZING YOUR SKIN?
It's extremely important to moisturize your skin every day, but applying too much can cause a variety of issues like clogging, oily skin, and breakouts. If you have acne-prone skin, you'll only contribute to the issue by slathering on more creams. 
In addition, using too much moisturiser can make your skin lazy, encouraging it to produce less moisture on its own, which can contribute to dryness. Over moisturizing signals to your skin that it has enough water, lipids and protein. It instructs your skin to slow down the production of essential skin nutrients, leaving your skin vulnerable to dryness, itching, and irritation.
There's actually not reason to apply more layers of lotions to up your moisture levels. 
"Your skin is like a sponge in that it takes in what it needs and the rest sits on top," says esthetician Reneé Rouleau. "When you apply an extra layer of moisturizer, this may be wasteful since the skin can only absorb so much."
Using a product that's too occlusive, like Vaseline or Aquaphor, can also lead to over-moisturizing. These skincare products are better left for the lips and eyes.
SIGNS YOU'RE MOISTURIZING TOO MUCH
It's worth paying attention to the signs you may be over-moisturizing to prevent experiencing adverse effects. 
According to the experts, the most immediate signs include clogged pores, blackheads, and excess sebum production. So, if you're noticing your skin looking oilier than usual, your nose flecked with blackheads, and pimples popping up here and there, it might be time to rethink your moisturizing routine.
Over time, you may also notice your skin becoming drier. That's because over moisturizing tricks your skin into thinking it has enough water, lipids, and protein when in actual fact, it doesn't. In the end, you find your skin in this vicious cycle where it appears dry because it's no longer producing necessary nutrients, causing you to moisturize more.  
If your skin feels tight and dry even though you know you've been moisturizing a lot, it could be a sign you're over-doing it. For the sake of your skin (and your bank balance) go steady on the lotions to protect your skin barrier and preventing it from going nuts.
HOW MUCH MOISTURIZER SHOULD YOU BE USING?
While the amount depends on your skin type and the formulation itself, dermatologists agree that the size of a nickel is adequate for daily use.
Avoid suffocating your skin with too much product. A little bit of the right lotion can go a long way on the path to healthy, glowing skin!
THE BEST WAY TO MOISTURIZE YOUR SKIN
How you moisturize can make all the difference to the results.
Start by washing your face using a gentle cleanser to remove dirt, oil, and debris from the skin. Then, use a physical or chemical exfoliator to remove dead skin cells and allow the moisturizer to absorb better. You'll only need to do this step once or twice a week to keep skin healthy and hydrated.
Finally, while your skin is still a little damp, apply a small amount of your favorite moisturizer to your skin and make sure it absorbs fully. Follow up with sunscreen SPF 30 for maximum protection. 
If you're experiencing clogged pores or blackheads, look for topical products that contain exfoliating ingredients like salicylic acid to help unclog the pores. Retinol can also help regulate skin cell turnover and keep pores from getting clogged.
WHAT TO LOOK FOR IN A GOOD MOISTURIZER
When it comes to finding the best moisturizer for your skin type, it all comes down to the ingredients. Look for hydrating ingredients that actually repair the lipid barrier and prevent water loss, such as ceramides, hyaluronic acid, and glycerin. These ingredients will correct the lack of oil and lack of hydration deep within your skin for a smooth, soft complexion.
Try Rainbow's Hydrate Serum, which features hyaluronic acid and vitamin B5 to moisturize, plump, and brighten your skin. 
If you have acne-prone skin, make sure you choose a noncomedogenic formulation so it won't clog your pores and make your acne worse. Those with sensitive skin should stick to soothing formulas designed to hydrate and heal.
Derms have divided opinions on many skincare issues, but when it comes to moisturizing, most agree that you
 can
 overdo it and that it 
may
 cause adverse effects. Even if you have dry skin conditions like eczema, you're still advised against over-moisturizing your skin.
When you have a good moisturizer at hand and you use it consistently on a daily basis, you can get all the hydration you need without applying layers upon layers of lotion.