Best of Skincare 2022: Splurges that are Worth it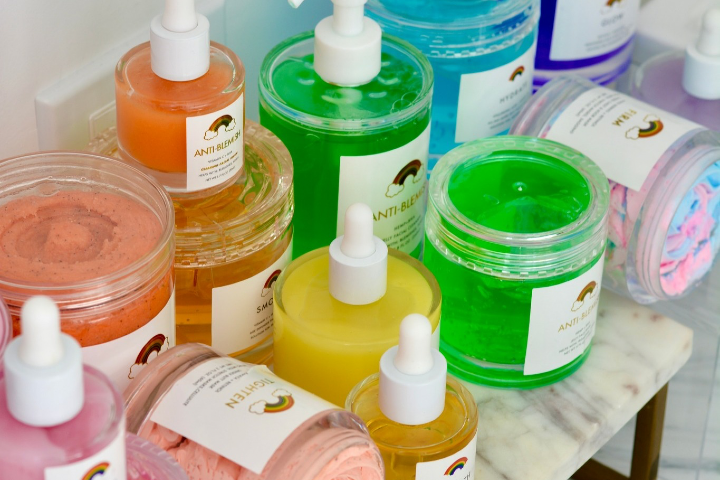 In the world of skincare, we're up to our eyeballs in options, and it can't be tough to tell which skincare products are worth the splurge and which aren't. To make things easier, we've created a list of the finest face and body products that are worth every cent. From line-softening serums to firming boob masks, go ahead and treat yourself to one or more of these skincare winners — that are definitely worth the splurge!
Smooth Serum
Are you seeing the first signs of aging, aka fine lines, wrinkles, and sagging? This vitamin C and vegan collagen-rich serum helps restore plumpness by enhancing skin's natural collagen reserve and increasing elasticity. Used daily, this vitamin C serum will deliver fresher, bouncier, fine line-free skin.
A powerful antioxidant, vitamin C offers both brightening and UV-protecting effects. It can also minimize the appearance of dark spots and discoloration. Vegan collagen supports natural collagen and elastin production, which translates to smoother, firmer skin.
Glow Face Mask
If your complexion looks a little dry, dull, and depleted, slather on this glow-enhancing mask. Spiked with glycolic acid, a powerhouse exfoliating acid that sloughs of dead skin cells, this formula will reveal a smoother, brighter you. It also contains bakuchiol, a retinol alternative with all of the benefits and none of the side effects.
We're pleased to announce that this exfoliating mask actually delivers: after just a couple of applications, your skin will feel smoother and appear visible more radiant. Perfect for oily and acne-prone skin.
Hydrate Body Butter
It might come with a high price tag, but this luxe, restorative body moisturizer is well worth the splurge. Rich, whipped, and fluffy, it blends the healing properties of shea butter, vitamin E, and coconut oil for all-day, all-over silkiness. Unlike your regular daily lotion, this butter intensely hydrates, plumps, and supports skin barrier function. It'll leave skin feeling soft to the touch — and diminish dry skin for good.
Suitable for all skin types, it's especially helpful for sensitive skin thanks to its ability to bolster skin's moisture barrier. Include it in your daily skincare routine to keep skin strong and healthy. It really is the holy grail of moisturizers.
Anti-Cellulite Body Serum
The best way to tell whether a beauty product is worth the splurge is to look at the ingredients. And Anti-Cellulite Body Serum ticks all the boxes for being worth the spend. Powered by watermelon and vegan collagen, these ingredients work in tandem to boost collagen, improve circulation, and hydrate skin. Daily application of this serum will help improve skin tone and texture, translating to smoother, firmer skin.
If you've got cellulite, this serum will assist in smoothing out dimples while tautening loose skin and giving a glowy finish. No wonder it's a cult-favorite!
Tighten Butt Mask
Skin looks better when you show it some love. And that goes beyond your face and neck. Show your tush some TLC with this whipped butt mask. Featuring brightening papaya and plumping retinol, this formula will leave your booty softer, tauter, and glowier. It also contains gentle jojoba beads to lightly exfoliate the skin while still being delicate enough for everyday use. In other words, it can also help clear away butt breakouts!
The price tag might seem a bit steep, but this is a product that will literally transform a sad booty. Frankly, it's one of the best skincare products you'll find that's specifically made for the butt.
Firm Boob Mask
From sagging to stretch marks and blemishes, Firm Boob Mask fixes all chest-related skin concerns. Enriched with nourishing mixed berries and anti-aging retinol, this power duo works as a team to lift, firm, and smooth your boobs.
You won't typically find many boob products at your local drugstore. That's what makes this product unique. See, your boob skin needs a little love too if you want your pair to stay perky. With Firm Boob Mask, you can keep your pair as perky as possible.
Hydrate Serum
Drench your skin in day-long hydration with this moisture-sealing hyaluronic acid serum. It plumps, hydrates, and deeply conditions skin, improving both its look and feel. Unlike a regular face creme, it won't leave your skin feeling sticky or icky. This formula simply melts into skin, leaving it irresistibly soft. Plus, it contains a range of botanicals including jojoba seed oil and aloe to hydrate some more while simultaneously soothing and calming red, irritated skin.
After using your daily cleanser and toner, pat this serum on, and follow up with eye cream and sunscreen (SPF 30).
Tighten Serum
A blend of AHAs and red microalgae work in tandem in this formula to visibly lift, smooth, and restore elasticity in the skin. Red microalgae and alpha hydroxy acids gently lift dead skin cells and protect against oxidative stress to deliver firmer, bouncier skin.
Psst...did you know you can also use this anti-aging serum on the rest of your body, too? It's a face and body serum designed to restore skin's youthful radiance.
Smooth Body Moisturizer
This strawberry-scented body serum doesn't just smell amazing. It literally works skincare miracles. Made with niacinamide and strawberry, this silky, rejuvenative body moisturizer fights UV damage, fine line formation, and crepey skin while assisting with dryness and dullness.
Use it at home or on the go to keep your skin petal soft and smelling sweet.
While there are many luxury brands that you can splurge on, like La Mer, Skinceuticals, Tatcha, Augustinus Bader, and Sisley, you don't have to spend a fortune to get good skincare products.
The list above shows the best of skincare 2022 that comes at a reasonable price tag — and all these products are worth the splurge! Whether you're looking to treat fine lines, cellulite, dark circles, or discoloration, the treatments above fix all.
Speak to your dermatologist before using these products if you have a skin condition like eczema.