AHA vs BHA, Explained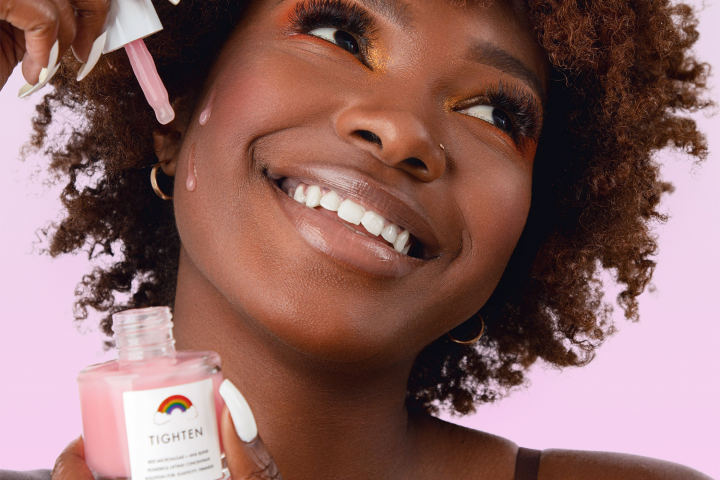 Chemical exfoliators really are the secret to fresh, radiant skin. Two of the most common chemical exfoliants are alpha hydroxy acids and beta hydroxy acids — aka, AHAs and BHAs. Unlike your regular face scrub, these exfoliating acids gently melt away dead skin cells sitting on the skin's surface to reveal a bright and babysoft complexion, without potentially damaging your skin.
No doubt, you've probably heard of AHAs and BHAs before. The question is, what exactly are they — and what is the difference between them? Should you use one or the other...or both, even?
Here's everything you should know about AHAs and BHAs.
What are AHAs?
AHAs, known officially as alpha hydroxy acids, are acids derived from sugar cane that are used as a chemical or liquid exfoliant. The most popular types of AHAs are glycolic acid, lactic acid, citric acid, malic acid, mandelic acid, and tartaric acid, all of which can be found in skincare products such as cleansers, serums, toners, and creams.
AHAs are water soluble, meaning they act purely on the skin's surface (and don't go any deeper). They're typically well-tolerated by most skin types, excluding super sensitive skin.
Benefits of Alpha Hydroxy Acids
AHAs boast a number of benefits. For starters, they target all areas of the skin including the outer layer (epidermis) and the deep layer (dermis).
"In the epidermis, AHAs have an exfoliative effect, increasing the shedding of dead skin cells retained at the surface," says board-certified dermatologist Kenneth Howe. "They do this by gently cleaving the retained bonds between dead skin cells. Once cut loose, those cells can then fall off, or exfoliate."
By removing dead skin, AHAs offer brightening and blemish-clearing effects. They can help improve the appearance of hyperpigmentation while unclogging pores to prevent future breakouts.
In addition to this, AHAs help boost collagen production, thus treating fine lines, wrinkles, and sun damage.
What are BHAs?
BHAs, or beta hydroxy acids, are another type of chemical exfoliant. Salicylic acid is the most common BHA, which is commonly found in over-the-counter acne treatments.
BHAs are oil soluble and made up of smaller molecules, meaning it can penetrate deep inside your pores to remove the buildup of dad skin, sebum, and impurities. This type of acid is particularly good for treating oily skin and acne-prone skin. Since they penetrate deeper than AHAs, they're extremely helpful at de-gunking pores and fighting blackheads, whiteheads, and pimples. They even boast anti-inflammatory properties, helping to quell redness and irritation.
Benefits of Beta Hydroxy Acids
One of the biggest benefits of BHAs is that they both treat and prevent acne.
Salicylic is your best option if you're tackling breakouts. "It's a BHA that's a very tiny molecule, so it penetrates the pore where the active oil gland is and sloughs off the clump that's causing the acne," explains dermatologist Michelle Henry, MD.
Aside from addressing acne, salicylic acid can be handy at improving your skin tone and skin texture. It brightens, smooths, and leaves skin feeling visibly softer. On top of all that, it can treat pigmentation issues — provided that you use it regularly.
AHAs vs BHAs
Both AHAs and BHAs have their fair share of benefits. When it comes to choosing between an AHA and BHA, you need to identify your skin concerns. If you're dealing with dryness or discoloration, AHAs are your best bet. For those experiencing deeper skin concerns like acne, a BHA would be your best choice. You may even consider using an AHA/BHA combo to alleviate all your skin complaints.
To sum up, AHAs are better for dry skin and those looking to address issues like pigmentation, discoloration, and fine lines while BHAs are better for oily and acne-prone skin. If your skin concerns fall on both sides, consider using a product that contains both AHAs and BHAs.
Is it Safe to Use AHAs and BHAs Together?
For those of you experiencing dryness, acne, and discoloration, you may want to consider using products that contain both AHAs and BHAs. That said, if you have sensitive skin, you should stick to formulas with low concentrations of the active ingredients to prevent unwanted side effects like dryness, redness, and burning.
Best Skincare Products with AHAs and BHAs
Here are some of our fave AHA and BHA products to start including in your skincare routine.
GLOW Mask
A glossy gel mask of glycolic acid + bakuchiol. This skin refining formula buffs away surface buildup while speeding cellular turnover to improve skin tone and texture. Slather this on, get ready for silky smooth, glowing skin!
ANTI-BLEMISH Body Serum
A satiny, breakout-banishing body serum formulated with antioxidant-rich vitamin C, acne-fighting BHA, and hydrating jojoba oil to clear clogged pores, prevent breakouts, and soothe acne-related redness. Those body blemishes that have been bugging you for months? They'll be gone in a flash!
EXFOLIATE Scrub
An exfoliating salt-based body scrub formulated with mango + AHAs to buff away uneven texture and brighten. Rainbow Beauty Exfoliate Body Scrub also helps with dryness and discoloration. Just remember to slap on the sunscreen after using to protect skin against UV rays. FYI: skin is extra sensitive after exfoliating.
TIGHTEN Serum
This anti-aging serum harnesses the line-smoothing powers of AHAs and red microalgae to deliver your most youthful complexion. Use it at home or on the go to maintain silky soft freshness. Did you know you can also use it on your body for full body smoothing and firming?
Alpha and beta hydroxy acids might sound scientific and complicated. When in fact, they're pretty easy to understand once you get acquainted. One thing's for sure, the derms highly recommend chemical exfoliation over physical exfoliation, meaning your skincare routine would benefit significantly from adding in an AHA or BHA.
From cleansers to serums, creams to masks, you'll find these transforming skincare ingredients in all kinds of products. Look out for them the next time you go skincare shopping!