Acai Extract For Skin: Everything You Should Know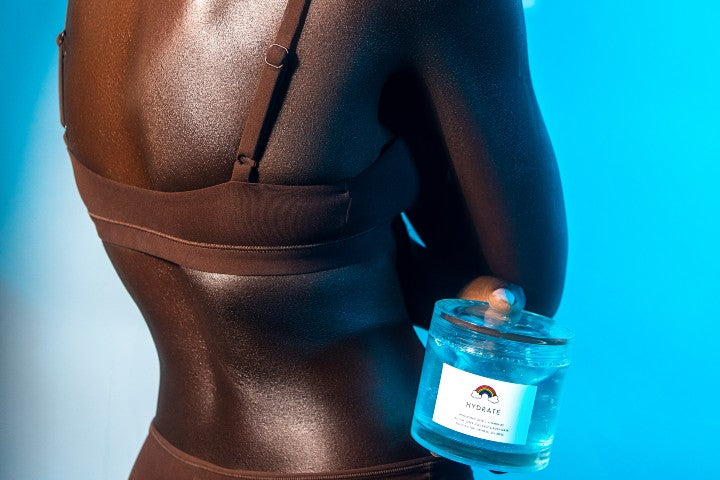 Acai (pronounced: ah-sigh-ee) is an original superfood commonly blitzed into smoothies or used to make an acai bowl. Loaded with essential fatty acids, vitamin A, and amino acids, this superfruit comes with a slew of health benefits including improving cholesterol and heart health, promoting weight loss, strengthening the immune system, and preventing heart disease.
In recent years, it has become something of a skincare superfood, too, making its way into serums, face masks, and creams.
Like blueberries, acai berries are packed with nutrients and antioxidants like anthocyanin which help fight oxidative stress and premature signs of aging, among other things.
Here's everything you should know about acai for skin — and the best skincare products you'll find it in!
WHAT IS ACAI BERRY EXTRACT?
Native to the Amazon rainforest in Brazil — and other areas in South America — acai berry offers powerful antioxidant and anti-inflammatory properties. While it's been a staple for the people in Brazil's rainforest regions, beauty brands are now including acai fruit in their anti-aging formulas.
Acai berry extract is essentially the extract of the fruit, commonly added to skincare products. However, you may also find acai oil or acai powder on the ingredients list of your serums and lotions, as these can be just as beneficial for skin.
WHAT ARE THE SKINCARE BENEFITS OF ACAI BERRIES?
Acai offers numerous benefits for your skin, especially if you're looking to restore youth. Here are just a few reasons to start including acai berry in your daily skincare routine.
Acai Extract Delays Signs of Aging
With its high antioxidant content, acai berries protect the skin against free radicals, which can cause a slew of skin concerns such as fine lines, wrinkles, and dark spots. Acai also contains amino acids, which are known for speeding up collagen production, helping to keep skin smooth, supple, and line-free.
The fruit's antioxidant properties along with its amino acids make it a go-to ingredient for slowing down signs of aging while protecting skin from UV damage.
Acai Extract Treats Hyperpigmentation
Acai contains a large dose of vitamin A, which can help speed skin cell turnover, shedding old, dead cells and revealing newer, younger cells. Vitamin A also helps minimize the appearance of roughness and pigmentation.
Think of it almost as an exfoliant, which also sloughs away dead skin cells to make space for fresh new cells. Some say this ability can help treat everything from hyperpigmentation to large pores and even acne.
Acai Extract Keeps Skin Hydrated
Acai's fatty acids ensure that your skin stays smooth, firm, and hydrated. If you're dealing with dry skin, acai extract should be part of your daily skincare routine for keeping skin moisturized.
Omega 3 and 6 in acai help keep skin cell membranes healthy while contributing to balanced natural oil production, helping to keep skin hydrated. These fatty acids can also be beneficial at ironing out fine lines and wrinkles on the skin, and preventing new ones from forming.
Acai Extract Soothes Irritated Skin
Thanks to its anti-inflammatory properties, acai berry extract can be helpful for easing irritation, redness, and skin conditions like eczema. If you have a skin condition, it's best to speak to a dermatologist before using new products.
Acai Extracts Increases Firmness of Skin
Acai is rich in vitamin C, an antioxidant known for boosting collagen production and restoring skin's elasticity. Collagen and elastin are both responsible for keeping the skin looking plump and firm. As we age, collagen and elastin levels deplete, but acai can help to restore them and ultimately, keep skin looking smooth and supple.
Vitamin C also plays a role in brightening skin tone. So, if you're looking for a way to light up your complexion, acai berry can help!
ARE THERE ANY SIDE EFFECTS?
According to the derms, acai berry is safe for all skin types. While there's always a risk when it comes to using new ingredients, acai is considered a gentle skincare ingredient.
For best results, start by using a product with a low concentration of acai, and only apply once every couple of days. Once your skin adjusts to the new active, you can use it in a higher concentration and more frequently in your routine.
SHOP ACAI SKINCARE PRODUCTS
Looking for the best acai berry skincare products? We've found the best three for youthful, beaming skin!
Glow Serum
Illuminate your skin with this face + body acai serum. It's powered by exfoliating glycolic acid and brightening bakuchiol and infused with acai and jojoba oil for extra hydration and anti-aging effects. Plus, it's lightweight and flash-absorbing, so you won't get that greasy feel some serums have. For best results, use every evening after cleansing.
Hydrate Serum
A daily moisturizing serum of hyaluronic acid and vitamin B5 for soft to the touch skin all over. This face and body serum also contains acai, jojoba oil, and algae to seal in moisture while smoothing out fine lines and creases. You won't even know you're wearing this serum — it's featherweight! For best results, use morning and night after cleansing.
Hydrate Mask
Hydrate Mask is a cooling jelly treatment made with moisturizing hyaluronic acid and vitamin B5 to instantly inject elasticity into the face and body while promoting long-lasting hydration. It's perfect for sensitive and dry skin types, as well as those with mature skin looking for a treatment to tackle signs of aging. Best of all, you can use it on your face and body — so don't forget those often neglected areas prone to dryness and fine lines, like your neck and chest!
Acai berry offers multiple skin and health benefits. Whether you're eating it or applying it, everyone can reap this superfood's benefits. It can help with everything from dry skin to fine lines and wrinkles, hyperpigmentation to skin sagging. That's why you'll now find it in a range of skincare products, including three of Rainbow's!