A Neck Skincare Routine You Need RN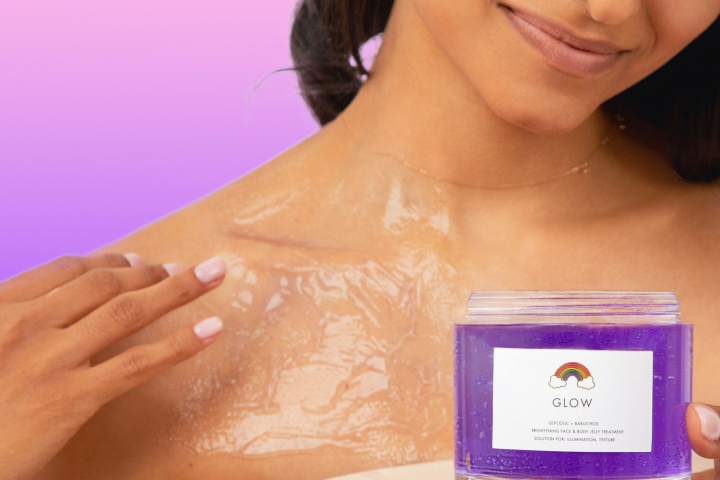 Sadly, the neck doesn't get as much love and attention as it so desperately deserves. Most of us are diligent about applying our facial skincare products, but when it comes to the neck — it simply gets neglected.
According to dermatologists, your neck should receive the same TLC as your face. We know it's tempting to skip that extra step, but giving it just a slice of your time can prevent fine lines, discoloration, and dryness.
Here's why you need a neck skincare routine — and the best way to care for your neck.
Why Should I Even Bother with Neck Skin Care?
There are plenty of reasons why your skincare routine shouldn't stop at your neck.
For starters, neck skin is thinner than facial skin, making it more susceptible to skin concerns like aging.
"Neck skin is subject to the same external factors such as UV light and environmental free radicals as the face, so it deserves attention at baseline," explains Mona Gohara, M.D., a Connecticut-based board-certified dermatologist. "All of these things make neck care just as important as facial skin care."
In addition to this, our necks are exposed to constant movement, meaning it's more vulnerable to fine lines and wrinkles.
Another thing worth pointing out is that your neck doesn't produce oil like your face does. While that means you won't deal with breakouts, it does mean your neck is prone to becoming drier.
Try this Neck Skin Care Routine
Here's a simple neck skincare regimen you can follow to start preventing and addressing fine lines, dryness, and hyperpigmentation.
#1: Cleanse
While the neck doesn't produce as much oil as the face, it's still important to cleanse the area to prep skin for products to come. Especially if you've got oily skin or acne-prone skin, keeping your neck clean is essential for preventing breakouts. Look out for a cleanser suited to your skin type. If you've got dry skin or sensitive skin, choose a gentle, hydrating cleanser. If you've got oily or acne-prone skin, opt for a salicylic acid-based formula that'll get rid of excess sebum and ward off blemishes.
#2: Exfoliate
To keep your neck bright and gradually fade dark spots and discoloration, it's imperative to exfoliate twice a week. Exfoliation helps to buff away the buildup of dead skin cells, revealing fresher, brighter skin. You can either use a scrub or a chemical exfoliant for the job. Frankly, we prefer a chemical exfoliant (glycolic acid, lactic acid), which you'll find in everything from cleansers to serums, toners and face masks.
Another wonderful thing about exfoliation: it allows for better product absorption. In other words, all your neck creams and serums will penetrate deeper and work better when applied to freshly buffed skin.
Try our Glow Mask, a gel-based mask of glycolic acid and bakuchiol to brighten, smooth and combat signs of aging. It's our favorite formula for achieving glowing skin within 10 minutes.
#3: Treat
Now's your chance to treat specific skin concerns, like fine lines, sagging, or discoloration. The best product for the job is the right serum. And by the right serum, we mean choosing a formula that contains active ingredients known for targeting your specific skin concern/s.
Vitamin C is a potent antioxidant that's fantastic for treating dark spots and discoloration. Retinol and vegan collagen are powerhouse anti-aging actives that help with firming, softening fine lines and reversing sun damage. Hyaluronic acid, ceramides, and glycerin are the best for alleviating dryness.
Try our Smooth Serum, a silky skincare treatment of vegan collagen and vitamin C developed to even skin texture, improve discoloration, and reduce the appearance of fine lines and wrinkles. It can even help to counteract tech neck! Including it your morning skincare routine under your daily SPF to protect skin against UV rays and pollution.
#4: Moisturize
Moisturizing is an important step in a neck skincare routine. In addition to bolstering the skin barrier, it helps keep the area smooth, soft, and line-free. Skin needs adequate moisture in order to stay healthy. While there are many neck creams on the market, you don't need a neck cream specifically. Any moisturizer will do as long as it's hydrating.
One of the best ingredients to look out for is hyaluronic acid, a powerful humectant that locks in moisture and plumps out wrinkles for day-long dewiness. You'll find this ingredient in everything from eye creams to lotions to face creams and serums.
Try our Hydrate Serum, a satiny serum of hyaluronic acid and vitamin B5 which work in tandem to deeply moisturize, plump, even skin tone, and soothe. This topical treatment just melts into the skin without leaving behind a greasy residue.
#5: Protect
Sunscreen is a daily essential for taking care of your neck and preventing premature aging.
"Even one sunburn can damage collagen and elastin in the skin of the neck for a lifetime," says board-certified dermatologist Dr. Lily Talakoub, M.D., F.A.A.D. "Also, once UV damage on the neck has happened, it's much, much harder to treat than that of the face." All the more reason to slather on the SPF!
You can choose from a mineral sunscreen or chemical sunscreen. If you've got oily or blemish-prone skin, make sure you choose an oil-free, non-comedogenic formula.
Paying a little more attention to your neck will save you from a future of fine lines, sagging, and discoloration. The products above provide intense rejuvenation to the neck, helping to both prevent and treat signs of neck aging.
Remember, if you have a skin concern like rosacea or eczema, we recommend speaking to your dermatologist before starting a new skincare routine. This is just to ensure these products are safe to use and won't cause any unwanted irritation.