8 Great Galentine's Day Gifts to Give Your Beauty-Loving Besties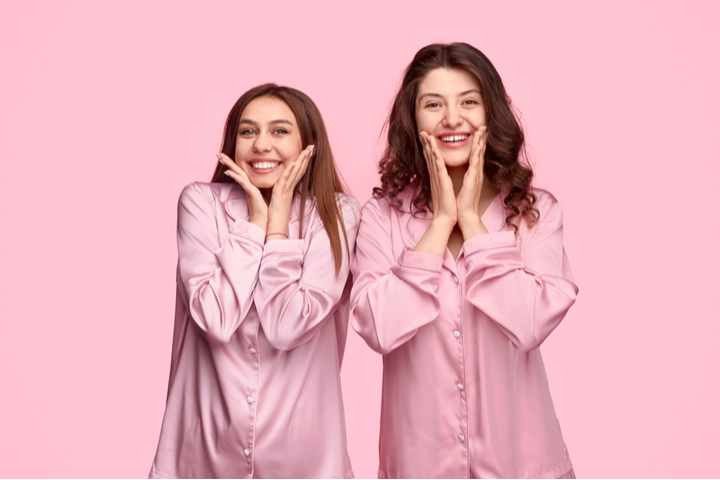 Your gal pals are your everything. They've been with you through breakups, career changes, a pandemic, and so much more! 
Galentine's Day is a great way to celebrate just how much they mean to you. A holiday dedicated to acknowledging friendships, Galentine's is pretty much the Valentine's Day for besties. But instead of getting them Valentine's day gifts like cuddly bears and flowers, you can get your golden girls something you know they'll LOVE: beauty products!
Whether she needs a night of pampering with face masks and body creams, or simply a few cute beauty fridge additions, here are some Galentine's Day gift ideas that scream "I love you!"
#1: Plump Lip Butter
Your BFFs won't be able to keep their hands off this adorable lip plumping butter. It's essentially a lip balm -- only richer, creamier, and more delicious. 
Made with hydrating coconut and nourishing vanilla, this lip butter tackles dryness while smoothing out creases and stimulating circulation for a smooth and pillowy pout. Plus, it smells sensational! She'll want to lick it off. But please remind her: it's inedible. 
She can easily fit it in her purse, and keep her lips looking lush on the go. It's a thoughtful gift to give to your best friend to show her how much you care. 
Shop now. 
#2: Glow Bundle
You know she's sparkling on the inside, but how about getting her a gift that makes her sparkle on the outside, too? Like our radiance-enhancing Glow Bundle?
It features a face + body mask and serum made with exfoliating glycolic acid and antioxidant-packed bakuchiol to buff away dead skin, protect against environmental stressors, and leave skin sparkling.
It's the perfect gift set for ladies in your life who love good skincare. This bestselling duo really is the best Galentine's Day gift to remind her how special she is to you. Plus, it'll push her to give herself that self-care session she more than deserves! 
#3: Firm Boob Mask
Planning a girls' night in with your besties on February 13th aka Galentine's Day? Load up on our skincare goodies like our Firm Chest and Boob Mask. Sure, it's a unique gift, but it's one she'll definitely remember.
The formula is designed to perk up your tatas while tackling issues like stretch marks and sagging. Made with mixed berries and retinol, these two anti-aging ingredients work together to firm up your cleavage for a perkier, tauter result.
You could also turn your girls night in into a pampering session by lighting some scented candles, decorating the bathroom with succulents, and switching on some cool tunes. Then grab all your beauty goodies, and get pampering!
Shop now.
#4: Hydrate Bundle
Is your fave girl always complaining about dry skin? It might be time to finally fix it for her by treating her to this moisture-drenching Hydrate Bundle. Featuring a mask and serum, hyaluronic acid + vitamin B5 work in tandem to plump, regenerate damaged skin cells, and hydrate for a gleaming, glossy complexion. 
You could also even make your own DIY gift box by incorporating these two baddies with other Rainbow specials. Now that's something she'd never find on Amazon, Walmart, or Etsy.
#5: Tighten Butt Mask
She probably already has a skincare regimen for her face. But what about her peach? That's most likely getting very little attention. You can change that with this one present.
Tighten Butt Mask is a firming formula designed especially for the bum. It's made with papaya and retinol to brighten, tighten, and lift while smoothing out stretch marks and cellulite. 
Get it for the loved ones in your life who deserve something different to the traditional gift guide ideas like wine glasses, keychains, scrunchies, and bath bombs. She'll appreciate the effort! 
Shop now. 
#6: Smooth Bundle
If you read virtually any beauty blog or magazine, you've no doubt seen the hype surrounding vitamin C serums. Get your bestie something she'll be hyped about, like our Smooth Bundle.
It contains a vitamin C-infused serum and mask with a dash of vegan collagen to gently smooth out fine lines and wrinkles while promoting a radiant glow. It's the perfect Galentine's Day gift for girls who love trying new skincare products. 
#7: Smooth Shave Butter
Remember when you used to give your BFFs friendship bracelets? Now one of the greatest gifts you can give her is a smoother, silkier shave. And that's exactly what Smooth Shave Butter delivers.
Made with a nourishing blend of coconut and vanilla, this creamy swirl of colors offers seamless slip for your razor to fend off ingrowns and redness, and secure a super smooth shave. It's a great holiday gift to make her shave days more fun, comfy, and silky!
Shop now. 
#8: Tighten Bundle
And finally -- last but certainly not least -- our Tighten Jelly Bundle. Inside, you'll find a serum and mask designed both for face and body, and made with powerhouse ingredients like red microalgae and alpha hydroxy acids (AHAs). This formula boosts collagen production, spurs the shedding of dull, dead skin cells, and delivers a supple and sparkling complexion.
Whether she's in New York, LA, or wherever, she can take this everywhere for instant juicy glow. It's the best Valentine's and Galentine's gift ever for babes who dig better skin.
If you're wandering the aisles of Sephora or scrolling lists at Etsy, and you can't seem to find that perfect GD gift, head over to Rainbow shop instead. Whether you're near or long-distance, we've got plenty of presents to express your love to your besties this Galentine's day. You can rely on us to fill-in for you and provide you with the most special, most adorable uncommon goods we know she's LOVE!
We'll take the guesswork out of gift-shopping so you can focus on having the most amazing day with your best friends and loved ones. Because best friends deserve only the best gifts.