7 Skincare Products You Can Sleep in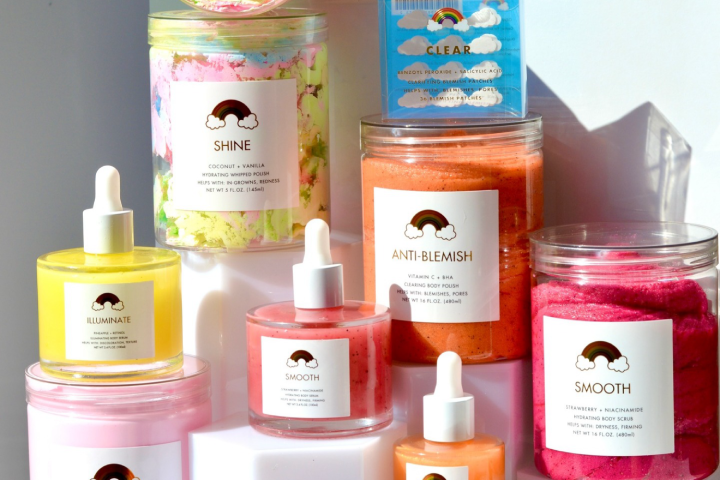 One of the best times to apply your skincare products is in the evening — right before going to bed. This is when your products and all those active ingredients penetrate the deepest, according to research.
That said, not all skincare is suitable for overnight wear, especially if it contains potentially irritating ingredients that could leave you waking up red, dry, and inflamed.
Here are seven of the best skincare products you can sleep in to enhance their overall effects and wake up glowing.
#1. Sleep in: Smooth Face + Body Mask
Fall asleep in this lightweight, bouncy jelly mask formulated with brightening vitamin C and tightening vegan collagen to target and prevent fine line formation on the face and body. This juicy formula delivers a youthful glow to the skin's appearance while fending off free radical damage. Alongside this, it can also help with dark spots and discoloration.
Adding this face mask to your nighttime skincare routine will instantly make skin look visibly brighter the next morning while reducing the appearance of fine lines over time.
Simply slather it on after using your pm cleanser, and let it sink in before heading to bed. Rinse off the next morning.
#2. Sleep in: Hydrate Face + Body Serum
Boost your beauty sleep by hitting the pillow wearing this moisture-drenching serum. Enriched with hyaluronic acid and vitamin B5, this silky moisturizer diminishes dryness overnight while plumping out lines over time. It's suitable for all skin types, but especially for dry skin and sensitive skin.
Pat a few drops of Hydrate Serum into your skin after using your facial cleanser. Feel free to follow up with your regular night cream, although you don't need to — this formula is hydrating enough as it is!
#3. Sleep in: Clear Blemish Face Patches
The overnight fix for a zit! These cloud-shaped acne patches feature grease-cutting salicylic acid and bacteria-banishing benzoyl peroxide to drain, flatten, and treat active breakouts while you snooze. To get the most out of these blemish-busting baddies, it's best to wear them overnight and then apply a new patch the next morning until your zit goes away.
This way, those acne-fighting Bhas and benzoyl peroxide can penetrate deep into your pores as you sleep and work their pimple-clearing magic.
After washing your face with a gentle cleanser and following up with a hydrating toner, pat skin dry, and patch up your pimple/s. You can also apply an oil-free face cream or serum for a little overnight moisture boost.
#4. Sleep in: Brighten Facial Serum
Fake eight hours of sleep by going to bed with your face coated in this rejuvenating serum. Sleek and lightweight, it balances plumping vegan collagen and brightening pineapple for effortlessly luminous, satiny skin.
A little more about the science behind it: pineapple contains ascorbic acid which helps break down dead skin cells, evening out hyperpigmentation and revealing a fresh, glowing complexion. As for vegan collagen, that promotes natural collagen production to reduce signs of aging and increase skin's firmness.
Pat into clean, dry skin and wake up with fresh, glowing skin!
#5. Sleep in: Anti-Cellulite Body Butter
Smooth out dimpled skin in your sleep with this velvety smooth body lotion. Rich, buttery, and nourishing, this body butter is developed with skincare ingredients like watermelon, shea butter, and vegan collagen to instantly restore moisture to dry, dimpled skin. In addition to tackling cellulite, this formula is known for improving skin tone and stretch marks too. Thanks to its anti-aging effects, it can also tone and tauten your tush and thighs.
While you can apply it anytime, evenings are best so you can sleep in it and let its firming, plumping powers take action.
For best results, apply after showering. Massage it into your cellulite-prone areas and let it absorb before slipping under the sheets.
#6. Sleep in: Smooth Body Serum
Bursting with hydrating niacinamide and antioxidant-rich strawberries, this anti-aging serum helps to fight UV damage, fine line formation, dryness, and sagging skin. In spite of its richness, this formula melts into skin so you feel silky smooth and not at all greasy. It also works to support the skin barrier, keeping your skin smooth, healthy, and fresh.
After slathering on your serums, eye creams, and other beauty products, rub it into your skin before going to bed.
#7. Sleep in: Hydrate Body Butter
Dewify your skin overnight with this restorative, intensely hydrating body butter of coconut, shea, and vitamin E. It can be used all over your body to moisturize, plump, and rejuvenate. Because it's so rich, we recommend layering it on before bed so your skin can absorb all its goodness as you snooze.
To boost its hydrating effects, use after showering and exfoliating, which will further enhance its absorption into the skin. You can also use it as a lip balm, hair mask, or cuticle softener for all-over intense hydration.
What Skincare Products Shouldn't You Sleep in?
If you have dry or sensitive skin, it's best to avoid sleeping in products that contain retinol and AHAs. Retinoids and exfoliating acids promote speedy cellular turnover, which can irritate the skin if you're already dry or sensitive. If you are going to use a retinol serum, make sure you use a formula with a low concentration of the active and apply a nourishing face cream afterwards.
It is a bit of a catch 22 with retinol, as dermatologists say it's best to apply it at night so it doesn't interact with UV rays, which not only leave skin extra sensitive but break down retinol, weakening its effects.
Most skincare products, you can sleep in. Whether you wear that eye cream for your dark circles religiously or your fave vitamin C serum, there are plenty of products you can wear overnight to enjoy improved benefits. However, you do need to extra careful if you have delicate skin as some ingredients can irritate skin when left on for a long time.