7 Products to Relieve Rough Skin this Fall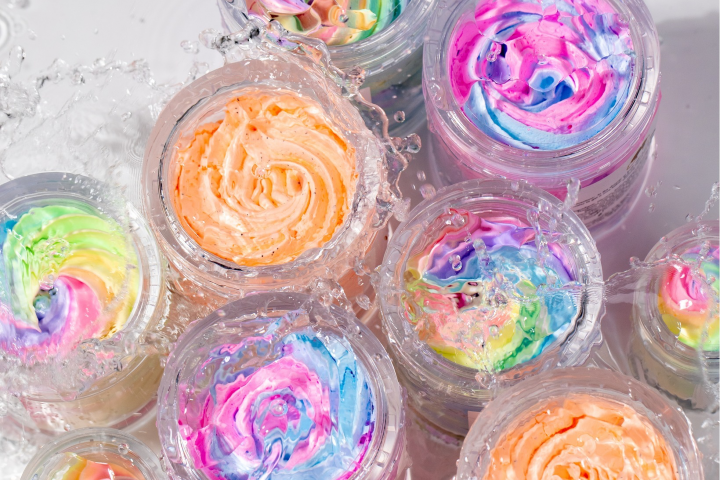 With fall here, skin becomes drier, duller, and generally a little sadder. Between the cold temperatures, dry air, and indoor heating, the skin gets stripped of its natural oils, leading to dryness and roughness.
Luckily, there are plenty of products you can use to relieve rough skin this fall. Below, our favorite skincare products for buffing and moisturizing away dry, rough skin.
#1: SMOOTH Body Scrub
A rich and exfoliating body scrub made with a blend of brightening strawberry and hydrating niacinamide. With a retexturizing base of sea salt and the alpha hydroxy acids (AHAs) abundant in strawberries, Smooth Body Scrub gently buffs away dead skin cells, revealing smoother, brighter skin.
From dryness to roughness and sagging, Smooth Scrub is your go-to body exfoliator for soft to the touch skin. It's also incredibly calming in spite of its skin-buffing effects. From dry skin to sensitive skin, it's suitable for all skin types. Plus, it smells like a freshly blitzed strawberry smoothie!
#2: GLOW Mask
The quickest fix for dry, dull skin? Exfoliation! For the face, it's best to use chemical exfoliation over physical exfoliation, as it's typically less abrasive on the skin. Glow Mask is powered by glycolic acid — one of the best AHAs out there — which helps to remove the buildup of oil, impurities, and dead cells for smoother, glowier skin. It also contains bakuchiol, a gentle retinol alternative that boosts collagen production, speeds cellular turnover, and protects skin against environmental aggressors.
This mask goes beyond giving skin a glow up. It also boasts anti-aging effects and can aid in improving the appearance of dark spots and discoloration. On top of all that, it'll leave your skin feeling heavenly smooth.
#3: HYDRATE Serum
Hydrate Serum features the powerhouse humectant, hyaluronic acid, which works to attract and seal in moisture for long-lasting hydration. From flakiness to roughness and itchiness, hyaluronic acid provides instant relief to dry, irritated skin while plumping out fine lines and giving skin a radiant glow.
The formula also contains vitamin B5, jojoba oil, and aloe which work in harmony to soften, soothe, and protect skin against UV damage. Include it in your daily skincare routine to keep skin silky soft. Since it's designed for both the face and body, you can slather it anywhere that's in need of a little TLC.
#4: HYDRATE MASK
Like the serum, Hydrate Mask is made up of hyaluronic acid and vitamin B5, which work in tandem to lock in moisture and boost skin's brightness. If you're dealing with dry, dehydrated skin, slap on this gel-based mask for instant hydration and day-long dewiness.
In addition to adding moisture to skin, this mask supports skin barrier function, preventing redness and irritation. You can apply it on your face, body, or both for a quick hydration fix. Your skin will feel sensationally soft after every single use. And the softness only continues with every use...
#5: SMOOTH Body Serum
Sweet, silky, and strawberry-scented, Smooth Serum is the formula you need this fall. Harnessing the anti-aging properties of strawberries and hydrating powers of niacinamide, this rejuvenating body serum silkifies skin, leaving it softer, smoother, and extra supple.
Between strawberry's antioxidant properties and AHA-content, this berry is perfect for resurfacing skin for improved skin texture. Niacinamide, meanwhile, builds keratin — a protein responsible for keeping skin taut and youthful. Alongside this, it's also extremely hydrating.
Flash-absorbing and grease-free, you'll love slathering your body in this berrylicious potion. You can use it all year-round to alleviate dry, itchy skin and rough patches.
#6: SHINE Body Polish
If your fave hair removal method is shaving, make sure you choose a formula with a little extra hydrating power — like our Shine Body Polish. Rich and lightweight, this rainbow-swirled shave polish evenly coats and moisturizes every follicle for an effortless, ingrown-free shave. It's that nourishing, even the most sensitive skin will enjoy lathering up with Shine Polish.
The freshly whipped formula offers two benefits: exfoliation and hydration. It sheds razor-clogging dead cells while softening skin and hair for an irresistibly smooth shave without razor burn or ingrown hairs.
Made with coconut oil, vitamin E, and vanilla, it prepares skin for a super clean, irritation-free shave by strengthening skin barrier function and boosting moisture retention.
#7: HYDRATE Body Butter
Next to hydrating serums and dead cell-shedding scrubs, the best product to alleviate rough skin this fall is body lotion — or basically any thick, rich moisturizer. Body Butters are especially helpful in relieving rough skin.
Hydrate Body Butter is a nourishing formula of shea butter, coconut oil, and vitamin E. It helps with dryness, discoloration, and irritation while leaving skin smelling sugary sweet. Make this moisturizing cream part of your daily skincare routine to keep skin feeling babysoft. Psstt...it also makes a wonderful hand cream!
HOW TO PREVENT ROUGH SKIN THIS FALL
Here are some quick tips for keeping your skin happy in pumpkin spice season.
Continue Wearing

SPF

.

Sunscreen

should be applied every day to protect skin against UV rays which are present even on cloudy days. Layer it over a

vitamin C

serum

for added protection.
Avoid showering in

hot water

.

Hot water

strips skin, leaving it vulnerable to

dryness

and inflammation. To prevent skin from becoming rough, swap out your hot steamy showers for lukewarm ones.
Stick to gentle

skincare

products

. From your

cleanser

to your

body wash

and

face

moisturizer

, make sure you're using calming,

hydrating

,

fragrance-free

products that nourish skin. Look out for ingredients like

hyaluronic acid

,

aloe

,

squalane

,

ceramides

,

glycerin

, and plant-based

emollients

like

shea butter

and coconut oil.
Invest in a

humidifier

. It'll inject

moisture

into the air, allowing skin to stay super dewy.
Try slugging. It's the process of slathering your skin in

petroleum jelly

(Vaseline) overnight to wake up with a gorgeous glow.
Take a

colloidal oatmeal

It's said to swiftly soothe dry, irritated skin.
If none of these tips help, seek professional guidance from a dermatologist. You may have an underlying skin condition like eczema or psoriasis which needs to be addressed.