7 Mood Boosting Skincare Products that Work Almost Instantly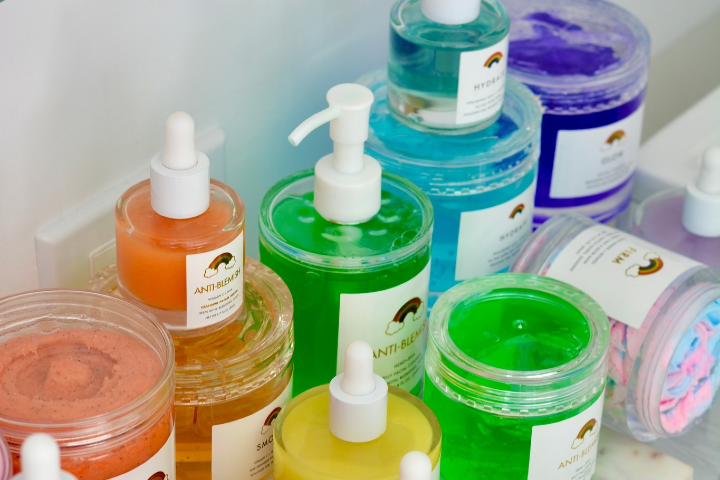 A quick route to a serotonin boost this season? Skincare!
"Skincare is rewarding because with consistent skincare routines, you are likely to see visible effects such as smoothness or radiance, and that in itself can boost self-esteem, which in turn will boost mood," says Dr. Sanam Hafeez, founder of Comprehensive Consultation Psychological Services.
Having a routine can also make you feel like you're honoring yourself aesthetically, making you feel happier and more energetic. On top of all that, it helps you look forward to something at the end and start of the day which boasts mood-boosting benefits.
The experience is even better when you're using skincare products with luxurious textures and satisfying scents.
Here, our fave mood boosting skincare products that'll lift your spirits in a flash.
1: SMOOTH Body Serum
Silky and strawberry scented, Smooth Body Serum awakens the senses, energizes your day, all while tackling fine line formation and sagging skin via anti-aging ingredients strawberry and niacinamide. Thanks to the many wonders of niacinamide, this body serum can also diminish dryness and dark spots. All skin types can benefit!
This plant based formula is the perfect pick me up for those mornings when you're feeling a little meh.
For best results, use in the morning directly after showering or bathing while skin's still slightly damp for improved absorption.
2: EXFOLIATE Scrub
There's just something about the smell of mango that whisks you away to a tropical island — and away from your daily troubles. Exfoliate Scrub blends mango with exfoliating AHAs to gently buff away dead skin cells, brighten skin, fade hyperpigmentation, and leave skin feeling fabulous.
Alongside all its skin benefits, this body scrub smells delicious! Take a tub of it in the shower with you to transport yourself to tropical paradise. With its fluffy texture, exfoliating with this beauty will be an absolute delight.
For best results, use in the shower or bath. Lather up with a little water, massage into your body, and rinse off.
3: HYDRATE Serum
Satiny, lightweight, and supremely good at getting your skin all dewy in an instant! Designed to deeply hydrate, this featherweight formula combines hyaluronic acid and vitamin B5 to alleviate dry skin, plump out fine lines, and dewify. Aside from making skin look good, this treatment will make you feel good too.
With its satiny texture, Hydrate Serum melts into skin for an instantly gleaming appearance. Wake up in the morning with a drop of this flash-absorbing formula or wind down with it in the evening to wake up with glistening skin. It's the kind of serum that feels deliciously indulgent.
For best results, pat into skin after cleansing. Use daily.
4: FIRM Boob Mask
Whipped, fluffy, and berry-scented Firm Mask offers a few minutes of indulgent pampering — and an instant mood boost. Formulated with collagen-boosting retinol and antioxidant-rich mixed berries, Firm offers brightening, smoothing, and lifting benefits while fending off free radicals for youthful, radiant skin.
Gentle jojoba beads paired with retinol gently exfoliate the chest both chemically and physically to help with stretch marks, sagging, dullness, blemishes, and more!
It's one of those beauty products that feels just as good as it looks — and it sure looks delicious! Thanks to its collagen and elasticity restoring benefits, it's the number one formula for perking up your pair.
For best results, apply a thin layer to neck and chest, let it sit for 15 minutes, then rinse.
5: ANTI-CELLULITE Butter
Bursting with juicy watermelon and plumping vegan collagen, this velvety smooth body lotion instantly restores moisture and youthfulness to dry, sagging skin. Lycopene found in watermelon depletes collagen-fighting enzymes, helping to reduce the appearance of cellulite over time. Shea butter can help minimize the look of age spots, acne scars, stretch marks, and cellulite.
Treating cellulite has never been so satisfying! For best results, apply a dollop straight after showering or bathing. Make it part of your daily routine to see a visible improvement in dimpled skin.
6: HYDRATE Body Butter
Freshly whipped and cupcake-scented, Hydrate Body Butter is like no other moisturizer. Frost your bod in this deeply rejuvenate formula of shea butter, vitamin E, and coconut for all-day, all-over silkiness. Plus, you can use it as a lip balm, hair mask, or cuticle softener! She's soooo versatile!
The best skincare for your bod...Hydrate Butter takes moisturizing to a whole new level of luxury. It melts instantly into skin, fortifying the skin barrier and upping moisture retention for skin that looks and feels irresistibly smooth. And that smell? It's HEAVEN!
For best results, apply a dollop or two all over after showering or bathing. Let it absorb fully before getting dressed. Use daily to keep skin satiny smooth.
7: GLOW Mask
A glossy, gel-based face mask of glycolic acid and bakuchiol to brighten, smooth, and clear away breakouts. Glow Mask feels sensational on your skin. Cooling yet rejuvenating, rely on this formula to boost your skin — and your mood!
Perfect for oily and acne-prone skin, this topical treatment gently buffs away dead skin cells and impurities, giving skin a clear and fresh appearance in just a matter of minutes.
After using your daily cleanser and toner, apply a thin layer of mask to your face and neck. Leave it on for 10-15 minutes, then rinse and follow up with moisturizer, eye cream, and a broad spectrum sunscreen with SPF 30 or higher.
Some other mood-boosting ingredients you'll want to look out for are vitamin C, aloe, ceramides, salicylic acid, glycerin, and bitter orange. You"ll find these in everything from cleaners to night creams, dark circle treatments to face masks.
Our skincare brand offers a range of vegan, cruelty-free and mood-boosting products to lift your spirits either in the am or pm — whenever you need it!
You don't need fancy supplements, essential oils, TikTok self care fads, or wellness retreats when you can boost your mood simply by doing your daily skincare routine.