6 Ways to Stay Cool this Summer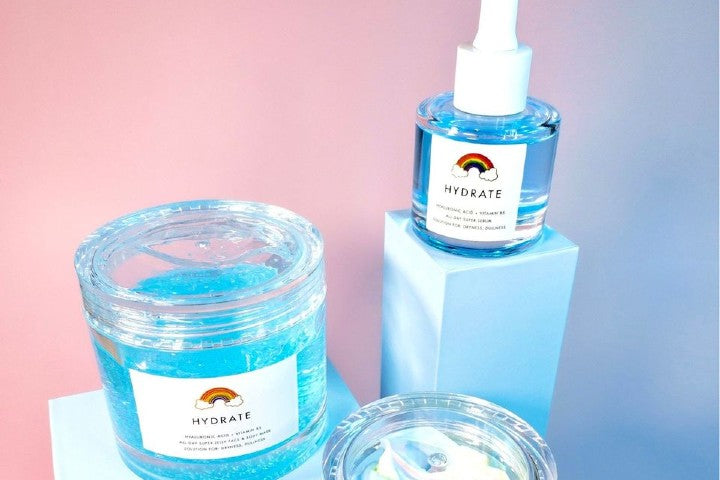 With temperatures rising, it's crucial that you focus on staying cool this summer. In extreme heat — a prolonged period of high heat and humidity — your body works incredibly hard to stay cool. Since heat waves cause more deaths than any other weather-related hazards, it's important to pay attention to how the hot weather is affecting your health and to do everything in your means to keep your body cool.
Here's how to stay cool this summer.
#1: Refrigerate Your Skincare Products
Keeping cool is essential to prevent heat stroke and heat exhaustion. A fun way to stay cool on hot summer days is to pop your skincare products into the refrigerator and use them to instantly cool your body temperature. Some of the best beauty products you can use include lotion, masks, and sunscreen. You'll feel so much relief applying these freshly chilled products onto your skin. It's also an effective way to soothe sunburn.
Try popping the products in Rainbow's Hydrate Bundle in the fridge for 20 to 30 minutes before using. This set features a face mask and serum made with hyaluronic acid to deeply hydrate and soothe skin. They'll feel amazing on your skin after a hot sweaty day. You can do this with pretty much any skincare product.
#2: Drink Water, Drop Caffeine
Drinking water replaces lost fluid and helps the body to maintain a normal temperature, thus preventing it from overheating. In addition to water, healthcare experts recommend including electrolytes can help with dehydration. You'll find them in certain sports drinks.
During the summer months, it's best to limit or avoid caffeine and alcohol, which are known for dehydrating the body. They also inhibit your ability to recognize how hot you are and speed up the process of dehydration.
To keep your body cool and hydrated through the summer heat, aim to drink several glasses of water per day.
#3: Freeze Your Pillowcase
Another great way to stay cool this summer is by freezing your pillowcases. Especially if you don't have air conditioning or access to cooling centers, it can be difficult to stay cool, which is why freezing your pillowcases can provide a comforting cooling effect.
For instant heat relief, simply fold your pillowcases and pop them in the freezer in a sealed bag. When you're ready to hit the sheets, put your chilled pillowcases on, and sink into them for a better night's sleep. It's a fun little hack that works like a charm!
#4: Take a Cold Shower
Cool showers offer quick relief on hot summer days. While you might be used to bathing in hot water, make sure you're bathing or showering in cold water, which will lower your body temperature and leave you feeling refreshed. Besides keeping you cool, the cold water also comes with a few beauty benefits too. For starters, the cold water tightens blood vessels, improving the appearance of sagging and puffiness. Cold water also helps to close the pores, making them appear less visible and providing a mattifying effect on your skin.
If you can't tolerate ice cold water, try showering in cool water instead. Doing this will help to maintain body heat and prevent you from overheating. Try taking two cold showers a day — once in the early morning and once in the evening before going to bed. You'll feel instantly cooler and refreshed.
#5: Fill a Hot Water Bottle with Ice
Feeling hot and sweaty? Reach for your hot water bottle and fill it with ice or ice cold water. It's an effective hack for instantly cooling down your body and helping you sleep at night if the hot weather is keeping you awake.
Whenever you use it, just slide this under your legs or feet to instantly regulate your temperature and help you cool down after a hot day.
This is a great little hack if you don't have an air conditioner, as it'll help to quickly cool you down. If you're prone to heavy sweating, this trick will quickly ease your troubles.
#6: Close the Curtains
If you find your apartment gets hot and almost unbearable to live in, try closing your curtains during the day to stop sun rays from beaming in and ultimately making the apartment hotter. In fact, it's probably worth keeping them closed for as long as possible so that the sun doesn't have chance to make the apartment any hotter.
And if you don't have a air conditioner, you could try switching on a fan just to get some air flow throughout your place. There's nothing quite like a nice breeze to cool you down quickly and help you feel more comfortable.
WHEN TO CALL A DOCTOR
If you are experiencing extreme heat in your area, it is important to recognize the signs of heat-related illness. There are three main types: heat exhaustion, heat stroke, and heat cramps. If you experience any symptoms such as high body temperature, headache, dizziness, nausea, fainting, or muscle cramps, visit your doctor straight away.
In the meantime, aim to stay safe during the heatwave by putting on the air conditioning when possible, staying indoors, and drinking plenty of water.
If you're finding the summer heat a little too much, the above tips should help cool you down quickly and provide instant relief. It's best to limit your time outdoors during a heatwave to prevent dehydration and other heat-related issues.
Of course, if you're experiencing any unusual side effects or you don't feel right, it's best to seek medical help as soon as possible. You need to take it seriously, as it can be life threatening.
You can shop Rainbow Beauty products on our official website (rainbowbeauty.com), as well as at Walmart and CVS. If you have any questions about our products or us, please get in touch, and we'll be happy to answer your questions.