6 Vitamin C Alternatives For The Brightest Skin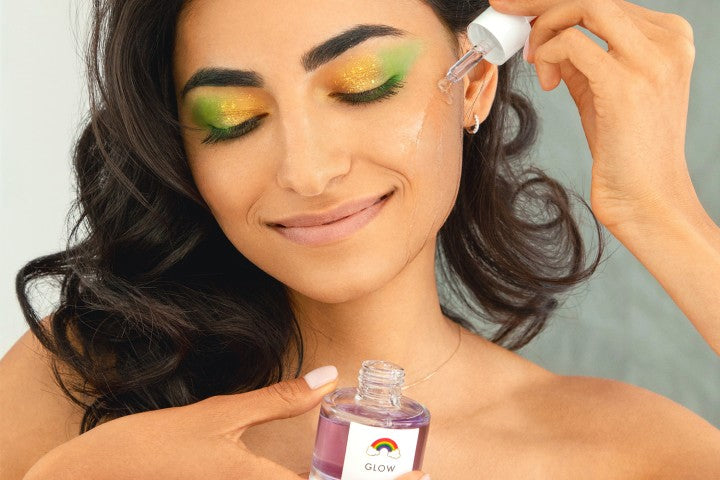 Vitamin C is a potent antioxidant known for its skin brightening effects. Besides illuminating your complexion, vitamin C (l-ascorbic acid) can also help fade dark spots and discoloration while protecting skin against free radical damage, which can contribute to premature aging.
As fantastic as this skincare ingredient is for transforming the skin, vitamin C products don't work for everyone, or at least, they can sometimes cause irritation in sensitive skin types.
If you're looking for a vitamin C alternative, keep reading to hear about all the best ones available to you.
#1: Glycolic Acid
An alpha hydroxy acid (AHA), glycolic acid gently exfoliates the skin, lifting dead skin cells and resurfacing the skin for a smoother complexion and a more even skin tone. This chemical exfoliant can also treat fine lines, breakouts, acne scars, dullness, and hyperpigmentation.
You'll find it in all kinds of skincare products, including face serums, toners, cleansers, and moisturizers. It's definitely worth including in your skincare routine if you're dealing with any of the skin concerns above.
You'll find glycolic acid in Rainbow's Glow Serum, a formula designed to brighten skin and fade discoloration both on the face + body.
#2: Niacinamide
According to dermatologists, niacinamide is a great vitamin C alternative. Some would say it's just as good, in fact.
Niacinamide is basically vitamin B3, and great for brightening the skin, banishing dark spots, and supporting healthy collagen production. It's also one of the best active ingredients for protecting your skin barrier. And that's not all. Niacinamide is an excellent source of hydration.
"It prevents transepidermal water loss and actually boosts the ability of other moisturising ingredients to do so as well," says Blair Murphy-Rose, MD, FAAD, dermatologist and Clinical Assistant Professor.
Whether you've got dry skin, oily skin, or acne-prone skin, all skin types can benefit from using niacinamide-based skincare products.
Even sensitive skin can benefit from using niacinamide as it's much gentler than vitamin C, reducing the likelihood of redness, dryness, and irritation.
#3: Retinol
If even the best vitamin C serums leave you irritated or simply don't deliver the effects you seek, consider trying a retinol serum. Retinol is a derivative of vitamin A, and clinically proven to boost collagen production, restore elasticity, and speed cellular turnover. This powerhouse anti-aging ingredient can treat a slew of skin concerns ranging from fine lines and wrinkles to discoloration and even breakouts. It's also one of the most effective ingredients for getting glowing skin.
The only downside to retinol, according to the derms, is that it can be equally as irritating to the skin as vitamin C. So if you've got red, reactive skin, you might want to skip this one in favor of more soothing formulations.
#4: Bakuchiol
Bakuchiol is a gentle retinol alternative with almost all of the benefits, and none of the side effects. It fights signs of aging by stimulating collagen production. Plus, it prevents sun damage by fending off free radicals. If you're looking for an anti-aging or brightening serum that works without leaving you red and sore, choose a bakuchiol-based product.
You'll find bakuchiol in Rainbow's Glow Mask, a glossy gel mask designed to deliver your smoothest, most luminous skin.
#5: Vitamin E
Vitamin E is an antioxidant commonly found in cleansers, creams, and serums.
"Topically, it can be very helpful [for] a range of skin disorders, as well as skin repair," says Beverly Hills-based board-certified dermatologist Ava Shamban, M.D. "It assists in various kinds of cellular restoration from sun damage to healing support for scars or burns."
Unlike most antioxidants, vitamin E is also deeply hydrating as it works as both a humectant (to attract water into the skin) and an emollient (to seal water in the skin).
Alongside this, vitamin E boasts anti-inflammatory properties, making it a go-to ingredient for those with easily irritated skin.
#6: Salicylic Acid
Salicylic acid is a beta hydroxy acid (BHA) commonly used to treat acne. It does this by sweeping away pore-clogging dead skin and impurities while attacking acne-causing bacteria — minimizing breakouts and pore size. But salicylic acid's benefits go beyond clearing acne. This chemical exfoliant can also brighten skin thanks to its ability to shed dull, dead skin cells — revealing your smoothest and glowiest skin.
Topical use of this active might not be beneficial for all skin types, as it can still cause side effects such as irritation and sensitivity. Take it slow when using SA in your skincare routine, and allow your skin to adjust to the new ingredient before using it on a daily basis.
HOW ELSE CAN YOU BRIGHTEN SKIN?
In addition to trying one or more of the vitamin C alternatives above, you can also try other ingredients that hydrate and/or exfoliate, such as hyaluronic acid, ferulic acid, and kojic acid. To combat irritation, try incorporating soothing ingredients into your routine, like green tea and aloe vera.
The derms also recommend wearing sunscreen daily to protect skin from fine lines, wrinkles, and pigmentation issues. Opt for SPF 30 or higher to get maximum protection while outdoors, and avoid experiencing UV-related skin concerns.
HOW TO USE VITAMIN C SAFELY
There are different forms of vitamin C in skincare, including tetrahexyldecyl ascorbate, Ascorbyl glucoside, and L-ascorbic acid.
Ascorbyl glucoside is a derivative of L-ascorbic acid and known for being one of the gentlest. If you have sensitive skin, this would be the form to go for to prevent any unpleasant side effects.
Like with any new skincare product, start slowly and build your way up so you can allow your skin to adjust to the product. If you're still experiencing irritation, consider giving up on vitamin C altogether and opting for one of the above alternatives.
Want brighter skin without the irritation? You don't need vitamin C to get your glow on. Choose one of the vitamin C alternatives above to enjoy the benefits of the antioxidant without ending up red, dry, and irritated.