6 Sweet Serum Hacks Every Woman Should Know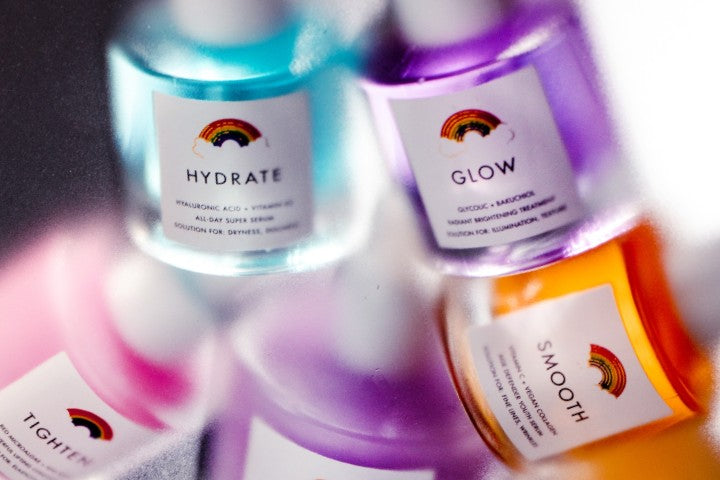 Regardless of your skin type, incorporating a facial serum into your skincare routine can be transformative for your complexion. Serums are formulated with high concentrations of active ingredients (like retinol, vitamin C, collagen, and antioxidants) to tackle a range of concerns, such as acne, fine lines, discoloration, and dryness. 
If you'd like to make your serum work even harder, try these six serum hacks below -- that every woman needs to know!
#1: Apply it with a Blending Sponge
Blending sponges aren't just for your foundation and concealer. You can use them for skincare products, too. Try using your makeup sponge or blender to help blend your facial serums and oils into your skin. Besides making things super easy and clean, it's really fun! Just make sure you clean your makeup blender regularly to avoid transferring old dirt and makeup onto the skin, which could lead to breakouts. 
#2: Let it Step in For Your Highlighter
Out of highlighter? Or perhaps you misplaced it? No worries. Grab your serum and dab a few drops onto to your cheekbones and the bridge of your nose after you've completed applying makeup for quick and subtle shine.
It should be the last step of your makeup routine -- after your foundation, mascara, eyeliner, and blush. Besides giving your skin major glow, you also get the added benefit of a beauty product that treats existing skin issues.
#3: Create a Hydrating Concealer
If your concealer ends up looking patchy and flaky, you might want to consider turning to a moisturizing concealer instead. Dry skin types will definitely benefit from using a hydrating concealer as it will prevent product from settling into fine lines and dry patches. The best part is, you don't need to buy a whole new makeup product. All you need is your existing concealer and a hydrating serum. 
Apply 1-2 drops of your favorite serum on the back of your hand followed by a little concealer. Mix the two and apply like you would your regular concealer. It should glide on and blend like a dream.
Try to choose a serum formulated with hydrating ingredients like hyaluronic acid, coconut oil, argan oil, or avocado oil.
#4: Use it to Groom Your Brows
You don't need a brow serum or oil when you already have a facial serum sitting in your beauty cabinet. You've probably seen this beauty hack on TikTok before, but it's still a good one! If your brows have a mind of their own, keep them in place with a lick of serum. 
Simply apply a drop of a hydrating serum on a clear mascara wand and swipe it across your eyebrows. In addition to taming them, the goodness of the ingredients inside your serum will add shine and promote hair growth. That's because it works almost like a conditioner for your brows, nourishing and hydrating them.
Make it part of your beauty routine to keep your brows looking prepped and perfect all day long. No touch ups needed!
#5: A DIY Cuticle Softener
Between frequent nail polish sessions, exfoliating, and all that hand-washing, your cuticles are prone to dryness and peeling. And the best beauty tip for restoring their nourished selves? Massage a couple of drops of facial serum onto your nails and cuticles. In addition to leaving them looking better, they'll also feel healthier and stronger. 
You can also use it as part of your at-home manicure. Then follow up with hand lotion for added hydration.
#6: Cleanse First
To get the most out of your serum, cleanse your skin first. Cleansing should always be the first step in your skincare routine, as it can help remove dirt, dead skin cells, excess oils, and makeup that have built up on the skin. This prevents them from clogging your pores and causing pimples. What's more, starting with a fresh base allows other skincare products like your serum work 10x harder -- because clean skin absorbs product better.
Use a gentle cleanser formulated with alpha hydroxy acids (lactic, glycolic) to remove dirt and dissolve dead skin cells to create the perfect foundation for applying serum. Once you're done cleansing, apply a thin layer of moisturizer followed by sunscreen with an SPF of at least 30 to keep skin protected, plump, and healthy.
DROP ONE OF THESE SERUMS INTO YOUR SKINCARE ROUTINE
Hydrate Serum
Delete dryness and dullness with this flash-absorbing, dew-inducing elixir of hyaluronic acid and vitamin B5. These gold-tier ingredients work in tandem to plump up and drench dry skin in lasting moisture. It's also a perfect pick for mixing with your concealer, and makes for an excellent cuticle and brow softener. 
Tighten Serum
A Powerful Lifting Face + Body Jelly Serum that boosts elasticity and firmness. Powered by red microalgae and a blend of alpha hydroxy acids, this duo buffs away dead skin and protects against oxidative stress to deliver firmer, bouncier skin.
Glow Serum
Boost your glow with this Radiant Brightening Treatment. Formulated with a blend of exfoliating glycolic acid and protective bakuchiol, these ingredients work together to illuminate, protect, and give the skin its bounce back. It's a daily essential for year-round radiance.
Smooth Serum
Vegan collagen and vitamin C join forces to bring you your smoothest skin ever in this plumping, anti-aging serum. This nourishing duo help skin cells to repair and renew themselves, while thickening the dermis to deliver bouncier, fresher, fine line-free skin. It's the age defender face serum woman 25+ need in their lives!
Since there are already so many eyeshadow, contouring, hairspray, and makeup remover hacks, we decided to focus on life-changing serum hacks instead. 
Besides the ones above, you could also try applying serum before your lip balm for added moisture or mixing it with your eye cream to diminish dark circles and dryness around the eye area. 
Speak to your dermatologist if you have any concerns or are dealing with a skin condition such as eczema or rosacea. It's best to get your derm's approval before starting anything new!