6 Signs Your Skin Needs Bakuchiol Serum, Not Retinol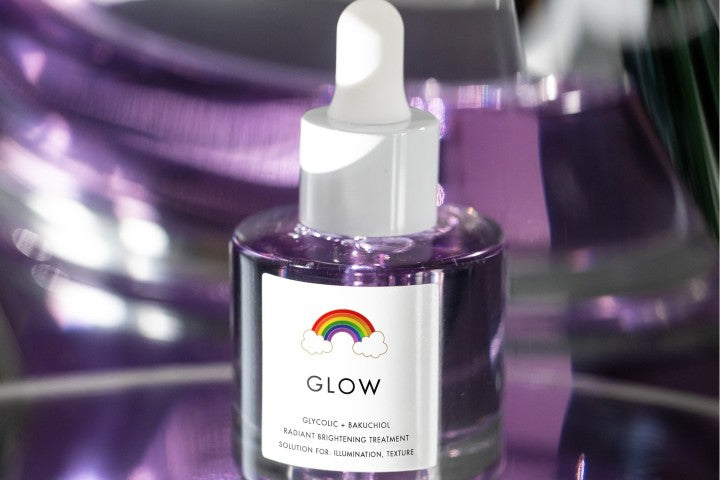 Bakuchiol (buh-koo-chee-all) is the buzziest skincare ingredient on our radar right now.
Derived from the seeds and leaves of the plant psoralea corylifolia (or the Babchi plant) in the Indian subcontinent, bakuchiol is now becoming a popular natural retinol alternative thanks to its ability to spur collagen production and stimulate cell turnover.
Packed with antioxidants and anti-inflammatory properties, bakuchiol has also been shown to significantly reduce the effects of sun damage, such as hyperpigmentation.
Wondering if bakuchiol is for you? Here are six signs your skin needs bakuchiol instead of retinol.
#1: Retinol Leaves You Dry and Flaky
Retinol (vitamin A) is a potent active ingredient that can work wonders for minimizing the appearance of fine lines, wrinkles, dark spots, and other pigmentation. That said, retinoids can be irritating to the skin, especially those with sensitive skin.
If your retinol serum leaves you dry, flaky, and red, it might be worth considering bakuchiol. It offers many of the same benefits of retinol without the unpleasant side effects. According to dermatologists, it's a gentle alternative to the vitamin A derivative and ideal for anyone wanting anti-aging results without the dryness and skin irritation.
You can use it safely in your daily skincare routine — with none of the flaking commonly caused by new retinol users or those with sensitive or dry skin. It's generally well-tolerated by all skin types.
#2: You Want a Serum You Can Wear During the Day
While retinol is excellent for targeting signs of aging, it's not ideal for daytime use. In fact, the derms warn against using retinol products in the daytime because retinol makes your skin more sensitive to UV rays.
With bakuchiol, you can wear it during the day or night. Bakuchiol skincare products are a great choice for those who spend a lot of time outdoors, while looking for something with anti-aging effects.
You'll still need to apply sunscreen (SPF 30 ideally) to keep your skin protected from UV rays, but bakuchiol products won't be affected by the sun.
#3: You're Pregnant or Breastfeeding
Retinol is not recommended for pregnant or lactating women. Bakuchiol, on the other hand, is perfectly safe. You can still check with your healthcare provider, but it's generally considered safe for all.
If you're pregnant or breastfeeding, step away from the retinol lotions and potions, and stock up on bakuchiol products instead. Bakuchiol still offers many of retinol's benefits: boosting skin's elasticity, preventing breakouts, brightening skin tone, and improving skin texture. In other words, you can still reap the benefits of your fave serum without any of the risks!
#4: Your Retinol Products React with Your Other Skincare Products
According to the pros, retinol should not be mixed with vitamin C, benzoyl peroxide, and AHA/BHA acids. AHA and BHAs are chemical exfoliants that can dry out the skin and cause further irritation if you're already using retinol topicals.
Benzoyl peroxide and retinol are also a no-no. That's because they cancel each other out, rendering them ineffective.
Retinol users need to be careful what they use in their daily skincare routine to prevent undesirable reactions. If you switch to bakuchiol, a natural alternative to retinol, you won't have to worry about what you mix it with. Bakuchiol is a gentle antioxidant that pairs well with most ingredients. Even the experts agree!
"Bakuchiol is perfectly safe and effective to use with other beneficial ingredients, but I would caution against using it with acid peels due to potential over-stimulation and reaction," says Lisa Franklin, skincare expert and founder of LF Pro-Effect Skincare.
You can pair it with everything from hyaluronic acid to niacinamide to jojoba seed oil, and AHA/BHAs.
#5: You're a Woman of Color
Retinol might be the gold standard ingredient for boosting collagen production, speeding skin cell turnover, and fading hyperpigmentation, but it's not so great for women of color. That's because it can cause inflammation and post-inflammatory hyperpigmentation. Fortunately, bakuchiol is an excellent alternative option backed up by science.
Just like retinol, bakuchiol alleviates signs of skin aging by triggering collagen production and cell regeneration, minimizing the appearance of fine lines and improving uneven skin tone. It also helps to bolster the skin barrier while preventing photoaging. To sum up, it's the superstar ingredient you need to start using — ASAP!
#6: Retinol Just Doesn't Seem to Work For You
Retin products might be proven to effectively address signs of aging and acne, but that doesn't mean it'll work for everyone. Whether you're using a retinol moisturizer, eye cream, or serum, some people might not see the results they're seeking. In the case, switch to bakuchiol formulations.
You'll find plenty of over-the-counter bakuchiol products that work almost as effectively as retinol, if not more, depending on how your skin reacts to it.
To get the most out of your bakuchiol serum, look for a product formulated with nourishing ingredients to hydrate skin — as that's the one thing bakuchiol can't do.
SHOP BAKUCHIOL SERUM
GLOW Serum
A flash-absorbing, lightweight serum to boost your skin's radiance. Bakuchiol and glycolic acid work in tandem in this formula to buff away dead skin, boost collagen levels, and illuminate skin while fading fine lines and wrinkles. It also contains a nourishing blend of aloe, jojoba oil, and acai extract to soothe, hydrate, and fend off free radicals for your smoothest, glowiest skin.
GLOW Jelly Mask
A glossy gel mask chock full of AHA and bakuchiol to achieve your ultimate glow. This mask works to gently exfoliate skin, refine texture, and blur creases.
RESTORED Bundle
A 3-step skincare routine to reverse signs of aging, illuminate skin, and drench it in long-lasting hydration. It features a mask and two serums formulated with powerhouse anti-aging ingredients like bakuchiol, lactic acid, and hyaluronic acid.
Retinol might be one of the best anti-aging ingredients around, but that doesn't mean it'll definitely work for you. If you're experiencing any of the signs above, you might bond better with bakuchiol. Gotta be worth a try!