6 Little Tricks to Remind Yourself to Do Skincare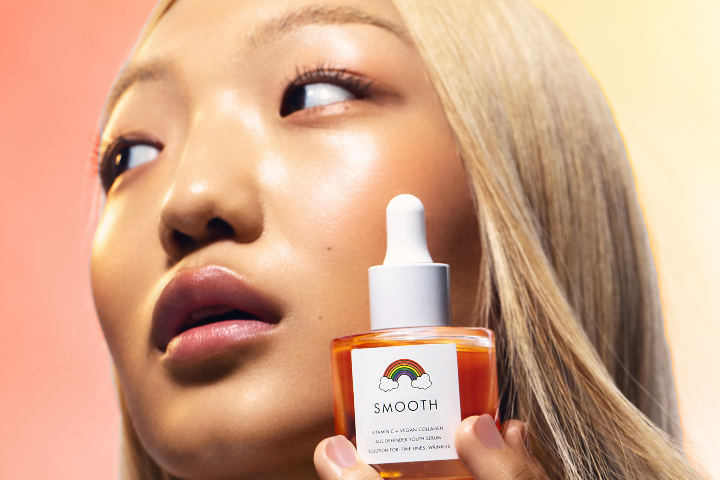 Habits create change — and that extends to skincare too. Keep forgetting to apply your cleansers, serums, and creams? Then you won't see a change in your skin.
Ahead, some tips for remembering to do your skincare routine so you can start seeing results! And soon.
#1: Create a Space For Your Skincare
How can anyone possibly remember to do their skincare routine when everything's stashed away in a bag, drawer, or cupboard? Create a designated space for your skincare products. It could be your bathroom, bedroom vanity, or basically just anywhere that you have the space (and a mirror) to apply your cleansers, serums, and lotions.
Of course, if you're using a cleanser, you're also going to need a sink in order to rinse it off. For that reason, your bathroom might be the best place to create your space.
When it comes to creating a space for your skincare regimen, don't just throw everything in one jumbled pile. Make the area neat, tidy, and appealing so that you'll actually want to do your skincare routine. From face masks to toners, serums to eye creams, spot treatments, and sunscreen, everything should be easily in view.
#2: Pair with a Daily Habit
One of the best ways to remember to do skincare is pairing, let's say washing your face, with a habit that's already deeply ingrained in your daily routine. Like brushing your teeth.
Make cleansing a daily habit by doing it every time you've finished brushing your teeth (am and pm). This way, it'll be a lot easier to remind yourself to wash your face.
Another idea: always apply your moisturizers after showering. Since you shower daily, keep your creams and lotions close so you always remember to moisturizer after your shower or bathing sesh.
#3: Set a Time for Skincare
More time in the morning? Afternoon? Evening? Think about when you have the most free time and use that time to perform your skincare routine. From cleansing to exfoliating to moisturizing, set yourself a time every day to carry out your regimen.
This might sound kind of rigid, but it really can be effective if you struggle sticking to your skincare routine. Ideally, it's best if you can choose the morning or evening. If you like using topical treatments with active ingredients like retinol or AHAs, it's best to use these in the evening as they can leave skin sensitive to the sun.
SPF, however, should always be applied in the morning before you leave the house.
#4: Keep a Headband Within Reach
Treat yourself to a fuzzy cute headband and place it somewhere you pass every day to remind yourself to slather on your beauty products. Headbands also make it easier when applying your gentle cleanser, acne treatment, face mask, or broad spectrum sunscreen.
#5: Set a Reminder on Your Phone
You've got a lot on in your life. If you need to set a reminder, set a reminder. Ideally, you want to set a reminder in the morning to at least do the basics — cleanse, moisturize, and apply SPF 30. And another one in the evening for the extras — your makeup remover, antioxidant serum, anti-aging night cream, hyperpigmentation treatment etc.
#6: Remember Your Skin Goals
Sometimes, it's important to remind yourself of your skin goals. Are you looking to see the back of your dry skin? Banish breakouts? Mattify oily skin? Or slow down signs of aging?
Whatever your skin goals may be, you can definitely reach them provided that you're consistent. Start by choosing the best products for your skin type and concerns so that you meet your skin's needs. Invest in formulas with hydrating, brightening, or anti-aging benefits (or whatever your skin goals may be!). Then start following a solid daily skincare routine including these formulas to finally achieve your skin goals.
When you remember why you're doing it, it makes it much easier to follow — and stick to — a skincare routine.
Shop these Skincare Essentials
GLOW Mask
A glossy gel mask of glycolic acid and bakuchiol, Glow Mask helps to dissolve the buildup of dead skin cells, excess sebum, and dirt while speeding cellular turnover and promoting collagen production for fresh, plumped, pimple-free skin. Best of all, this formula is designed for both the face and body. So you can use it all over for head to toe glow!
HYDRATE Serum
Glowing skin is hydrated skin. Douse your skin in this hyaluronic acid serum infused with vitamin B5 to replace dry, dehydrated skin with a soft, smooth, and dewy complexion. In addition to diminishing dryness, Hydrate Serum boosts collagen output, softening the appearance of fine lines and wrinkles while improving skin tone. Suitable for even the most sensitive skin!
ILLUMINATE Scrub
Buff your body to next level radiance with this retinol and pineapple-powered scrub created to brighten, fade discoloration, and reduce the appearance of scarring. It'll also leave skin feeling sensationally soft! Perfect for shaving and self-tanning prep!
SMOOTH Serum
A delightfully silky, lightweight vitamin C serum enhanced by vegan collagen to plump, protect, and brighten skin all over. From dullness to dark spots and scars, Smooth Serum doesn't mess around when it comes to taking care of your skin. It also lessens the visibility of fine lines and wrinkles while firming up sag. Plus, it provides extra protection against UV rays when paired with your daily SPF, preventing skin cancer and premature aging.
HYDRATE Body Butter
A restorative, deeply hydrating body moisturizer that blends the healing properties of shea, cocoa, and coconut for silky, smooth, healthy skin. By nourishing skin, Hydrate Body Butter makes your entire appear instantly more radiant. Plus, it'll leave you smelling like a freshly frosted cupcake!
Ask any dermatologist and they'll tell you the same thing: skincare needs to be a habit. You don't have to use the most expensive products. There are plenty of affordable over-the-counter treatments at your disposal. The most important thing is using products suited for your skin type and concerns, and using them consistently.
From a salicylic acid cleanser to a retinoid serum or benzoyl peroxide spot treatment, these products will only yield visible results when they're applied regularly.
If you have a skin condition like eczema or rosacea, consult a board-certified dermatologist for advice and treatment options.