5 Winter Skin Concerns, Fixed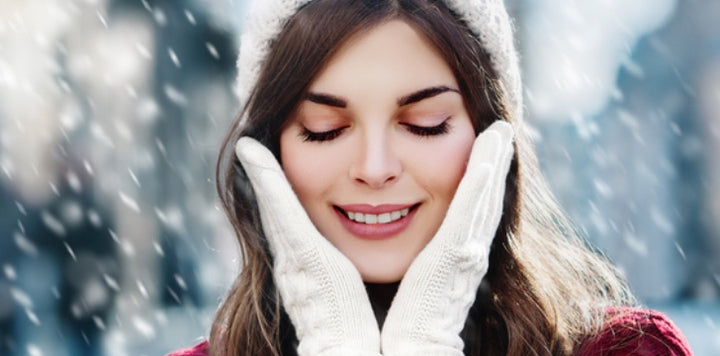 Winter skincare woes getting you down? Same! With the cold weather and dry air, skin tends to freak out and not feel its best. We're not going to sugar coat it...the winter months can really do a number on your skin. Throw hot showers and indoor heating into the equation and you've got yourself even more skin issues.
Ahead, we delve into the most common winter skin problems and how to fix them so you can stay glowing throughout the season.
1. Flaky Skin
Dry, flaky skin is a common winter skin complaint. The most common culprits? The cold air, hot showers that strip skin of natural oils, and skin-parching indoor heating. But that's not all. Even certain skincare products like cleansers and soaps can trigger dryness, itchiness, and flaking. While dry skin is super common in the winter months, if you're dealing with flaking too, you know you've got a bigger problem at hand.
The fix: According to dermatologists, the best fix for flaky skin is to stop using drying skincare products. From your daily cleanser to your toners and serums, look for ingredients that could be irritating your skin. Retinol and exfoliating acids (AHA/BHA) are among the worst for drying out your skin.
In the meantime, focus on nourishing your skin with hydrating products that soothe and boost your moisture levels using ingredients like hyaluronic acid and shea butter, like Rainbow's HYDRATE Bundle.
Additionally, try investing in a humidifier to keep the air moist and your skin hydrated. And load up your diet with fatty acids to hydrate from the inside.
2. Chapped Lips
The skin on the lips is significantly more delicate than that on the rest of your body. For that reason, it's important to moisturize your lips regularly and protect them against environmental aggressors like the wind, pollution, and UV rays. Chapped lips can feel very uncomfortable and are typically worsened by hot water, lip licking, and cold weather.
The fix: Coat your pout a couple of times a day with an emollient, like shea or cocoa butter, that seals moisture into skin. One of our favorites is Rainbow's PLUMP Lip Butter, a buttery lip balm enriched with shea butter, coconut oil, and peppermint to intensely hydrate and subtly plump. It also contains titanium dioxide (aka, SPF), which acts as a protectant against UV rays.
This lip balm is a daily must-have, especially in the winter season when lips are prone to chapping. Apply it whenever you feel your lips getting dry.
3. Dullness
With dry skin, follows dull skin. Since light can't reflect dry skin very well, skin appears dull when it isn't properly hydrated. To achieve glowing skin, you'll need to buff away the buildup of dead skin cells sitting on the skin's surface. Once those have been sloughed away, skin will instantly appear smoother and brighter.
The fix: To unveil your natural glow this winter, add an exfoliating cleanser or serum to your skincare routine. The ingredients to look out for: lactic acid, glycolic acid, or salicylic acid. These exfoliating acids gently remove the buildup of dirt, sebum, and dead skin to reveal fresh, glowing skin underneath. Aside from brightening your skin, regular exfoliation can help with clogged pores, breakouts, and dark spots.
If you're experiencing dull skin on your face, brighten with Rainbow's GLOW Serum. For body dullness, reach for Rainbow's EXFOLIATE Body Scrub.
4. Rough Elbows
Dry, rough elbows is a common skin condition with several causes. In most cases, dry elbows are due to lack of hydration, irritation from lotions, or climate changes (like cold winter air). Sometimes, they can even be a sign of an underlying condition such as eczema or psoriasis.
According to the derms, your elbows endure a lot. "The elbow skin undergoes constant friction from movement, clothing, and even just resting our elbows on desks and tables," says board-certified dermatologist Raechele Cochran Gathers, M.D. "These external factors, along with culprits like cold weather, exposure to hot water, and chlorine from swimming pools all contribute to dry, flaky elbow skin."
The fix: Exfoliate, hydrate, and refrain from contributing factors! We recommend treating rough elbows with Rainbow's SMOOTH Scrub + SMOOTH Serum. These topical treatments contain nourishing niacinamide and strawberries to leave your elbows feeling silky.
5. Redness
Blood vessels dilate when the temperature drops. As a result, you're often left with flushed skin after heading outside. If you're getting redness flareups, that's probably down to the cold, dry air. That said, the sun's rays can also cause redness, so it's important to layer on the sunscreen even in the winter months.
The fix: Flushed skin should fade soon after you come indoors. To quickly quell redness, apply a warm―not hot―compress to the skin for a couple of minutes. It's also important to moisturize regularly in order to keep your skin barrier strong and healthy. Look for creams and lotions that contain calming ingredients such as aloe, green tea, and chamomile.
Skincare Tips for Dry, Winter Skin
To keep your skin happy and hydrated this winter, focus on following a skincare routine filled with antioxidant-rich, hydrating products that cater to your skin type. In addition to this, you can also try investing in a humidifier to keep the air's moisture levels high — and your skin hydrated.
If you're experiencing dandruff too (a common winter complaint), reach for an anti-dandruff shampoo and turn down the water temperature so that you're washing your hair with lukewarm water.
In the winter, skin faces a slew of skin concerns ranging from flaking to itchiness and redness. Luckily, you can combat these issues with the right products and a few preventative acts. If you continue experiencing these symptoms after supercharging your skincare routine, visit a registered dermatologist for professional help.