5 Vegan Moisturizers You Need this Fall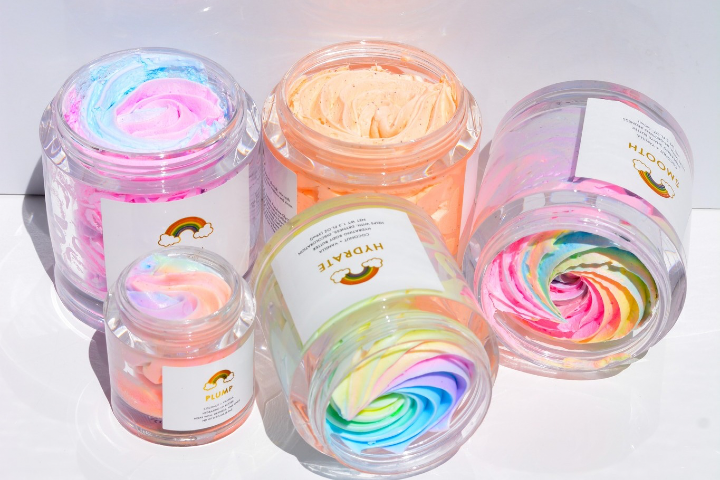 Moisturizer plays an important role in a skincare routine. For starters, it alleviates dry skin by sealing in moisture and preventing water loss. But that's not all it does. A good moisturizer strengthens skin barrier function, repairing skin and eliminating irritation. It can also improve the appearance of fine lines and wrinkles while warding off breakouts by balancing skin's oil production.
Whether you're using a face cream, serum, lotion, or even eye cream, moisturizing is essential for smoothing, softening and improving the overall appearance of your skin. Plus, it makes an excellent primer for makeup application.
Looking for a vegan moisturizer that'll work wonders on your skin? You're in luck because all five of these moisturizers are vegan, cruelty-free, and guaranteed to deliver impressive results.
#1: Hydrate Serum
A silky serum to dewify your skin for the day! Hydrate Serum is formulated with hyaluronic acid, a potent humectant that attracts and locks in moisture for long-lasting hydration. It also plumps out fine lines and wrinkles, and aids in preventing discoloration thanks to its collagen-boosting powers.
Vitamin B5 and jojoba oil also play a role in this serum, protecting skin against UV rays while injecting even more moisture into skin.
All skin types can benefit from this daily facial serum — especially dry and sensitive skin types. Since it's light and flash-absorbing, it's the perfect choice for oily skin and acne-prone skin as it won't clog your pores and trigger blemishes.
#2: Anti-Cellulite Body Moisturizer
Now you've got your face moisturizer sorted, let's move on to the rest of your body. Remember, your face isn't the only place prone to dryness. Everywhere else needs your attention, too.
Our Anti-Cellulite Body Butter contains a nourishing blend of shea butter, watermelon, and vegan collagen to intensely hydrate skin. This velvety-smooth butter instantly restores moisture while leaving skin visibly smoother.
Shea butter is a natural emollient that intensely hydrates skin. Vegan collagen is a plant-based version of regular collagen, which works to increase the skin's collagen output, plumping out fine lines and giving skin a firmer appearance. As for watermelon, besides its moisturizing effects, it also contains lycopene, a natural compound known for breaking down collagen-fighting enzymes, helping to smooth stretch marks and cellulite over time. 
One thing's for sure: this vegan body lotion is will leave skin feeling so much smoother — right from the very first use.
#3: Smooth Serum
Another vegan-friendly skincare product to include in your daily routine: our strawberry-scented Smooth Serum. Chock full of anti-aging strawberries and rejuvenating niacinamide, this body serum tackles everything from fine lines to sagging and UV damage. It also helps with dryness, dullness, and discoloration thanks to its hydrating and brightening effects.
Strawberries are rich in antioxidants — and AHAs, which help to gently buff away dead skin cells for irresistibly smooth, youthful skin.
If you're someone who wants to reap the benefits of a moisturizing cream without enduring uncomfortable stickiness, try slathering your skin in Smooth Serum instead. Sweet and silky, this stuff just melts into skin.
#4: Illuminate Body Serum Moisturizer
Brighten up your bod — and smooth out uneven skin texture — with our Illuminate Body Serum. Satiny and fast-absorbing, this daily serum combines the powers of anti-aging retinol and brightening pineapple to promote a smooth and glowing complexion. It also treats discoloration and dryness.
Retinol is a powerhouse anti-aging ingredient known for boosting collagen production, restoring elasticity, and regenerating skin cells. It can alleviate a slew of skin concerns ranging from acne to wrinkles to sagging and hyperpigmentation. Pineapple also has plenty to offer. High in vitamin C (ascorbic acid), this tropical fruit aids in lightening dark spots and scarring for skin that glows.
Next time your skin's looking for a little glow fix, look no further than Illuminate Body Serum. It NEVER disappoints.
#5: Hydrate Body Butter
One of the best vegan moisturizers for leaving skin feeling silky smooth? That would have to be our Hydrate Body Butter. Restorative and intensely hydrating, Hydrate Body Butter relies on the healing properties of shea butter, coconut oil, and vitamin E for all-over smoothness.
In spite of richness, this formula melts seamlessly into skin for skin that feels petal-soft — without the grease or general ick. It's also multipurpose. You can also use it as a shaving cream, hair mask, or cuticle softener. Did we mention it smells like tropical paradise? You can enjoy a delicate coconut and vanilla scent for the rest of the day.
HOW TO GET THE MOST OUT OF YOUR MOISTURIZER
As much as the formula matters, technique does too — as does what you're using with it. Here are some quick tips for making your moisturizer work a zillion times harder.
Apply after cleansing. The best time to apply moisturizer is after cleansing while skin's still damp. This way, all those nourishing botanicals will absorb deeper. Starting with a gentle cleanser or face wash, pat skin semi-dry after rinsing, then apply your favorite serum.

Be consistent. It can take a few weeks before you see the full results from a skincare products. Include your new moisturizer into your daily routine. For best results, apply morning and night after cleansing.

Pair it with sunscreen. Moisturizers can hydrate, smooth, and soften lines, but they can't protect skin against UV rays — unless you're using a moisturizer with SPF, of course. After moisturizing, apply an oil-free sunscreen with SPF 30 or higher. Apply every day to keep skin healthy and radiant.

Always check the ingredients list. Look for formulas that are paraben-free and fragrance-free without essential oils inside. And stick to nourishing, soothing ingredients such as hyaluronic acid, jojoba seed oil, aloe vera, ceramides, peptides, rosehip oil, glycerin, and shea butter.
You really don't need all those expensive day creams and night creams. All you need is one moisturizer for the face and one for the body, and you're good! Choose from the above formulas to silkify your skin from head to toe.
If your moisturizer isn't doing anything for your skin, consult a dermatologist to check for any underlying skin conditions such as eczema. They'll be able to prescribe the appropriate treatment.
As a beauty brand that supports the planet and our furry inhabitants, we're against animal testing and using animal products in our formulas. All our products are clean, vegan, and cruelty-free.