5 Skincare Products that Changed My Life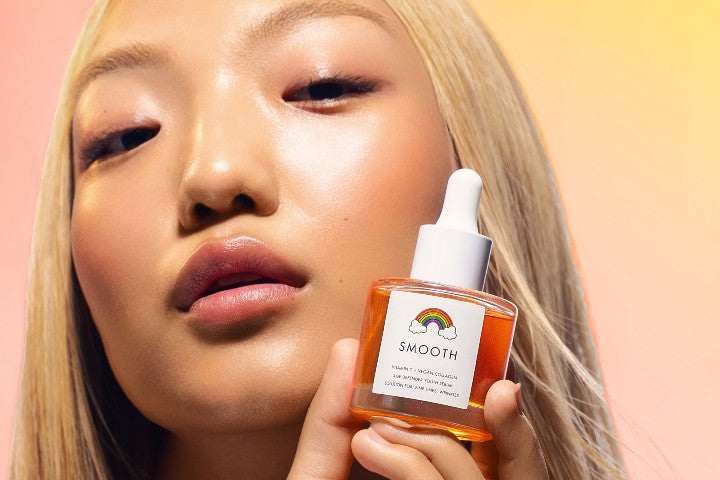 Every now and then, a product comes along that shakes up your routine and makes everything so much better. Particularly your skin!
Over the years, I've tried numerous cleansers, serums, lotions, and face masks promising results that I once so naively believed only to discover that magic could happen -- but only with the right products.
Here are five skincare products that changed my life -- and of course, my skin. 
#1: Smooth Serum
It's basically a vitamin C serum with a dash of vegan collagen for extra smoothing effects. 
Smooth Serum is an age-defending formula that delivers fresher, bouncier, fine line-free skin without the grease. 
Vitamin C and vegan collagen work hand in hand to promote collagen production, fight skin-damaging free radicals, combat fine line formation, and give a radiant glow to the skin. 
You can wear it under moisturizer, sunscreen, and even makeup. You'll get all of the luminosity and none of the stickiness that comes with many formulas. Plus, it's beneficial for all skin types. I have sensitive skin, and usually almost anything I apply leaves me red, dry, and itchy. Not this! And that is why it's now part of my daily skincare routine.
#2: Glow Mask
Who doesn't love a glowing complexion? And that's precisely what this face mask provides. 
Made with exfoliating glycolic acid and brightening bakuchiol, this duo work in tandem to buff away dead skin cells on the skin's surface to refine texture, fade dark spots and discoloration, even out skin tone, and give the face and body an ultra fresh feel.  
Glow Mask is also great for keeping breakouts at bay thanks to its pore-decongesting capabilities. It's one of my favorite masks for getting glowing skin. Plus, it leaves the skin feeling super soft on account of the exfoliating AHA -- glycolic acid. 
If you're after glowy skin, this is your go-to mask. Whether you've got aging skin, combination skin, or acne-prone skin, this mask benefits all. I use it at least once a week to keep my complexion looking perky. 
If you've got sensitive skin or a skin condition like eczema or rosacea, you may want to speak to your dermatologist before using this product as the glycolic may be potentially irritating to your skin. 
#3: Hydrate Body Butter
Post-shower dryness simply doesn't happen to me anymore. And it's thanks to this incredible beauty product.
Hydrate Body Butter is a coconut- and vanilla-infused body moisturizer designed to diminish dry skin and replace it with smooth, soft, ultra-sparkly skin. I use it every time I get out the shower, while my skin's still damp, so it can seal the moisture in my skin and keep me hydrated all day long. Plus, I smell as sweet as cake icing by the time I'm finished. 
It's one of the best skincare products for making the skin look and feel as soft as butter. I especially love to slather it on thick at night so I can wake up with nourished, baby soft skin. 
If you're wearing it in the daytime, remember to always finish with a broad spectrum SPF. Opt for SPF 30 for daily protection, or SPF 50 if you're super fair skinned. Wearing sunscreen daily will protect you from premature signs of aging, such as fine lines, wrinkles, sagging, and hyperpigmentation. 
#4: Firm Mask
Whether you've you got boob blemishes or you're just looking to perk up your tatas, Firm Mask does it all for your lady lumps. Powered by anti-aging powerhouse retinol and antioxidant-rich mixed berries, this formula will help plump out stretch marks, treat and prevent pimples, and lift and firm your twins. The results are real!
While it's designed for your boobs, you can actually use this anywhere -- your butt, belly, legs or wherever you're looking for a little added glow and lift.
I love the way this mask makes me feel. Even just applying it is so much fun! Plus, it leaves me berry-scented. Yum!
I try to use this as frequently as possible, and I'm already seeing results. In just a couple of weeks, I've noticed my butt and boobs feeling smoother, firmer, and a little more sculpted than usual. It's like I've been doing some serious chest press reps. I've not, by the way.
#5: Hydrate Serum
And finally, the holy grail moisturizer in serum form that keeps me soft as a cloud.
Hydrate Serum is a flash-absorbing, glow-inducing elixir of hyaluronic acid and vitamin B5 that plumps up and drenches dull, dry skin in lasting moisture. Use it after your facial cleanser and toner to inject moisture back into the skin -- and keep it there.
Hyaluronic acid is literally like a huge glass of water for your complexion. It boosts hydration and firmness of the skin by binding to water in the epidermis for visibly plumper, smoother skin. Plus, it aids in preventing hyperpigmentation and dry patches. Vitamin B5, meanwhile, works to seal in lasting hydration by absorbing moisture from the air while regenerating damaged skin cells for an all-over healthy glow.
I use this every time I wash my face to prevent my skin from drying out, and keep it looking extra dewy. 
Whether you've got oily skin, dry skin, or sensitive skin, this stuff is extremely kind to all complexions!
WHAT ARE YOUR FAVORITE SKINCARE PRODUCTS?
Do you have skincare products that have changed your life? 
When shopping for skincare products, it's always good to think about your skin type and concerns, and then select your products based on those two things. For instance, if you're dealing with acne, you'll want to look for formulas made with salicylic acid, a BHA and a well-known acne-fighter. 
On the other hand, if you're looking to take control of the aging process now before fine lines start forming on your face, invest in a good eye cream, serum, and night cream formulated with anti-aging powerhouses like retinol, bakuchiol, and alpha hydroxy acids. 
Sooner or later, you'll find your favorite products -- and believe me, they'll change your life.