5 Reasons to Apply Serum At Night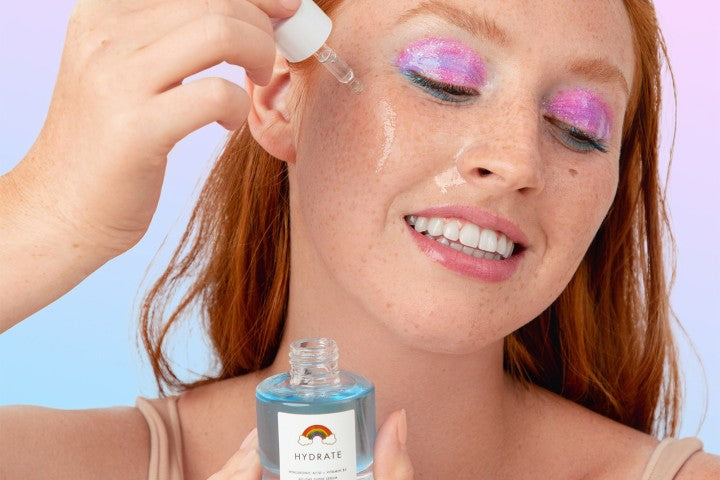 Nowadays, most of us use a face serum in our skincare routine. Usually, it's to treat a specific skin concern like fine lines, breakouts, dark spots, or dryness. They go on after cleanser and toner, and before moisturizer, eye cream, and SPF, and they leave skin looking visibly more radiant. That said, it's important to ensure you're applying your serums at the right time to reap the most benefits from them.
While it can be beneficial to use them in the am, there are also plenty of reasons why you should be including them in your night time skincare regimen. In fact, some serums should only be used at night. If you're wondering how to choose out of the am or pm, here are all of the reasons why you may want to choose the latter.
#1: Skin Absorbs Product Better at Night
In the daytime, your skin is exposed to environmental elements such as dirt, pollution, UV rays, and wind. These aggressors can cause everything from clogged pores to premature signs of aging and discoloration. That's why a morning routine should include a protective product like sunscreen — to shield skin from external aggressors that have a negative impact on the skin.
At night, however, it's your skin's chance to repair, rejuvenate, and undo daytime damage. As you sleep, your skin creates new skin cells — improving skin tone, texture, and its overall appearance.
What's more, your skin actually absorbs the active ingredients in your products better at night than it does during the day.
"Additionally, there aren't environmental stressors at night (like environmental pollution and sun damage) while you sleep; products are able to better penetrate when you're not wearing makeup while you sleep and the skin can breathe," explains Parvaneh Rafaeloff, MD, medical doctor at Le Jolie Medi Spa.
To reap the most serum benefits, start applying your favorite formulations at night before going to bed to give them the best chance of absorption.
#2: Reduced Photosensitivity
During the summer months, certain ingredients can leave your skin red, dry, and irritated — whether or not you have sensitive skin.
"Sensitivity to the sun, also called photosensitivity, happens when there's a reaction caused by the sun's ultraviolet rays," explains Debra Jaliman, MD, a dermatologist and assistant clinical professor of dermatology at Icahn School of medicine at Mount Sinai. "UV radiation reacts with certain ingredients to form compounds that make someone more sun sensitive."
Anti-aging ingredients like retinol can increase your skin's sensitivity to the sun, which is why the derms recommend using retinoids only at night. Not only will it protect your skin from sunburn, but it will also enable your retinol skincare products to work better since retinoids break down and become less effective when exposed to sunlight.
Chemical exfoliators like alpha hydroxy acids (glycolic acid, lactic acid) and beta hydroxy acids (salicylic acid) can also leave skin more sensitive to UV rays. That's because these ingredients are designed to boost skin cell turnover, removing a protective layer, and leaving skin susceptible to sunburn.
Dermatologists recommend using these ingredients at night, and sticking to gentler, antioxidant-rich alternatives during the day time. Ferulic acid, vitamin C, vitamin E, niacinamide, green tea, and hyaluronic acid are some great options for daytime use.
#3: A Chance to Try Out New Serums
Whether you're looking to try a new brightening serum or collagen-boosting formula, there's no better time to try it out than at night. If irritation occurs, you can simply rinse it off. Or you can let it fade out overnight. This way, you don't have to worry about leaving the house with a red face. There's really no better time to experiment with new skincare than at night.
This can also be said for retinol. If you're looking to try a serum with a higher concentration of serum, doing it before you go to bed allows your skin to adjust to the product — and you won't have to face your colleagues looking red and flaky.
#4: Deeper Hydration
Got dry skin? Dermatologists recommend moisturising both morning and night. However, if you have to choose out of the two, never skin night time hydration. As we mentioned earlier, the skin absorbs product best at night, so if you want your hydrating serums, face creams, and eye serums to work their best, slather them on in the pm. It's also the best time to apply your richer lotions and beauty products to avoid feeling greasy and icky during the day.
If you have oily skin or acne-prone skin, avoid using heavy creams altogether. Choose a lightweight hydrating serum to infuse moisture into skin without clogging your pores and triggering further breakouts.
#5: Wake Up with Glowing Skin
Applying serum at night is the secret to waking up with radiant, dewy skin. All those nourishing topical formulas you applied last night have sunk into the skin, worked their wonders, and left you looking plump, glowing, and renewed.
If you'd like to streamline your morning beauty routine, apply all your formulas at night so you can wake up with your dewiest, brightest skin. You won't have to do much after that.
BEST NIGHT SERUMS TO SHOP NOW
TIGHTEN Serum
An anti-aging serum powered by AHAs and red microalgae, which help to boost collagen production, restore elasticity, and fade fine lines and wrinkles while firming the neck and jawline.
HYDRATE Serum
A moisture-sealing serum of hyaluronic acid and vitamin B2 to keep skin dewy, hydrated, and plump all day long. It's suitable for all skin types, especially dry and sensitive skin.
GLOW Serum
A skin brightening formula made with glycolic acid and bakuchiol to fend off free radicals, buff away dead skin, and reveal your glowiest complexion. It also helps to treat dark spots, discoloration, and blemishes.
Ready to get the most out of your favorite serums? Start applying your retinol and exfoliating serums at night to wake up with your best skin — and avoid redness, irritation, and photosensitivity.