5 Products You Need in Your Autumn Skincare Routine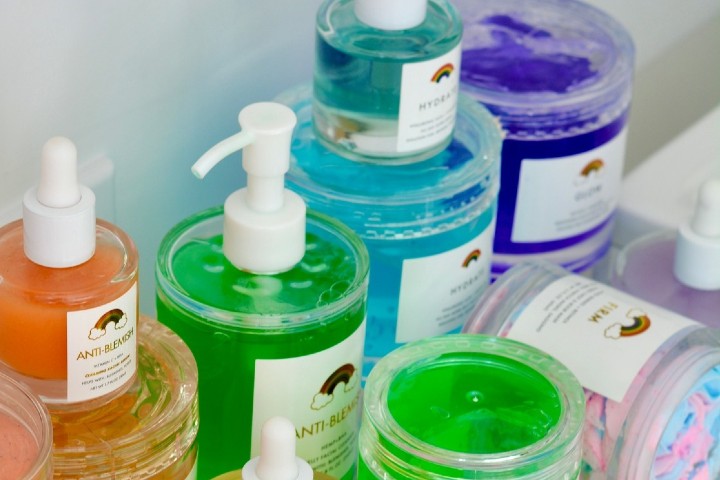 The cooler months are coming, which means it's time to make a few changes to your skincare routine. Seasonal changes can wreak havoc on your skin, which is why it's essential to get skin prepared for what's to come by incorporating a few season-friendly skincare products.
Autumn is all about enhancing skin nourishment and hiking up hydration, ready for the cold weather. Instead of those lighter formulations you used in the spring and summer, an autumn skincare routine requires richer, heavier formulas that can strengthen the skin barrier and shield against the dehydrating cooler weather.
Here are five skincare products to include in your fall skincare routine to get your skin ready for the new season.
#1: A Cream Cleanser
Dryness is a common skin complaint when the colder months arrive. During the cooler months, skin loses its moisture barrier, leading to dry, dehydrated skin. In the summer months, it's easier to get away with lighter skincare products as skin doesn't lose as much moisture. But when the cooler weather comes, it's important to use cleansers, moisturisers, and serums that work a little harder at restoring skin's moisture.
Choose a gentle, hydrating cleanser that won't strip the skin of natural oils. A cream cleanser is your best option, as these replenish moisture rather than taking it away. Look for a formula enriched with nourishing ingredients like ceramides, jojoba oil, and aloe, which attract and seal in moisture while soothing dryness and irritation.
#2: A Chemical Exfoliant
Exfoliating is more important during the cooler months than it is in the summer months. Between the cold, dry air and warm indoor heating, skin cells quickly dehydrate so it's important to slough away those dead skin cells to reveal fresh, new skin cells underneath. Exfoliation also offers quick brightening effects and can even treat skin concerns such as dark spots, fine lines, and breakouts.
Instead of scrubs, opt for a chemical exfoliant like glycolic acid, lactic acid, or salicylic acid. You'll find these exfoliating acids in everything from cleansers to toners to face masks and serums. Unlike scrubs, they gently lift the buildup of dead skin and sebum to reveal your smoothest, glowiest skin. Alongside this, frequent exfoliation enables other skincare products to absorb better into the skin, enhancing their effects. It'll also leave skin feeling instantly softer.
We recommend Rainbow's Glow Serum, a brightening treatment formulated with glycolic acid and bakuchiol to illuminate, clarify, and treat uneven skin texture.
#3: A Brightening Serum
Dullness is another common skin complaint in the Autumn. Brighten up your complexion in a flash by slathering on a glow-enhancing serum. One of the best skincare ingredients for the job is vitamin C. This potent antioxidant helps to bright, treat pigmentation issues, and fend off free radicals to prevent premature aging. In fact, the derms say you should pair it with your daily sunscreen to maximize its protective effects.
We recommend Rainbow's Smooth Serum. Formulated with vitamin C to brighten and vegan collagen to plump out wrinkles, this instant skin pick-me-up is a fall skincare must-have for a complexion that glows. It also pairs perfectly with your daily SPF, and is well tolerated by all skin types, including even the most sensitive skin.
#4: A Hydrating Serum
New season, new skin goals! And this fall, one of your primary skin goals should be hydration. Dewify your complexion with a moisture-sealing serum formulated with one of the power player — hyaluronic acid, ceramides, polyglutamic acid. Skin needs extra hydration throughout the cooler months to counteract the dry air that parches skin.
We recommend Rainbow's Hydrate Serum. This potent yet gentle serum is powered by hyaluronic acid and vitamin B5, which work in tandem to deeply condition, renew, and refine skin while plumping out fine lines and wrinkles. Since it is so gentle, you can use it morning and night in your daily skincare routine to keep skin soft, smooth, and radiant. It's the go-to formula for dry skin!
Oily skin and acne-prone skin can also benefit from using this formula as it's lightweight and non-greasy, meaning it won't clog your pores or cause breakouts. Like most of our serums, you can use it on both your face and body for head to toe hydration.
#5: A Reparative Cream
Boosting your skin hydration levels is essential in the fall when the air is drier and skin is more prone to drying out. Pick a face cream that's more hydrating, richer in texture, and infused with moisturizing ingredients like shea butter, coconut oil, and hyaluronic acid. You should also be using a body lotion that's slightly on the richer side to replenish lost moisture and keep skin smooth and healthy.
We recommend Rainbow's Hydrate Body Butter, a velvety formula featuring a lineup of moisture-sealing shea butter, antioxidant-rich vanilla, and restorative cocoa butter to replenish dry and thirsty skin. Use it both morning and night to help boost your skin's hydration and protect your skin against the cold, dry weather.
What About Sunscreen?
Just because the summer's closing in, doesn't mean you should stop slathering your face and body in a broad-spectrum sunscreen. UV rays are forever present — even on cloudy days. To preserve skin health and protect against premature aging, dermatologists recommend using SPF 30 all year-round. If you've got oily or acne-prone skin, choose an oil-free, non-comedogenic formula that won't clog your pores.
Now that fall's nearly here, it's worth making a few adjustments to your daily skincare routine. In addition to the products above, you might want to consider adding in a hydrating facial oil and eye cream, which can help to keep skin smooth and peepers bright and less puffy.
Autumn is all about nourishment and hydration. Incorporate products that deeply moisturize the skin while protecting it from cold weather, drying indoor heating, and UV rays. You don't need to make too many changes, but by adding in the products mentioned, you can definitely look forward to a dewy, radiant complexion all season long.