5 of the Best Retinol Alternatives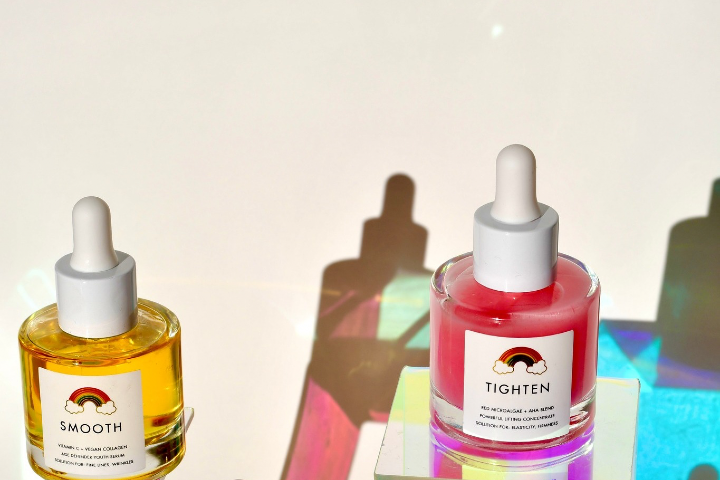 Not all skin responds well to retinol.
While this gold-tier anti-aging ingredient may boost collagen production, spur cell turnover, and ultimately treat a multitude of skin concerns ranging from fine lines and wrinkles to discoloration and acne, retinol can also make your skin drier, flakier, and generally unhappy.
If you're one of the people not digging retinol, you're probably looking for alternatives, right? Fortunately, there are many effective retinol alternatives to choose from that offer all the benefits and no irritation -- or at least, significantly less.
Here are five of the best skincare ingredients to mimic retinol's skin-transforming powers.
Bakuchiol
Bakuchiol is one of the best retinol alternatives available on the market today. Besides offering many of the benefits retinoids offer (like erasing fine lines, breakouts, and hyperpigmentation), it's also super gentle. 
"There have been some studies that compare the genetic impact of bakuchiol, which is similar to Retin-A in its ability to improve wrinkles," says board-dermatologist Dr. Orit Markowitz. "While bakuchiol isn't regulated the way retinol is, right now it currently is the only other retinol alternative that has been studied in some capacity."
Much like retinol, bakuchiol stimulates collagen production, improves skin tones, and minimizes the appearance of fine lines and wrinkles. 
Try our GLOW BUNDLE. It features a face + body mask and serum formulated with glycolic acid and bakuchiol to buff away dead skin cells, brighten skin tone, and protect the skin from environmental stressors and pollution.
RosehipOil
Rosehip oil is another natural retinol alternative. It contains small concentrations of retinoic acids. However, since it's not FDA regulated, it's hard to distinguish what concentration of rosehip oil is included within the skincare product. As a result, it may be irritating to sensitive skin if there's a high amount of retinoic acid in there.
That said, many people have praised this ingredient for standing in for the vitamin A derivative. You will find it in a range of skincare products, including moisturizers, eye creams, and facial oils. 
Rosehip oil may be able to minimize the appearance of creases, dark spots, and other pigmentation issues. It can also promote rapid skin cell turnover and regeneration while providing skin with hydration and firming effects. According to experts, it should be generally well-tolerated by all skin types without any undesirable side effects like dryness, redness, burning, or flaking.
Glycolic Acid 
Glycolic acid is an alpha hydroxy acid (AHA), an exfoliating acid that dissolves dead skin cells from the skin's surface, brightening the complexion and enabling other products to absorb more effectively. It is also known to boost collagen and elasticity in the skin, so it can reverse and prevent signs of aging.
Glycolic acid isn't the only acid in the AHA and BHA family to offer similar effects to retinol products. Lactic acid is a gentler hydroxy acid that're more well suited to sensitive and dry skin types. Salicylic acid is best suited for oily and acne-prone skin, since it exfoliates away oil and grime buildup in the pores while attacking acne-causing bacteria. 
Try our Tighten Bundle to get your weekly dose of AHAs. It features a mask and serum made with red microalgae and a blend of AHAs to reduce wrinkles, increase collagen production, and spur the shedding of dull, dead skin cells. Include it in your regular skincare routine to see visible results.
Niacinamide
Niacinamide, otherwise known as vitamin B3, is an incredibly restorative ingredient and a fantastic retinol alternative. 
"Nicotinamide helps restore cellular energy, repair damaged DNA, and reduce the immunosuppressive effects of sun-induced UV rays," explains Jennifer Herrmann, MD, a board-certified dermatologist and dermatologic surgeon based in Beverly Hills.
It fights off internal and external stressors the lead to the breakdown of collagen and premature signs of aging like fine lines, wrinkles, and discoloration. According to the derms, it also boasts powerful anti-inflammatory properties, making it an ideal retinol serum alternative for sensitive skin types. They also note its ability to preserve hydration, strengthen the skin barrier, and brighten the skin tone.
You'll find niacinamide in a range of products, including cleaners, toners, serums, and even some sunscreens. It is an excellent choice for anyone dealing with skin conditions such as eczema or rosacea. 
Antioxidants
Antioxidants such as vitamin C, E, and B3 can be highly effective for keeping skin healthy, bright, and youthful. Plus, there are so many formulations out there loaded with antioxidants, they're definitely not hard to find.
"Antioxidants protect the skin by reducing and counteracting free radical production," says Lian Mack, MD, a board-certified dermatologist. These free radicals can damage healthy skin cells and create oxidative stress. "Antioxidants protect your skin from this and help reduce pigmentation and fine lines and wrinkles," explains Dr. Mack.
Using a moisturizer or serum loaded with antioxidants every day can also help repair signs of sun damage from rays that may have gotten through. 
Try our Smooth Bundle, which features a face + body mask and serum made with vitamin C and vegan collagen to brighten, smooth, and protect. For best results, use daily.
WHICH RETINOL ALTERNATIVE TO CHOOSE?
Now you have five options in front of you, you may be curious as to which one you should use on your skin. Simply put, you can use all of them with little concerns over irritation. That said, it's best to choose only one or two of them to use on a daily basis, or use them on alternating days. Don't use all of them at once, as this may trigger skin irritation. 
Our personal favorite has got to be bakuchiol. It's by far one of the most popular retinol alternatives around, but one that is also extremely effective at offering the same benefits without causing any side effects such as dryness and irritation.